DU Field Notes: Colorado Offers Tantalizing Stops on the Road to DU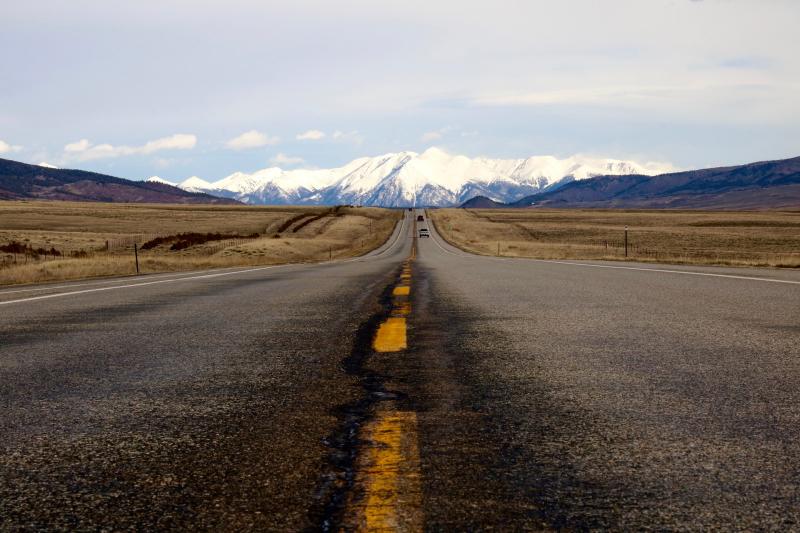 University of Denver students are just weeks away from fall quarter's start, and Colorado travel plans are well underway. For the DU-bound road warriors choosing to avoid airports in favor of the open highway, the state promises countless scenic stops and drive-through wonders that are sure to inspire, even with social-distance guidelines in place.
First, some quick tips. According to the CDC, Colorado road trippers should wear a mask in public spaces and maintain 6 feet of distance from anyone outside their party. Remember to disinfect handles and buttons at gas pumps before touching them and sanitize hands afterwards. Be sure to pack plenty of snacks and water to minimize stops. One final warning: It's wildfire season, so check for road closures ahead of takeoff.
Though each of the stops on this list provides plenty of fresh air and open space, it's essential that you avoid contact with others as much as possible to ensure the start to your DU journey will be as safe as it is exciting.
If you're coming from the North …
Rocky Mountain National Park
Nothing quite says Colorado like glimpsing the towering Rockies to the west. You'll no doubt be itching to hit a higher elevation, and Rocky Mountain National Park is the quintessential place to start. Whether you want to hit Trail Ridge Road for a scenic drive, hike to stretch your car-bound legs (choose from an incredible number of trails for all skill levels) or picnic in one of the most beautiful venues around, Rocky Mountain National Park is a must-see. If you can't visit on the way to DU, make time for it later.
COVID consideration: Currently, reservations are required to enter the park, so be sure to book ahead of time.
If you're coming from the South …
Great Sand Dunes National Park
Great Sand Dunes National Park features the tallest dunes in the country (the largest, Star Dune, is 750 feet from base to summit) and provides a surreal landscape you won't see elsewhere in Colorado. You can, of course, hike among the dunes, but there's also plenty of forested hiking and other activities to justify a detour on the way to Denver. Great Sand Dunes National Park also offers a distinctive Colorado experience: Sandboarding, snowboarding's much hotter sister. Be sure to rent your sandboard before you enter the park, as they are not offered once you're inside.
Mesa Verde National Park
OK, there's a bit of a trend here. Colorado is home to four national parks, all worthy stops. Mesa Verde, one of the most fascinating, has reopened after a short COVID closure. It offers much more than scenic hikes. The park was founded to preserve its nearly 5,000 archaeological sites, including 600 Ancestral Pueblo cliff dwellings dating back to 600 CE. These sites offer an exciting glimpse back in time, as well as a hands-on lesson in the state's history. Though the dwellings currently are closed for tours, you can still view them via driving loops and the park's many hiking trails.
If you're coming from the East …
Pawnee National Grassland
With a high number of first-year students coming from the eastern half of the country, Colorado's great plains may see a little extra action this fall. While eastern Colorado may seem less exciting than the mountainous west, don't turn on cruise control just yet. This 193,060-acre sea of grass and bright blue skies is not only breathtaking, but rich with history and a great place to spot some of Colorado's native animals and plants. And while it's certainly flatter than other parts of the state, you can take a short 1.5-mile hike to spend some time among the beautiful Pawnee Buttes.
Amache
Opened in 1942, at the height of World War II, Amache, also known as the Granada War Relocation Center, was one of 10 centers built in the U.S. as an internment camp for Japanese Americans. At its peak, Amache housed more than 7,000 people. Today, Amache serves as a reminder of one of the darker chapters in Colorado and U.S. history. The National Historic Landmark is now open for visitors, and one of the best ways to view it is through the Amache driving tour. If you're inspired to learn more after your visit, you're in luck. DU's own Bonnie Clark, associate professor of archaeology, is an expert.
If you're coming from the West …
Black Canyon of the Gunnison National Park
Black Canyon of the Gunnison is consistently listed as one of the least visited national parks in the country, but that doesn't make it any less spectacular. It does, however, make it an attractive spot for savoring Colorado's beauty in a COVID-friendly way. Stay in your car and enjoy a drive along the canyon's rim or choose to take in the dramatic (and vertical) scenery by foot. You can also venture down into the canyon, but be prepared for steep grades, whether you're driving or walking.