DU Prison Arts Initiative Takes Play on the Road
Sterling Correctional Facility inmates performed "One Flew Over the Cuckoo's Nest" across the state
If it weren't for prison, says Tony Shapiro, he may never have found his passion for theater.
One night, Shapiro says, he went to a production of "Tick, Tick … Boom!" to cut the monotony of yet another evening in Colorado's Sterling Correctional Facility. The play was put on by University of Denver assistant professor Ashley Hamilton and featured DU students.
"I fell in love," he says. "I can't believe all the theater I missed out on. It breaks my heart. … When I seen this pop up on the bulletin board — I'm there. I signed up."
With that signature, Shapiro officially joined the University's Prison Arts Initiative (DU PAI), co-founded by Hamilton and Apryl Alexander of DU's Graduate School of Professional Psychology. The program captures the healing power of the arts and uses it as a restorative practice for incarcerated men and women across Colorado.
The effort currently offers an extensive variety of arts programming in 10 Colorado facilities and draws not only on Hamilton's expertise, but on that of several DU faculty members and community partners as well. Just recently, DU PAI announced a three-year contract with the Colorado Department of Corrections (CDOC) to continue this work.
For the last five months, Hamilton and production co-creator Julie Rada, guided more than 30 men from Sterling to stage a production of Ken Kesey's novel "One Flew Over the Cuckoo's Nest." For years, Hamilton had hoped to bring the play's themes — power dynamics, mental health and incarceration — to a prison setting. 
Shapiro played Dale Harding, head of the patients' council — a role he took so seriously that he even enlisted his sister back home to send character research his way. Although he had hoped to land the role of McMurphy, the play's lead, he says embodying Harding was a gift.
"It's human growth," Shapiro says. "We are a team here, and I won't call out the battles, but there have been near fist fights as we've done these five months. But in the end we love and hug and we have created something together that almost reminds me of doing sports with your team. If you don't block, I don't get through this hole. We have to do this together."
Months of rehearsal, planning, production and a bit of group therapy culminated in a 10-show tour at both the Sterling facility and others around the state, including a performance at the Denver Women's Correctional Facility. Not only did the tour represent the first time many of the performers had been in a vehicle in a decade or more, but it was also the first time they were able to freely interact with female inmates — a welcome dose of normalcy.
Along the way, the cast and crew shared their hard work with their families and friends, members of the Colorado Department of Corrections, staff members of various facilities, members of the media and fellow inmates.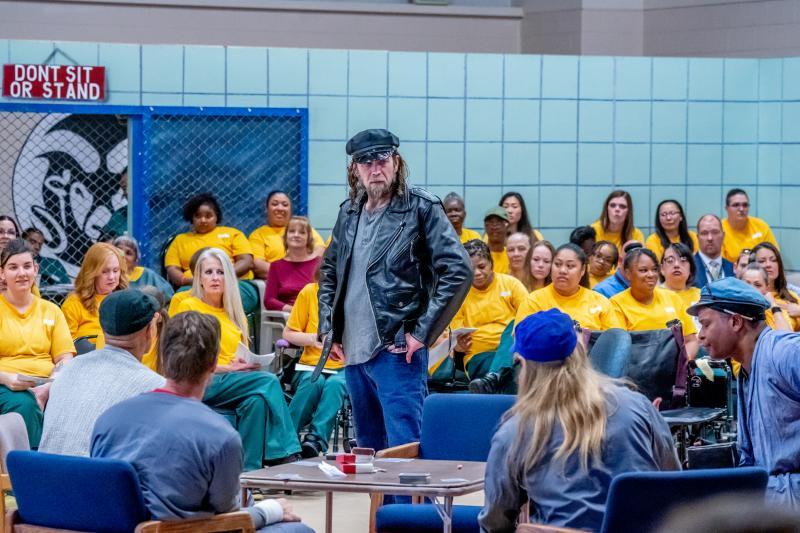 At every stop, Hamilton's work, not to mention that of the performers themselves, has made an impact, encouraging inmates to tap into many streams of creativity, says Vernon "RnB" McKinnie. McKinnie took on the added challenge of playing a character of his own creation, Henry Harry. He based the role on an older inmate in Sterling, whom he observed meticulously as he tried to get his mannerisms just right.
"I believe that the people we are created to be, that we were meant to be from existence, those people have kind of been pushed aside. A false identity has been given to us," he explains. "This play really shines a light on that, and it shows that you can be you. You have to gain that person back that we lost."
While McKinnie says he experienced setbacks during the creative process, Hamilton's endless encouragement keeps him going and has allowed him to change in significant ways.
"To have someone show that they believe in you and stick their neck out for you and to go to bat for you and to keep coming up here and to drive these miles she's driven, it makes you want to do better, it makes you want to be better, it makes you want to believe in yourself," he says.
In addition to encouraging personal growth among participants, Hamilton says, DU PAI provides a conduit to shifting perceptions about incarceration and the people inside Colorado's prisons.
"This is an opportunity for people to see folks inside in a totally different way, and as the rich, intelligent, talented people that they are and the complex people that they are," she says. "In addition, theater allows them the space to imagine who they want to be in the world and to really step into new possibilities."
The theatrical productions are just one of a variety of programming options DU PAI offers. The latest addition to the prison arts project, a podcast, is an attempt at sharing those stories with an even broader audience.  Hamilton joins two inmates, Denise Presson and Andrew Draper, as hosts of With(in), which discusses life inside prison — both for inmates and staff. They cover topics ranging from gang culture, the arts in prison and learned violence to restorative practices.
Work like this, Hamilton explains, is only possible with the support of CDOC leadership, including Ryan Long, warden of the Denver Complex. Long has enthusiastically embraced the role of arts in prisons, despite having little experience with them himself.
"The challenges and barriers that live inside an institution based on all the factors of where you grew up, what crime you committed, very much impact the operations and safety and security concerns," Long says. "These programs knock those walls down and let them be who they are."