Korbel Doctoral Students Awarded Prestigious USIP Fellowship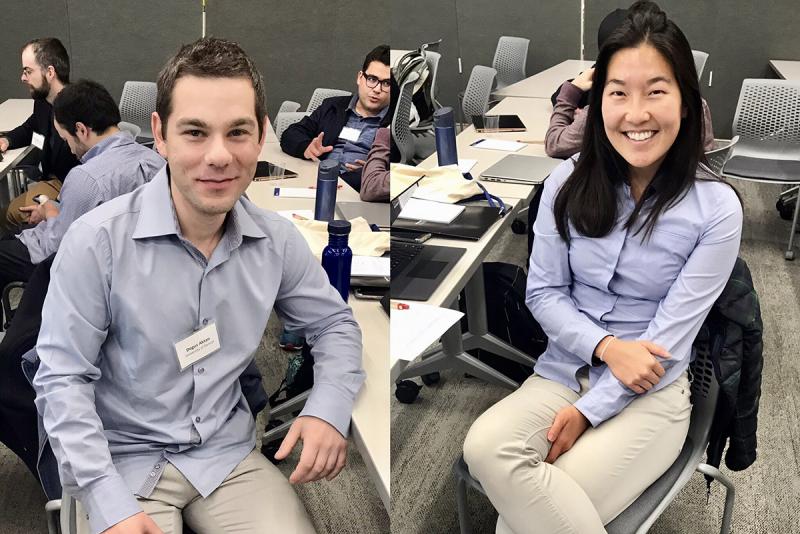 University of Denver PhD students Dogus Aktan and Sooyeon Kang have often put their heads together to push toward greater success. They trade feedback on projects and spend hours talking about their research.
Of course, when it came time for the two Josef Korbel School of International Studies students to apply for fellowships and funding, they turned to each other. And once again, it paid off.
Their latest joint success comes in the form of high praise and recognition from the United States Institute of Peace (USIP). Both Aktan and Kang were awarded the USIP's Peace Scholar fellowship, taking two of 20 such fellowships offered this year. Peace Scholars, each will receive $20,000 grants to fund their research projects, which will also benefit from access to USIP's network of leading scholars in civil resistance. 
"It's just added encouragement that both of us are doing interesting research and good work," Kang says. "And I'm glad there are two of us represented from DU."
Kang's research, asking how and why mass movements change their demands, aligns closely with the USIP's focus on nonviolent action.
"[My work] explores the effect of the state's response on the movement and the counterintuitive effect of when the government offers concessions. That could actually embolden the movement to ask for more instead of being appeased," she explains.
In addition to conducting case study interviews in South Korea and Hong Kong (currently on hold due to the coronavirus pandemic), Kang is building a global data set to enhance understanding of this important aspect of civil resistance.
Aktan, meanwhile, is tackling civil resistance from a different angle. His research looks at small-scale protest movements, particularly those aimed at the mining industry, and the complex relationships among these movements, the companies they confront and governments.
"What I'm looking at is this particular dynamic where people use protests both to create disruption — in the sense that they will blockade a mine and cost [a company] millions of dollars; but protests are also about signaling grievances and sometimes … governments want to keep you at least somewhat satisfied because they rely on your votes," Aktan says.
Korbel professor Cullen Hendrix has worked closely with Aktan and Kang since their earliest days in the program and credits the two with approaching their research from a policy relevance perspective.
"I think USIP was able to sense in the proposals and in the projects that there's an other-regarding, outwardly focused, socially responsible approach to conducting social scientific research," Hendrix says. "And in addition to that, they are both brilliant young scholars and wonderful people. I can't say enough good things about them."
For Aktan, the force driving his research has been the opportunity to contribute positively to the world, especially as it faces existential threats like climate change.
"This isn't purely intellectual curiosity; it's a matter of significant importance — sometimes life and death," he says. "The planet is dying, and civil resistance is going to be even more important than it is right now if the species is going to survive. The stakes can't be higher."
Kang's research takes on similar weight in today's context.
"There is a growing interest in trying to understand different forms of civil disobedience, especially with the rise in movements, particularly protest movements," she says. "We as scholars really don't know how these form and function and how they evolve, and the impact they have on society. That's a big question that I think a lot of researchers can and should tackle."
Hendrix agrees, noting that the Korbel School cultivates a commitment to impact among its students.
"The Korbel School is very committed to this model of engaged scholarship," he says. "Just by being in that kind of environment, the students build a great deal of admiration and respect for scholars who are willing to toss their hat in the ring and be part of international affairs as opposed to just commenting on them."