At each facility partnered with the DU Prison Arts Initiative, we select a team of 5–7 incarcerated people to serve as group leaders to help guide programming at their facility. Group leaders apply for the position and are individually selected by the DU PAI team. They learn valuable leadership and team management abilities while working with DU PAI Co-Founder and Executive Director Ashley Hamilton to review programming, group dynamics and other needs for creative projects at prison facilities.
The best decision I have made within within my 32 years of incarceration is to accept the responsibility of being a Group Leader for DU PAI.

—Group Leader for DU PAI at Sterling Correctional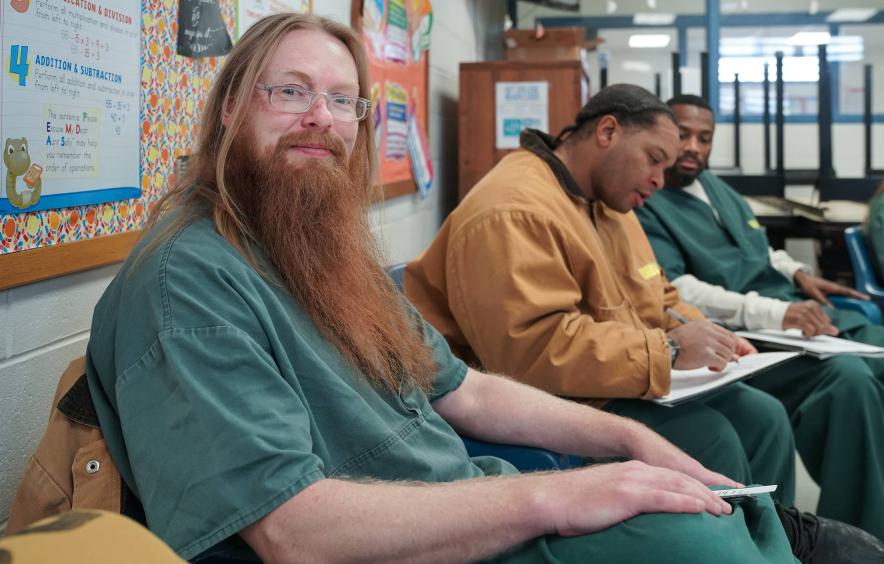 Why Group Leadership Matters
Leadership skills translate into confidence and opportunity. Here's why we work to foster group leaders at DU PAI partner facilities.
To create opportunities for students to develop and cultivate leadership skills
To instill a stronger sense of responsibility to their community
To promote learning about managing group dynamics
To teach useful conflict resolution techniques
To encourage students to learn more about how they can provide assistance to a community
To build co-intentional, collaborative experience for students rather than a "top-down" approach
To support DU PAI faculty and programming in classrooms or workshop spaces
To help our faculty and staff develop a better understanding of the culture and needs of each facility
As Group Leaders we have to solve problems and make decisions, which enables us to learn and practice problem-solving skills. We have to think about social situations and the consequences of any decisions we make on the group, which leads to both self-awareness and empathy…Group Leadership habituates us to trust and responsibility, two qualities that are essential to life outside of prison.

Group Leader for DU PAI at Sterling Correctional