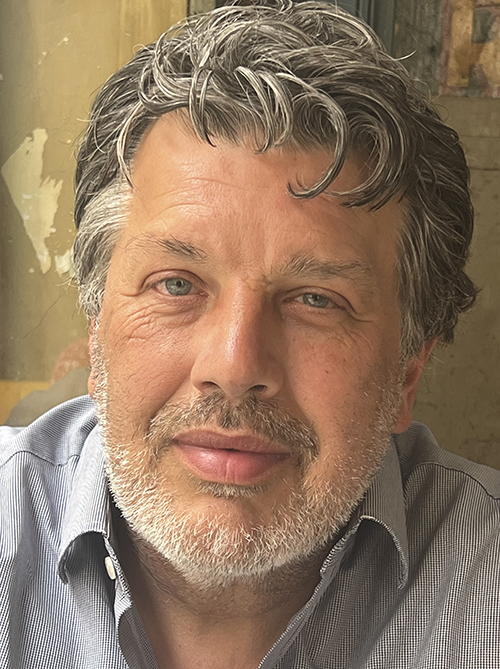 Darrin Hicks
Professor; FacDir,DebateacrossCurriculum
303-871-4319 (Office)
Sturm Hall, 2000 East Asbury Avenue Denver, CO 80208
What I do
Professor of Communication Studies, Director of Debate, Affiliate Faculty in Conflict Resolution.
Specialization(s)
Collaboration, Debate, Rhetoric
Professional Biography
I joined the department of Communication Studies in 1993. I received my Ph.D in Speech Communication from Southern Illinois University–Carbondale. My research interests are community collaboration, political argumentation, freedom of speech, affect theory and academic debate.
Degree(s)
Ph.D., Speech Communication, Southern Illinois University, 1995
Professional Affiliations
American Forensics Assocation
International Society for the Study of Argumentation
National Communication Assocaiation
Research
My research is focused on two areas: collaboration and political argumentation. In terms of collaboration, I design and evaluate collaborative processes used in community settings, often in the areas of public health and education. My research focuses on the dimensions of high-quality processes, including inclusion, equity, transparency and authenticity. I have developed instruments to assess the quality of collaborative processes and examine how process quality influences programatic outcomes. In terms of political argumentation, I have written extensively on evolving standards of political reasonableness and how they have historically and currently shape political decision-making, with past work focusing on economic regulation, national security policy and the law. A second area of research in political argumentation addresses the nature of political conviction––how it is formed, how it animates public controversy and how it motivates political extremism.
Areas of Research
Community Collaboration
Process Design
Authenticity
Argumentation
Conviction
Reasonableness
Debate
Featured Publications
(2016)
.
DEBATING CONVICTION: FROM SINCERE BELIEF TO AFFECTIVE ATMOSPHERE
.
In

M. Hogan (Ed.)
.
State College PA, USA:

Penn State University Press
.
.
(2008)
.
The Influence of Collaboration on Program Outcomes.

Evaluation Review
,

32

,

453-477
.
.
Presentations
(2017)
.
Affective Contagion in Collaborative Networks
.
University of Colorado--Denver
.
Denver, CO:

School of Public Affairs
.
.
(2017)
.
Five Propositions on Conviction
.
Alta Argumentation Confrence
.
Alta, UT:

NCA/AFA
.
.
(2016)
.
What makes Collaboration Authentic?
.
University of Minnesota
.
Minneapolis, MN :

Department of Communication
.
.
(2017)
.
Argumentation and Discretionary Power
.
European Conference on Argumentation
.
Lisbon, Portugal :

European Argumentation Assocation
.
.