Examine Race and Ethnicity Across Perspectives and Disciplines
The critical race and ethnic studies major and minor explore race and ethnicity within many social, political and historical contexts. This in-depth knowledge can better prepare you for careers in science, technology, business, law, government, public policy, nonprofits, the arts and more.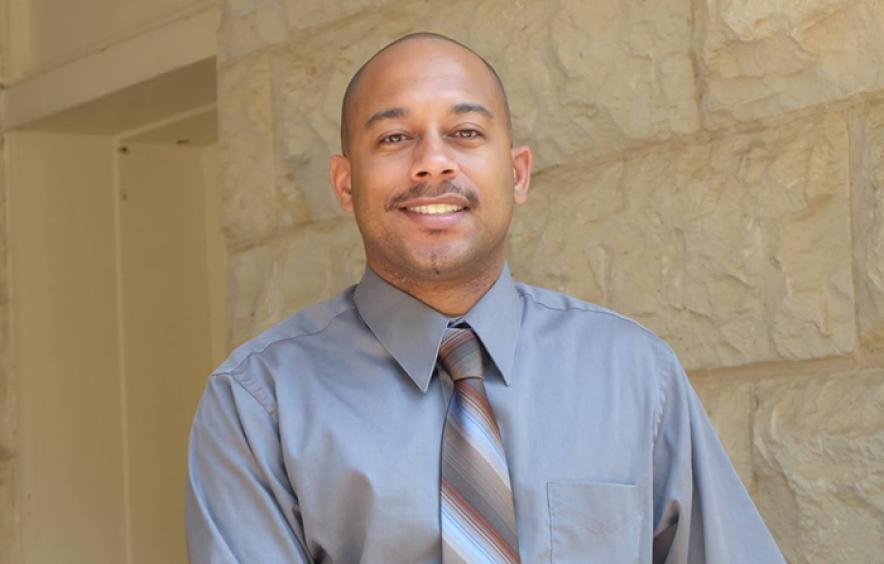 A Message from the Director
Dear Critical Race and Ethnic Studies (CRES) interested students, faculty, staff, and alumni,
As CRES Director, I would like to briefly introduce myself, highlight the importance of CRES as a field of study, and share some of the exciting plans that are in the works as we enhance the CRES program. Before I do that, however, I would be remiss if I didn't give a shout out to Dr. Elizabeth Escobedo, Dr. Lisa Martinez, and the countless DU students, alumni, university personnel, and faculty for the many hours of work that they put into initiating the CRES program. They were instrumental to getting us to where we are today with CRES and deserve a big THANK YOU!
I am Dr. Reggie Byron, and in addition to my role as CRES Director I am also a tenured professor in the Sociology and Criminology department here at DU. Trained as a sociologist, I have taught a wide variety of sociology, criminology, psychology, and methodology courses at a range of academic institutions. These include a thirteen year teaching career at Southwestern University, courses I taught during the six years it took to earn my Doctorate in Sociology from The Ohio State University, and others I taught during the two years required to attain my Master's in Psychology from the University at Buffalo.
I have also led various programs and initiatives (e.g., chairing my department at my former institution, conducting waves of campus climate surveys, directing an inclusive pedagogies grant for faculty, and consulting non-profit and for-profit organizations on their efforts toward diversification and inclusion). Indeed, the ability to combine these experiences and work with others toward establishing a nationally recognized undergraduate CRES program that has racial justice at its forefront are what attracted me to the CRES Director's position at DU.
As of Fall Quarter 2023, DU now offers a CRES major in addition to the existing minor. As I'm sure you can imagine, building a successful major takes time and will require the input and efforts of many (i.e., students, faculty, university administrators, staff, and alumni). But we are underway! And such an effort could not come at a more urgent time as organizations of all types grapple with their racially problematic histories, injustices against APIDA (Asian, Pacific Islander, Desi American), Black, Hispanic, and Indigenous people persist at both policy and individual levels, scholars denote a troubling rise of "new old fashioned racism" (especially around the election cycle and the COVID-19 pandemic), and yet a growing national movement attacks the very ideas (e.g., Critical Race Theory) that are designed to expose the systemic and structural durability of such racial inequality. Whether we want it admit it or not, race, racialization, and racial inequality have had and continue to have an enduring role in American life.
CRES can give us a lens to understand the above-mentioned phenomena while providing us with tools so that we can ultimately chip away at these inequalities. And if we want to truly embrace DU's vision (i.e., being a "great private university dedicated to the public good"), we must do something about these inequalities. This should not merely be a symbolic or academic exercise, of course. CRES students, faculty, staff, and alumni will have to join forces and push with the same tenacity as those whose shoulders we stand on who came before us.
There will be a number of opportunities to join forces (e.g., please look out for notices on open forums, surveys, open office hours, and social justice socials) in the coming quarters. And through my guiding values of racial justice-oriented research, activism, and philanthropy (R.A.P.) which will be infused throughout the new major, I hope to help CRES students to become the agents of change that our world so critically needs.
I look forward to engaging with you all,
Dr. Reggie Byron
The Value of Critical Race and Ethnic Studies
Examine race and ethnicity as active processes in the distribution of power, construction of identity and shaping of community

Discover how race and ethnicity intersect with other identities, such as gender, sexuality, class, religion, national origin and citizenship

Explore the lived experiences and contributions of racially minoritized populations in the United States and around the world, through historical and contemporary perspectives

Develop the cultural competency needed to flourish in diverse, collaborative environments

Think critically across disciplines and investigate what equity and inclusivity mean in today's global society

Practice critical methodologies through service-learning, internship and study abroad courses that help you become a more ethically engaged citizen

Understand race and ethnicity from many perspectives by taking classes in Anthropology; Art and Art History; Communication Studies; Economics; Emergent Digital Practices; English and Literary Arts; Gender and Women's Studies; History; International Studies; Languages, Literatures and Cultures; Media, Film and Journalism Studies; Music; Philosophy; Political Science; Psychology; Religious Studies; Sociology and Criminology; and Spanish Language, Literary & Cultural Studies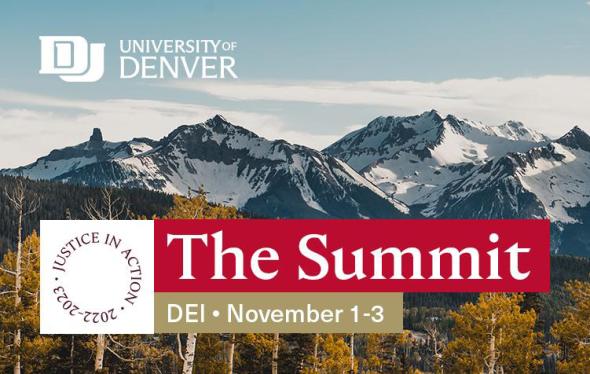 November 1–3, 2022
The Summit 2022
Justice in Action
Starting this year, the Summit will have the fall quarter as its home, where it will launch us into the rest of the year's DEI Signature Events and other engagements by gathering the DU community to explore and consider an annual guiding theme for our endeavors. Join us this year as we explore the myriad ways in which we might engage Justice in Action.
ANTH 3460: Race and Human Evolution
This course examines the history of thought about the nature and evolution of human racial differences and sexual characteristics, from the mid-19th century to the present day. It considers scientific and poplar models for explaining the evolution of racial differences, male-female reproductive behavior and gender roles. These models are examined in light of comparative primate data, ethnographic data and the material record of human evolution.
ENGL 3826: Latinx Cultural Studies
This course introduces students to cultural texts and theories by U.S. Latinx subjects and asks students to consider various forms of cultural and critical methodologies.
MUAC 1025: Hip Hop and Rap Music
From its origins in dance parties in the Bronx in the late 1970s to its identification as the soundtrack of social movements around the globe, rap music has become perhaps the most prominent genre of popular music. This course, primarily, analyzes the musical features of rap music as a specific manifestation of the wider aesthetic of hip-hop. To set the stage for later musical analysis, the course includes brief introductions to technologies of hip-hop (e.g., sampling, drum machines, Autotune, streaming, etc.), earlier Afro-diasporic expressive forms and aesthetics (e.g., the dozens, toasts, double-dutch, etc.), and rap music's relation with gender, race, identity and politics.