Cultivating a Southeastern NAGPRA Community of Practice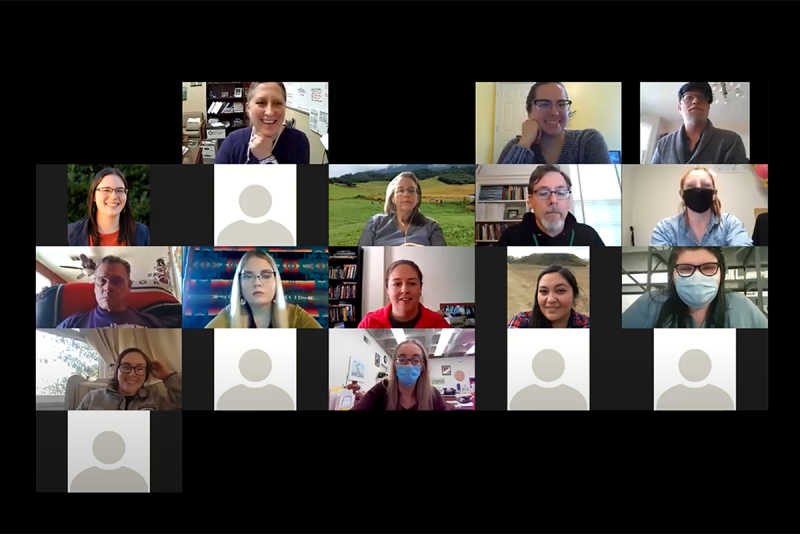 by Amanda Roberts Thompson, University of Georgia, Laboratory of Archaeology; RaeLynn Butler, Muscogee (Creek) Nation, Historic and Cultural Preservation Department; Meghan Buchanan, Auburn University, Department of Sociology, Anthropology, and Social Work; and Ellen Lofaro, University of Tennessee Knoxville, Department of Anthropology
Throughout the Southeast, many NAGPRA practitioners are at various stages with different levels of knowledge about NAGPRA. However, all face similar issues concerning the navigation and implementation of NAGPRA. During conversations over the last year, we discussed the feeling of disjointedness and lack of knowledge and consultation regarding NAGPRA amongst many institutions in the Southeast. Many practitioners including archaeologists and Tribal Nations were never taught how to do NAGPRA or much of what was expected in terms of it. So, when archaeologists and tribes encounter a NAGPRA issue within their institution or community, it can be difficult to know what to do, how to do it, or who to talk to about it.
This led to the development of the Southeastern NAGPRA Community of Practice (SNACP), which is a spinoff and inspired by the national NAGPRA Community of Practice started through the University of Denver Museum of Anthropology. Coordinated by Anne Amati, the national Community of Practice is "dedicated to supporting implementation of the Native American Graves Protection and Repatriation Act. NAGPRA practitioners work for museums, tribes and government agencies, but compliance takes place across disciplines and industries. This network of community members across all fields related to NAGPRA comes together to share knowledge and offer collaborative insight that informs stronger practices."
Communities of practice are groups that form to engage in collective learning in an area of shared interest, the ultimate goal of which is to develop resources through mutual understanding. A Southeastern focused support system will enable individuals who are involved in NAGPRA to more easily find ways to talk, discuss NAGPRA best practices, and share resources specific to the Southeast.
Our region still retains large numbers of ancestors and other NAGPRA material held in collections, and we hope bringing stakeholders together can improve and speed up the consultation process and ultimately help institutions become compliant with NAGPRA law. Overall, we wanted to close the gaps in communication across the Southeast and bring us together to create dialogue, facilitate communication and establish relationships between different stakeholders concerning NAGPRA. Our goal for SNACP is to create better relationships between tribes, institutions, and other interested stakeholders that will forge a new dynamic in the Southeast centering on collaboration and consultation with and beyond NAGPRA.
SNACP has had two virtual Zoom meetings so far, with between 80–100 people in attendance, and plans to meet monthly in the future. Our first meeting introduced the general mission of SNACP and its co-organizers, as well as three short talks. Anne Amati, the NAGPRA Coordinator at the University of Denver Museum of Anthropology, spoke about the original NAGPRA Community of Practice and its resources for those involved in NAGPRA work. Melanie O'Brien, the Program Manager for the National NAGPRA office, discussed the current data regarding NAGPRA in the southeast. Deanna Byrd, NAGPRA Liaison for the Choctaw Nation of Oklahoma, spoke about the Southeastern Tribal Alliance for Repatriation and Reburial (STARR).
The second meeting of SNACP centered on introductions by three tribes in the Southeast. Miranda Panther with the Eastern Band of Cherokee Indians, Amber Hood with the Chickasaw Nation, and RaeLynn Butler with the Muscogee (Creek) Nation all spoke briefly about their offices and the importance of NAGPRA and consultation.
Our plan is to hold monthly virtual meetings for NAGPRA practitioners, tribal representatives, archaeologists, professionals and students who work in or have connections to the Southeastern US. If you would like to join or would like more information, please send us an email at: SE.NAGPRA.CommunityOfPractice@gmail.com.
Future Meeting Dates and Topics:
Monday, April 26th at 2 p.m. central/3 p.m. eastern
Consultation How To and Discussion
Wednesday, May 26th at 10 a.m. central/11 a.m. eastern
Monday, June 28th 2 p.m. central/3 p.m. eastern