What is DUMA?
The University of Denver Museum of Anthropology (DUMA) is dedicated to increasing knowledge and understanding of world cultures and human diversity. The Museum emphasizes the ethical stewardship of collections, research, teaching, educational programming and responsible community engagement. DUMA supports the Department of Anthropology's emphasis on applied and public anthropology in service to the common good.
The museum acknowledges that colonial legacies are embedded in anthropological collections. It strives to address historical wrongs by building collaborative, reciprocal relationships and respecting the rights and cultural protocol of communities represented in the collection.
Current and Upcoming Exhibits
The gallery is open Monday-Friday, 10-4. To confirm gallery hours or for special accommodations, please contact anne.amati@du.edu or call 303-871-2687.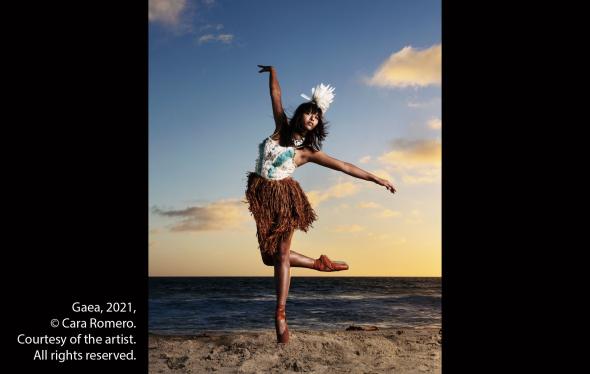 October 12–November 17
Cara Romero Photography: Storytelling Through an Indigenous Lens
Presented in partnership with the 20th Annual Indigenous Film and Arts Festival, this exhibit features the work of contemporary fine art photographer Cara Romero (b. 1977, Inglewood, CA).
An enrolled citizen of the Chemehuevi Indian Tribe, Romero was raised between contrasting settings: the rural Chemehuevi reservation in Mojave Desert, CA, and the urban sprawl of Houston, TX. Romero's identity informs her photography, a blend of fine art and editorial photography, shaped by years of study and a visceral approach to representing Indigenous and non-Indigenous cultural memory, collective history, and lived experiences from a Native American female perspective.
Opening Reception and Film Screening
Thursday, October 12, 5-7 p.m.
Sturm Hall room 102
Screening of Cara Romero: Following the Light, director Kaela Waldstein (2023, 27 min), at 6 p.m. in Davis Auditorium, Sturm Hall 248.
Cara Romero: Following the Light, from director Kaela Waldstein, explores Cara Romero's perspectives on Indigenous and non-Indigenous cultural memory, collective history, and lived experiences from a Native American female perspective. Includes behind-the-scenes footage of Cara's shoots, archival photos, never before seen work, as well as interviews with Cara and her friends, family, and collaborators. (Mountain Mover Media, 2023, 27 min.)
Artist Talk by Cara Romero
Reception by Tocabe
Thursday, November 9, 5–7 p.m.
Reception, Sturm Hall room 102, 5–6 p.m.
Artist Talk, Sturm Hall room 151, 6–7 p.m.
DUMA provides a hands-on learning experience for students and works closely with the master's level Museum and Heritage Studies program in the Department of Anthropology. Alongside faculty and staff mentors, students conduct research and learn about the ethics of interpretation and stewardship. Students curate exhibits showcased in the museum's gallery and display cases, and assist with projects related to collections care.
DUMA Exhibits
Our exhibits showcase student and faculty anthropology research, as well as collaborations with campus organizations and community partners. The museum's gallery on the first floor of Sturm Hall and exhibit cases on the first and second floors house our physical exhibits, while virtual exhibits are archived online.
Explore Our Exhibits
DUMA Collections
Home to more than 100,000 unique ethnographic and archaeological artifacts, DUMA's collections include Southwestern pottery, African and Native American textiles, masks from around the world, and remarkably well-preserved yucca fiber and animal hide footwear from cave sites in Colorado.
Access Our Collections