DUMA Exhibit Archive, 2013-2017
The DU Museum of Anthropology hosts seasonal and rotating exhibits curated by faculty, students, and members of the anthropological and artistic communities. From contemporary Native American art to collections reflecting on the internment of Japanese-American citizens during World War II, DUMA is proud to host exhibitions that advance the conversation around anthropological study and bring together the disparate voices of our cultural communities.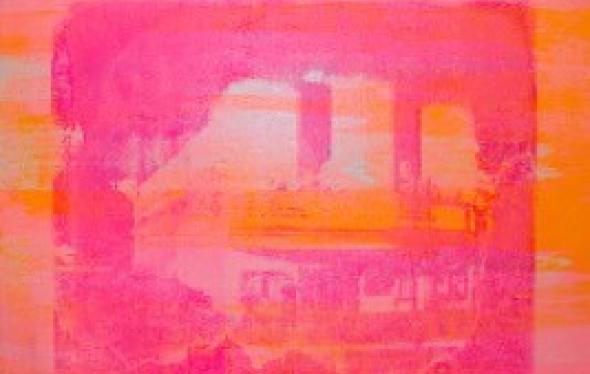 February 2 - 17, 2017
Para-Place: An Exploration of the Spaces Betwixt and Between
This exhibit is a collaboration between contemporary artist JD Sell and students from Abraham Lincoln High School.The exhibit serves as a creative platform for important conversations concerning the accelerating social, economic, and demographic changes taking place in the city of Denver. Para-Place will feature Polaroid photography and screen-printed infused paintings that explore the in-between spaces of our urban environment, from the unique perspective of Denver teens.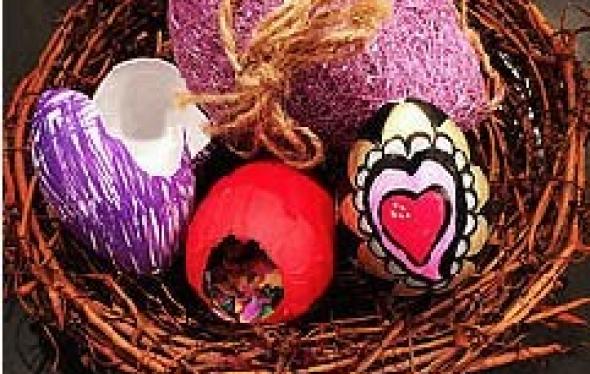 March 2 - March 31, 2017
The He(artery) of Pregnancy and Baby Loss
The He(ARTery) of Pregnancy and Baby Loss showcases the artwork of The Scraps of the Heart Project collaborators, including bereaved parents, healthcare providers, artists, students, and researchers. The exhibit welcomes all to bear wit(h)ness to its art and stories--vessels that contribute to a circulatory system of community and breathe life into babies and their families.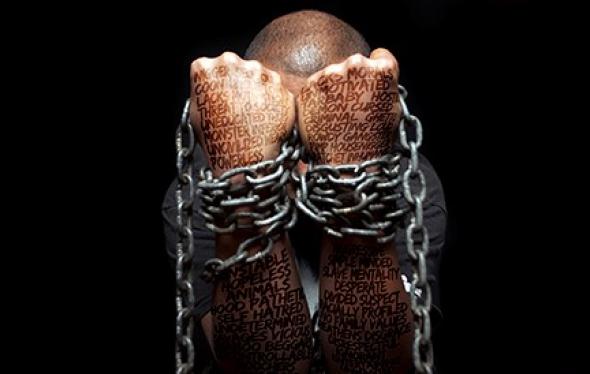 April 19-June 9, 2017
The Chain of Perception in Black America
University of Denver faculty Esteban Gomez (Anthropology), Adrienne Russell (MFJS/EDP) and Armond Towns (Communication) join Ronnie Boykin Junior to discuss his new work on exhibit at the University of Denver Museum of Anthropology confronting negative perceptions about the Black community by the Black community.
July 31 - September 22, 2017
Spirited: Stories of Wellbeing
This exhibit, coordinated by graduate student Lindsey Miller, brings together artwork created by individuals with Alzheimer's and their care partners with the masks from our collection that inspired them. Draw your own mask or share your responses to the exhibit on a chalkboard wall inside the gallery.
This exhibit was created in partnership with the Colorado chapter of the Alzheimer's Association and the Denver Art Museum's Art and About program.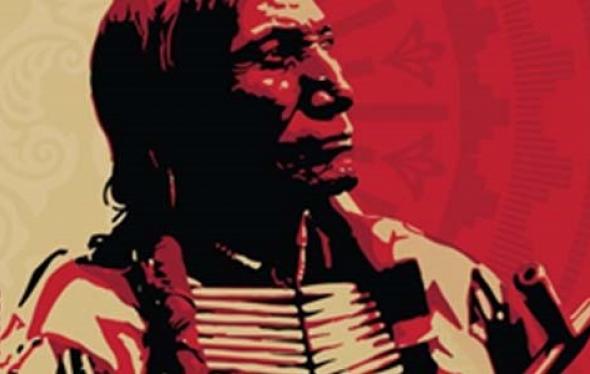 October 6-19, 2017
Not Your Indian
"Our existence is a protest to the very policies that have tried to shape us and eliminate us. We are still here, you still walk on Indian land, and we are not your Indian." – Gregg Deal
Misconceptions about Indigenous people in North America are still perpetuated in popular media and fine art. In this exhibit, activist artist Gregg Deal confronts those stereotypes as the Featured Artist of the 14th Annual Indigenous Film and Arts Festival.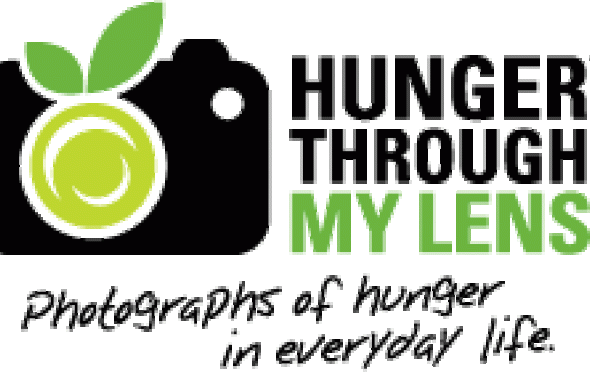 January 28 - March 11, 2016
Hunger through My Lens: Photographs of Hunger in Everyday Life
Did you know that nearly 1 in 7 Coloradans struggle with hunger, facing times when there is not enough money to buy food. Hunger Through My Lens features photography by local individuals who experience hunger—putting real stories to the overwhelming statistics surrounding hunger. The photographs provide tangible evidence that there's a need to face the impacts of hunger on individuals, families, and communities throughout Colorado.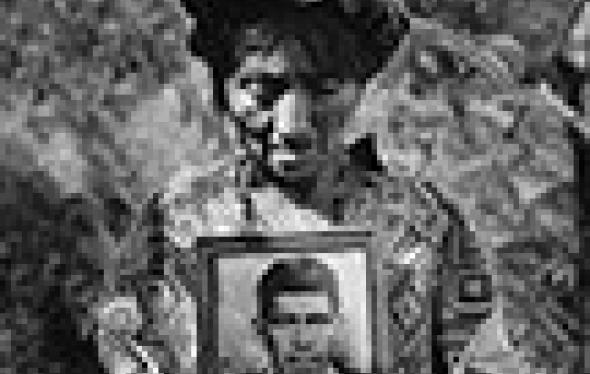 April 4 - May 27, 2016
Our Culture Is Our Resistance: Repression, Refuge and Healing in Guatemala
Fine art/documentary photographer and human rights activist Jonathan Moller's photographs tell the story of the tragic history of Guatemala: the repression and genocide carried out by state security forces in the early 1980's, and the work for justice, truth, and reconciliation being done within a continued context of impunity and human rights violations in the late 1990's and the 2000's.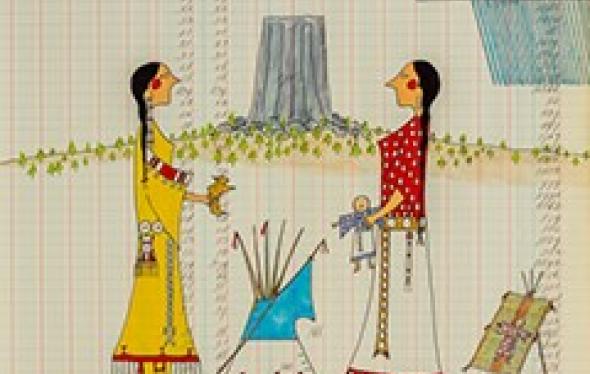 October 6 - November 23, 2016
Tsitsistas: Our Cheyenne Family
Southern Cheyenne artist George Curtis Levi sees Cheyenne art as history in motion. Levi's ledger drawing, beadwork and parfleche tell stories of where the Cheyenne come from, where they are today, and where they are going in the future. The art and history of the Cheyenne people, the ordeals the Cheyenne people have endured, and his wife and children provide Levi with inspiration and motivation for creating his art.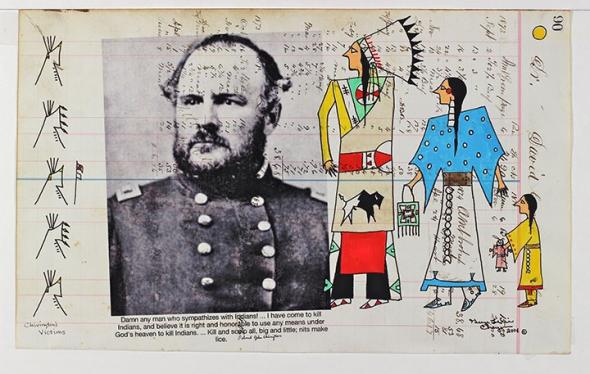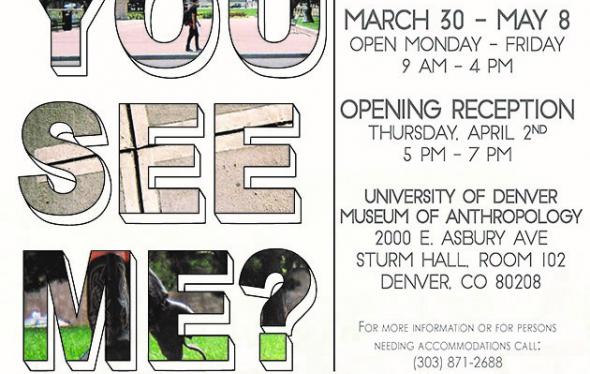 March 30 - May 8, 2015
Can You See Me?
Curated by University of Denver graduate student Taylor Morrison, Can You See Me? featured photography by three homeless women living in Denver.
May 22 - September 18, 2015
Connecting the Pieces: Dialogues on the Amache Archaeology Collection
Featuring archaeological objects from Amache, the World War II Japanese American incarceration camp located in Granada, Colorado. Created by University of Denver students and community members, this exhibit encourages dialogue about life at Amache and Japanese American history.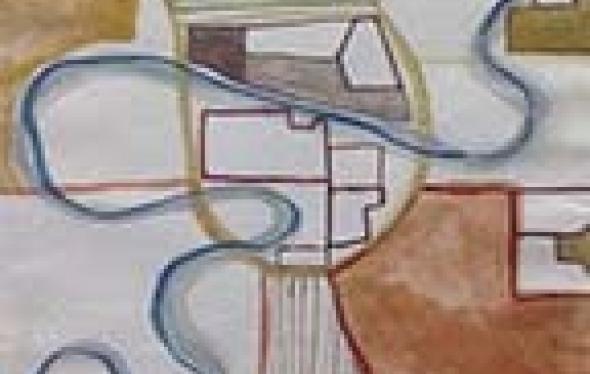 October 8 - November 24, 2015
Histories Beyond Homeland: Melanie Yazzie
As a printmaker, painter, and sculptor, Melanie Yazzie's work draws upon her rich Diné (Navajo) cultural heritage. Through her art, Melanie works to serve as an agent of change by encouraging others to learn about social, cultural, and political phenomena that shape the contemporary lives of Native peoples in the United States and beyond. Ms. Yazzie's art incorporates both personal experiences as well as the events and symbols from Diné culture, and strives to tell many stories about things both real and imagined.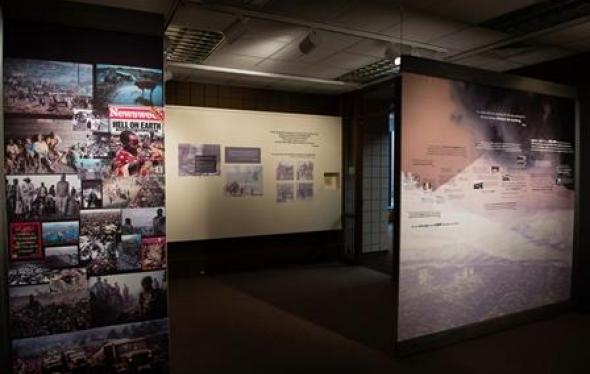 January 29 - February 25, 2014
Living with the Memory: Rwanda Twenty Years On
Part of the Rwanda 20 Years Ago campus-wide project remembering the 1994 Rwandan genocide that took the lives of over 800,000 people. Professor Ermitte St. Jacques and anthropology graduate students interviewed three survivors of the genocide. The survivors' stories and voices were highlighted in the exhibit.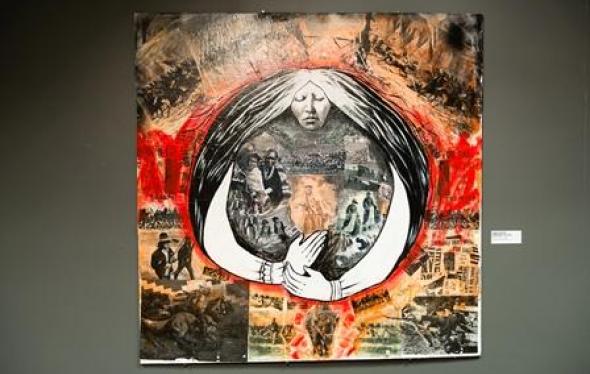 March 4 - March 21, 2014
Moving Forward: Thomas Greyeyes and Ryan Singer
An exhibit curated in partnership with the University of Denver Native Student Alliance and the DU Department of Anthropology. Thomas Greyeyes and Ryan Singer's artwork addressed the history of the Sand Creek Massacre from Native American perspectives, and presented ways their communities are healing and moving forward. 
May 15 - June 30, 2014
Velo/Love
An exhibit of bicycles and cycling, created by Christina Kreps' Capstone Seminar in Anthropology.
September 8 - October 1, 2014
Ludlow Memorial: 100 Years Later
A student-curated exhibit commemorating the 100th anniversary of the Ludlow massacre. On April 20, 1914 several people were killed, including striking coal miners, two women and 11 children. The exhibit focused on the memorial that stands at the Ludlow site and how it has been used in the past and present to remember those who fought and still fight for worker's rights.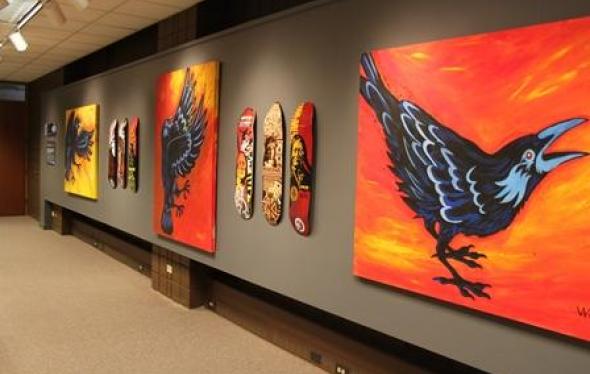 October 7 - November 21, 2014
Raven Cry: Message from the Stronghold
Walt Pourier is Oglala Lakota from the Pine Ridge Reservation in South Dakota. He currently lives in the Denver, Colorado area where he is Creative Director of Nakota Designs and Executive Director of the Stronghold Society a nonprofit dedicated to instilling hope and supporting youth movements through Live Life Call To Action Campaigns.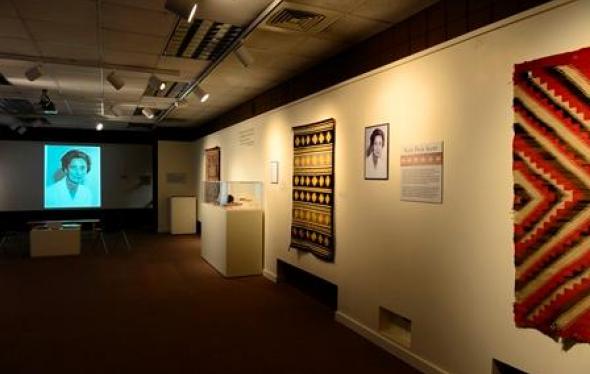 October 14 - November 22, 2013
Three Voices/Three Visions: Interpreting Southwestern Native Arts and Culture
An exhibit curated by Anthropology graduate student Mary Ellsworth. The exhibit showcased three DU-related anthropologists: Ruth Underhill, Kate Peck Kent, and Theresa Montoya.
September 20 - January 11, 2013
Explorations
An exhibit inspired by Keri Smith's book How to be an Explorer of the World. Christina Kreps' Museum Anthropology class created miniature exhibits using Keri Smith's Exploration activities as inspiration.
January 23 - March 15, 2013
Objects and Lives
An exhibition featuring new acquisitions to DUMA. The exhibit was a cornerstone for Christina Kreps' Art and Anthropology course. Students learned to conduct research on objects and their many meanings. 
April 1 - May 6, 2013
What/Tribe
A collaboration with the University of Denver Native Student Alliance. The exhibit featured the art work of Douglas Miles, who created portraits of DU students and faculty during an artist residency at DU.
May 22 - August 9, 2013
Speaking with Cloth: Capulanas of Mozambique
Curated by Dores Cruz, Speaking with Cloth featured modern capulanas as well as those from DUMA's collection.