DU Alumna Makes a Splash as the Children's Museum Artist-in-Residence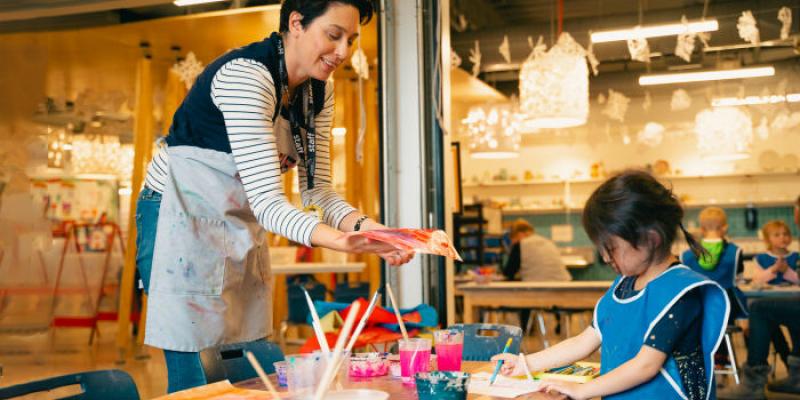 The Children's Museum of Denver at Marsico Campus is home to a bustling network of kids running, jumping, puzzling, and even painting. Nestled among the jungle gyms, make-believe dentist's office, and clay studios, is DU alumna Julia Rymer (BFA '00, painting). As the Children's Museum's latest artist-in-residence, Rymer has been honing her skills as an artist and educator while working with museum patrons.
During the month of January, the museum was focused on fostering social emotional development and self-growth. It was a synergistic move by the museum to choose Rymer, as she "has a wonderful and empathetic personality and an attitude that aims to welcome folks into the act of art-making with a focus on self-expression, the phenomenon of color theory, and the relation between people, their feelings, and colors," said Salim Khoury, art programs coordinator.
Rymer graduated from the University of Denver with a bachelor's in painting and continued to pursue art academically, graduating with an MFA from the Pratt Institute in New York. After working and teaching in commercial galleries, universities, and colleges in Colorado, Rymer moved to the San Francisco Bay Area in 2009. She quickly realized that many young artists need mentors and entrepreneurial skills to achieve their goals. After returning to Denver in 2016, Rymer and fellow creative entrepreneur Jessica Loving-Campos co-founded artboss, a company which teaches communication, social media, and branding skills to budding creatives.
Her passion to teach doesn't stop there. Rymer uses a variety of mediums with her Children's Museum students, allowing them to explore texture, color, expression, and creativity. Mixing color has taken up much of her studio time, she said, as children are fascinated with the amount of experimentation it takes to produce colors such as pink or brown. Many of the parents and guardians join for studio time as well.
Rymer's passion for art and teaching flourished during her time at DU, where the support, mentorship, and expression she received contributed to her success. "Liberal arts teaches you to think outside the box," Rymer said. She also attributes her success to growing up with Colorado's breathtaking landscapes and studying abroad in the South of France as an undergraduate.
Academic career aside, Rymer acknowledges the challenges of being an artist and tries not to focus on obstacle. She suggests rolling with the punches, managing priorities, and "always being true to your vision as an artist."
In addition to her work with artboss and the Children's Museum, Rymer exhibits her paintings throughout the United States and teaches classes for children and adults at the Curtis Center for the Arts in Greenwood Village. She'll be in residence at the Children's Museum's through March 23. Her residency will conclude with a commissioned work on display in the museum's collection.
To learn more, visit www.juliarymer.com.
[Photo credit: Andrew Han for the Children's Museum of Denver at Marsico Campus]