DU Field Notes: Five Epic Parks for Your Next Adventure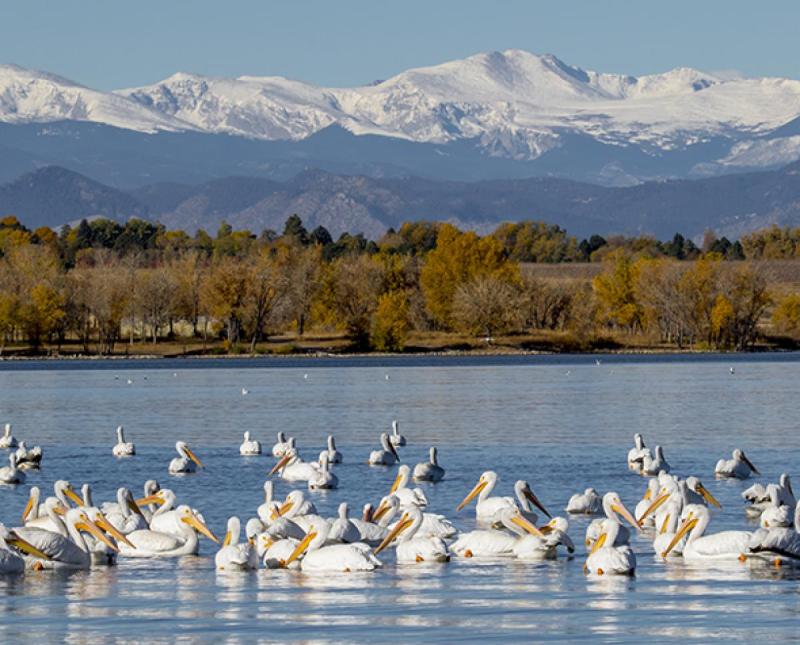 If you've been in Denver for more than a few months, you know the most famous parks in Denver. Wash(ington) Park, City Park, Cheesman Park and more are all within a short distance of the University of Denver. We've covered those here and here.
But plenty of other options are also tantalizing. Do you want to go biking, shooting and boating — all in the same afternoon? We've got that. Want to ride an adorable tiny train through an equally adorable petting zoo? You betcha. We can already hear you, invisible internet reader, asking: What about the tallest playground slide in Colorado? Fear not. That, too, is within reach. It'll just take a vehicle to get there.
In no particular order, here are five lesser-known Front Range parks that will tickle your sense of adventure and get you outside for some fresh air and Vitamin D.
1. Cherry Creek State Park (4201 S. Parker Road)
This one might be considered cheating, but "park" is in the name. Cherry Creek State Park in Aurora features an 880-acre reservoir surrounded by prairies and wetland natural areas. The total acreage of the park tops 3,000 and features a campground, shooting range, one of the largest off-leash dog areas in the city, plus much more.
The reservoir itself allows boating, and everything from motorboats to paddleboards are welcome. Elsewhere on the lake, fishing is allowed with a Colorado fishing license.
Hiking is headlined by the 6.7-mile Cherry Creek Reservoir Loop, which encircles the main body of water. It connects into the larger Cherry Creek Regional Trail, 40 miles of wide, concrete pathing that snakes from downtown Denver to Douglas County. The trails in Cherry Creek State Park branch into smaller hikes that include the Wetland Loop Trail and Dog Park Loop.
Speaking of our furry friends, this is the perfect place to let them run free. The park has 107 acres of fenced area (with water access) where your pup can play without a leash. Just make sure you clean up after him or her.
There's also the Family Shooting Center, where you can fire pistols, rifles, shotguns or bows with a variety of distances and targets. Gear rentals and lessons are available for newcomers.
2. Belleview Park (5001 S Inca Drive)
Overwhelmed by adulting and all the hard work it entails? Feeling like a kid again is only a quick trip to Englewood away.
Belleview Park is nothing short of magical. The biggest highlight is Englewood Farm & Train, which has run for more than 30 years. The red and lime green miniature train engine pulls more than 60,000 park guests of all ages each year through acres of green space, creeks and nature trails. Along the way sits a petting zoo where kids (and kids-at-heart) can love on some farm animals.
The larger park area has several picnic shelters that are perfect for events, a playground, an outdoor basketball court and tennis courts.
If you're looking to cool off, Belleview also includes Pirate's Cove Waterpark. With enough piratey water features to make Jack Sparrow blush, three waterslides and a lazy river, there's something for everyone.
Want to avoid the crowds of children? Adult Night is coming up on July 6, hosted by the City of Englewood.
3. Cornerstone Park (5150 S Windamere Street)
If you stood at the top of the slide at Pirate's Cove and looked across Belleview Avenue, you could see our next entry. Located just across the border into Littleton, Cornerstone Park offers some unique activities.
First and most famously, there is Colorado Journey Miniature Golf. The pair of 18-hole courses are themed around Colorado landmarks, from Mesa Verde to the Florissant Fossil Beds. In 2018, Westword called it the "best miniature golf for newbies" and experts tell us it's an excellent place for date night.
Elsewhere in the park, you'll find batting cages, three softball diamonds, an inline skating rink, a skate park and a cricket ground. Grab your cricket bat and check out the wicket with a mountain view so beautiful, it entranced Sir Garry Sobers (the Michael Jordan of cricket) when he visited.
4. Red Rocks Amphitheatre (18300 W Alameda Parkway)
Yes, Red Rocks is a well-known, world-class outdoor concert venue. But did you know that Colorado's 25th national historic landmark also includes nature trails on its 868 acres?
The Trading Post Trail is 1.4-mile loop that weaves through the magnificent rock formations surrounding the venue. Red Rocks Trail adds another 6 miles of hiking that connects to the Dakota Ridge Trail and, therefore, the larger Denver-area trail ecosystem.
The surrounding rock formations have fossil fragments of a 40-foot sea serpent, plus dinosaur tracks.
For five Mondays each summer, there is Film on the Rocks. "The Sandlot" is coming up on July 18 and "Dune" rolls around on Aug. 15.
You can also try running the steps like this madman.
5. Twin Silo Park (5564 Ziegler Road)
We've finally arrived, invisible internet reader. Welcome to Twin Silos Park in Fort Collins, home to what many believe to be the tallest playground slide in Colorado. Wending its way through the two namesake silos, this palace of plastic starts more than halfway up on one silo and lets out at the base of the other, for a total drop of more than 35 feet.
The interiors of both silos feature a double-helix climber. One silo has a zipline leading elsewhere in the park. The other features a netting-heavy balance beam that connects to a nearby barn converted into a play area.
If you'd rather keep your feet firmly planted, try the community gardens, an orchard, hops trellis, paved trails, pickleball courts and custom art installations. For action sports, consider the large BMX park.
The City of Fort Collins Park Planning and Development Department won an award from the American Society of Landscape Architects for its sustainable design.