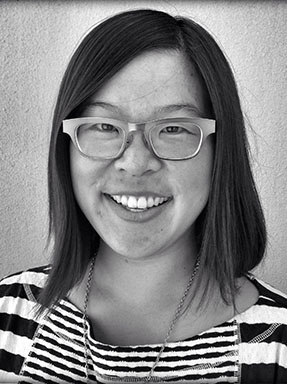 Chinn Wang
Teaching Associate Professor
Art—Foundations
2121 E. Asbury Ave. Denver, CO 80208
What I do
Teaching Associate Professor & Foundations Coordinator in the School of Art & Art History
Specialization(s)
art, Printmaking, symbology
Professional Biography
Chinn Wang teaches courses in Art Foundations and Printmaking, as well as other advanced-level topics-based studio seminars. Her studio practice incorporates printmaking, sculpture, and installation and explores the subjective nature of personal narrative and history using coded visual languages, symbolic iconography, and shifting visual perception. Chinn was a resident artist at RedLine Denver from 2012-2014, and is a 2013 Santo Foundation Individual Artist Grant recipient. She was also an invited artist in the inaugural year of the Community Supported Art Colorado program (CSArt) and a visiting artist and mentor for the Museum of Contemporary Art Denver's teen internship program, Failure Lab. Chinn's work has been shown nationally and internationally in group exhibitions, and she recently had a solo exhibition at The Print Center in Philadelphia, PA that resulted in a front cover feature in Art in Print Journal.
Degree(s)
MFA, Studio Art - Printmaking, University of Wisconsin, Madison, 2011
BA, Art History, University of California, Berkeley, 2003
BA, Art Practice, University of California, Berkeley, 2003
Professional Affiliations
Foundations in Art: Theory & Education
MId America Print Council
Southern Graphics Council International
Research
Chinn Wang's art practice is concerned with the subjective nature of personal narrative and history and the examination of the fluidity and ambiguity of memory. Wang is interested in the digital and analog manipulation of images, pushing optical limits past the point of legibility into abstraction and then back again. In this way, images vibrate between clarity and obfuscation, demonstrating the futility and interplay between fiction and nonfiction. Her work seeks to create a non-passive viewing experience that compels a constant questioning of material, space, and image, highlighting the shifting balance between what is real and what is imagined.

The current and ongoing body of work originates from a series of photographs taken of Wang's mother during her first years living in the United States after arriving from Hong Kong. The series of prints highlights her status as a woman, an immigrant, and a scientist—three imperiled communities in American society today—through a removal of the figures from the picture. Her mother's absence from the images not only splices the picture plane, but also complicates a lost sense of lineage, heritage, and identity that sometimes follows the generations after emigration.
Areas of Research
memory
Immigration
motherhood
parenthood
ritual
death
Cemeteries
symbols
cartomancy
lenormand
chance
identity
funerals
memorial
monuments
Performances
(2019)
.
Soaking Up Local Color
.
Chinn Wang
.
The Print Center

,

Philadelphia, PA
.
.
(2019)
.
Finding Place
.
Chinn Wang
.
Walker Fine Art

,

Denver, CO
.
.
(2018)
.
A Shadow is Never Created in Darkness
.
Chinn Wang & Libby Barbee
.
The White Cube Gallery at Naropa University

,

BOULDER
.
.
(2017)
.
Time Zone Converter
.
Korean Cultural Center

,

Beijing, China
.
.
(2016)
.
Conveners
.
RedLine Project Space Gallery

,

Denver, CO
.
.
Presentations
(2018)
.
Complex Utopias: Dialogues with Community Printshops
.
Mid American Print Council Conference
.
University of Wyoming, Laramie, WY:

Mid American Print Council
.
.
(2019)
.
Magic Eye(s): Optics, Symbology & Personal History
.
Visiting Artist Public Lecture
.
Philadelphia, PA:

Tyler School of Art, Temple University
.
.
(2019)
.
Women, Labor, and the Arts: Chinn Wang in Conversation with Katie Garth
.
Public Gallery Talk
.
Philadelphia, PA:

The Print Center
.
.
Awards
Winner of 95th ANNUAL International Printmaking Competition, The Print Center, Philadelphia, PA
Jacqueline L. Zemel Prize for Printmaking, The Print Center, Philadelphia, PA
Commission for New Artwork for Exhibition, Culture Catalyst: Celebrating 20 Years of Art at DIA, Denver International Airport Art and Culture Program
Art in Print Journal front cover exhibition feature, Art in Print Journal