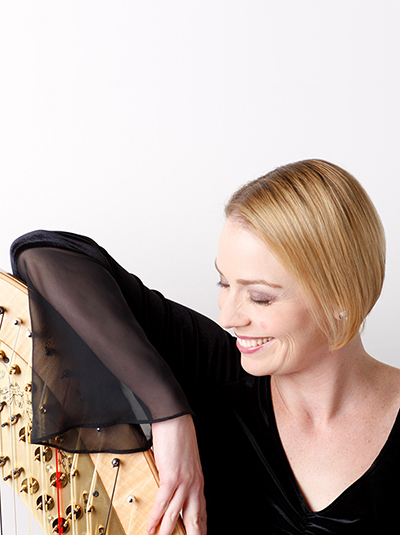 Courtney Hershey Bress
Adjunct Faculty
Newman Performing Arts Center, 2344 East Iliff Ave. Denver, CO 80210
What I do
Adjunct Professor of Harp
Professional Biography
Courtney Hershey Bress enjoyed a celebrated freelance career before joining the Colorado Symphony as Principal Harp in 2001. Her experiences took her to engagements with the Singapore Symphony Orchestra, the Chicago Symphony Orchestra and, as Principal Harpist with the United States Army Field Band on tour as part of the ensemble and as soloist, to the 48 continental states. She held the Principal Harp position with the Cabrillo Festival of Contemporary Music for many years and has acted as Principal Harp of the Baltimore Symphony. She has played with the Grand Teton Music Festival, the Strings Music Festival, Steamboat Springs, CO and as a guest artist with Colorado College Summer Music Festival. Ms. Bress was selected and has performed for the American Harp Society and the World Harp Congress. Ms. Bress will be playing the world premiere of a harp concerto by Michael Daugherty in May of 2023, a piece commissioned by Ms. Bress and the Colorado Symphony.
Ms. Bress is also an active teacher, giving master classes around the country and maintaining a private teaching studio; at the University level she is Adjunct Professor of Harp at Lamont School of Music, University of Denver and Lecturer of Harp at the University of Wyoming. She was the Assistant Professor of Harp at Colorado State University from 2016–2021 and has been visiting Professor of Harp at the Eastman School of Music. She is also the Harp Instructor for the Lamont Summer Academy at DU. Her students have won National and International harp competitions. She has served as a juror for the American Harp Society National Competitions, including the Grandjany Memorial Competition, and held the position of artist and clinician for the Midwest Harp Festival.
Ms. Bress is the author of the book For Love of the Harp, published by Veritas Musica Publishing. The book is in two parts with the first being advice to the young musician and stories about her career; the second part discusses and shows examples of how to write for the harp. Ms. Bress was a 2005 GRAMMY® nominee for her performance of George Crumb's chamber work Ancient Voices of Children. She is a member of the Internationally renowned chamber group,Trio Arcadia, flute, horn and harp. Besides recordings with Naxos, Bridge, and Albany records, one can find her music on many albums with the Colorado Symphony and the U.S. Army Field Band. Her duo album with violinist, Andrés Cárdenes, will be released in the near future. Ms. Bress earned a Bachelor of Music degree and the Performer's Certificate from the Eastman School of Music and received her Master of Music in Orchestral Studies from the Chicago College of Performing Arts, Roosevelt University. Her teachers include Kathleen Bride, Sarah Bullen and Gretchen Van Hoesen.