Interdisciplinary Critical Race and Ethnic Studies Program Empowers Future DEI Leaders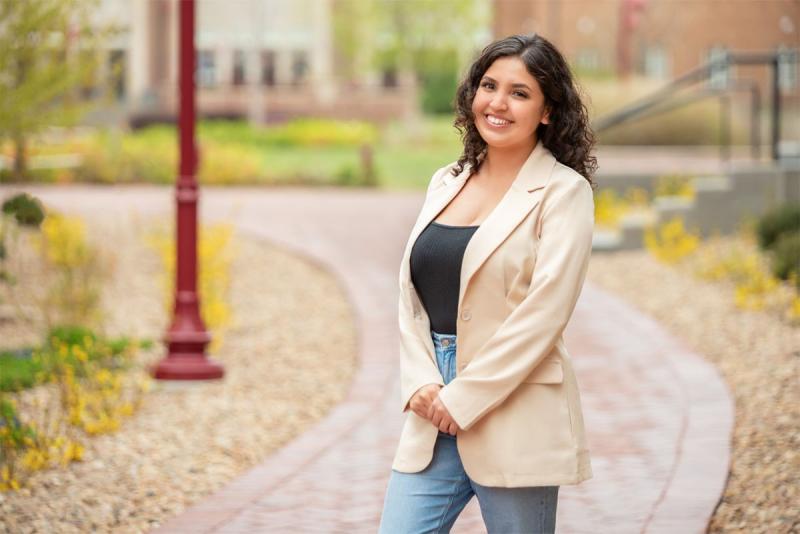 Freshman year, first-generation student Naomi Perez worried about fitting in.
"I was terrified that as a person of color I would always be the odd one out and that my presence would be questioned," the Communications Studies major and Critical Race and Ethnic Studies (CRES) minor said. "However, CRES courses have helped me meet so many amazing people who want to help students like myself succeed and students who inspire me by keeping the conversation [about race and ethnicity] going."
The CRES minor explores race and ethnicity through an interdisciplinary lens that pulls from subjects such as legal studies, sociology, history, political science and more to critically analyze the ways that race is "not biological but a social construction that has a significant impact on how far people make it and the quality of their lived experience," said Associate Professor and CRES Program Director Reggie Byron.  
"These social constructions are not static," he added. "The definition of who falls into which categories has shifted over time and across place."
In the course "Deportation Nation," for example, taught by Professor Lisa Martinez, Perez said she "learned so much more about why certain policies were put in place." Although Perez was already involved in immigration advocacy, such classes strengthened her commitment. But for many of her peers, Perez said this class was their "first time hearing about how racist and inhuman the system can be."
Prompting Meaningful Conversations and Activism
CRES courses have boosted Perez's confidence to participate in conversations about race and ethnicity.
"I always saw school settings as a place where we shouldn't have such conversations and thought people would be mad if we talked about it," Perez said.
Instead, she's found that conversations started in CRES classrooms pave the way for respectful, meaningful dialogue elsewhere. For example, Perez incorporates CRES course content into essays and presentations required for communications studies majors, including research papers about DACA (Deferred Action for Childhood Arrivals) and presentations on Latinx authors and the mental health problems that children of immigrants often display. 
Classes have helped Perez "bring cultural awareness to places where it is not often found," she said. "This may be something as big as planning a culture-related event or as small as adding music in different languages to playlists heard by large groups of students."
Opening New Career Doors
Slated to graduate in June 2023, Perez hopes her CRES studies will position her favorably in the job market. She plans to go into social media work and said she hopes to reach many people with messages about the importance of diversity and inclusivity.
CRES courses have also encouraged Perez "not to settle for less than I deserve. As a Latina woman, I know the odds can be stacked against me. However, I have learned about amazing Latina women who came before and fully plan on finding a company that values diversity and my work."
Perez recently learned about efforts to create a major program in CRES.
"This tells us that people are interested in learning more about racial and ethnic studies. It's a big step for DU that I think will create a more inclusive space for everyone."