Our faculty research topics ranging from elections, to migration, to international politics, to religion and race in politics. They present and publish their research through academic conferences, journals, books and news media. Our undergraduate students have many opportunities to collaborate with faculty on research and public projects.
Partners in Scholarship
To encourage greater student-faculty research partnerships, our department has sponsored more than 15 student-faculty PinS (Partners in Scholarship) projects.
Through the Undergraduate Research Center, undergraduates can find funding to support a research project with a faculty member, get summer research grants, travel to an academic conference or participate in the Undergraduate Research Symposium.
If you are interested in partnering with a faculty member on original research, talk to your political science advisor.
In this podcast interview with the New Books Network, Professor Seth Masket, PhD, discusses his book "Learning From Loss: The Democrats, 2016-2020." Masket's book explores how Trump's victory and the Democratic loss in 2016 spurred changes in the party's approach to campaigning and the nomination process for the 2020 election. Using multiple research methods, including extensive interviews, campaign finance analysis and historical context, Masket's book explores and interrogates the many narratives that emerged from the 2016 election.

Listen to Masket's Interview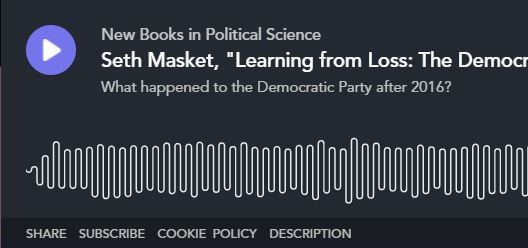 Faculty Research Grant Recipients
In the 2020 Livingston Lecture, Professor Joshua Wilson, PhD, discussed the book "Separate But Faithful: The Christian Right's Struggle to Transform Law and Legal Culture," which Wilson co-authored with Amanda Hollis-Brusky, PhD. Wilson and Hollis-Brusky further discussed their book in a podcast interview with the New Books Network. The book explores how Christian conservative activists have sought to shape American law by electing Christian judges and lawyers, and evaluates whether these efforts have succeeded using a support structure pyramid model.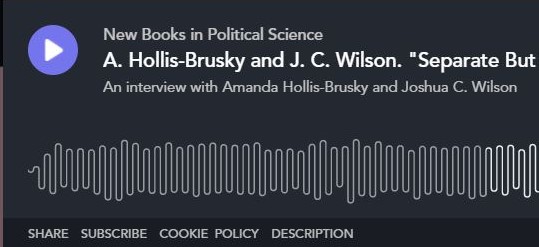 Faculty Publications and Presentations
Jesse Acevedo

Acevedo's article "Migrant remittances and demand for redistribution" appeared in Studies in Comparative International Development, volume 55, 2020.

Sara Chatfield

Chatfield and co-author John Brooks published their article "Mind the gap: Examining the role of gender in campaign staffing and compensation" in Electoral Studies, volume 67, 2020.

Lisa Conant

Conant's book chapter, "The Court of Justice of the European Union," appeared in The Palgrave Handbook of EU Crises in 2021.

Laurel Eckhouse

Eckhouse and two co-authors published their article "No justice, no peace: Political science perspectives on the American carceral state" in a special issue of the Journal of Race, Ethnicity and Politics, volume 5, special issue 3, 2020.

Seth Masket

In 2021, Masket and co-author Hans Noel published their book "Political Parties" with W.W. Norton.

Elizabeth Sperber

Sperber and Erin Hern's book chapter, "Pentecostalism, Partisanship and Civic Engagement," appeared in the edited collection Religion and Politics in Post-Colonial Zambia, published in 2020.

Jing Sun

Sun published his book, "Red Chamber, World Dream: Actors, Audience, and Agendas in Chinese Foreign Policy and Beyond," in 2021 with University of Michigan Press.

Nancy Wadsworth

In 2020, Wadsworth and co-author Aleš Črnič published their article "Invented religion, the awakened polis, and sacred disestablishment: The case of Slovenia's 'Zombie Church'" in Politics and Religion.

Joshua Wilson

Wilson and co-author Amanda Hollis-Brusky published their book "Separate but faithful: The Christian right's radical struggle to transform law and legal culture" with Oxford University Press in 2020.