Denver Quarterly, founded at the University of Denver in 1966 by novelist John Williams, is the oldest, continuously publishing literary arts journal west of the Mississippi.
Here are 50 of the many writers, past and present, whose work has appeared in our pages:
Diane Ackerman, John Ashbery, Paul Auster, Mary Jo Bang, Roland Barthes (trans. Annette Lavers), Eula Biss, Maurice Blanchot (trans. Patrick Bowles), Gerald Chapman, Allison Adelle Hedge Coke, Joan Didion, Rikki Ducornet, Percival Everett, Forrest Gander, Dana Gioia, Jorie Graham, Lily Hoang, Edmond Jabès (trans. Rosmarie Waldrop), Siel Ju, Frank Kermode, Ruth Ellen Kocher, Siwar Masannat, Harry Mathews, Farid Matuk, Cris Mazza, Shane McCrae, Fred Moten, Es'kia Mphahlele, Joyce Carol Oates, Simon Ortiz, Camille Rankine, Martha Ronk, Jacques Roubaud (trans. Harriet Zinnes), Tomaž Šalamun, Christine Schutt, Anis Shivani, Gary Soto, Susan Steinberg, James Tate, Deb Olin Unferth, Lee Upton, César Vallejo (trans. Clayton Eshleman with Jorge Guzmán), Gerald Vizenor, Ocean Vuong, Anne Waldman, Robert Penn Warren, Diane Williams, John Williams, Tyrone Williams, Sara June Woods, C.D. Wright.
We look forward to reading the new worlds and voices of future contributors to Denver Quarterly.
Pictured Above: Denver Quarterly cover art, Volume 50, Issue 4, 2016 - Amy Guidry, Preservation, acrylic on canvas, 8 x 10 inches, 2015.
57.1-57.4 Denver Quarterly Masthead
EDITOR DQ & FIVES
W. Scott Howard
ASSOCIATE EDITOR DQ & FIVES
Stella Corso
MANAGING EDITOR DQ & FIVES
Lucien Darjeun Meadows
PROSE EDITORS
Elisabeth Booze
David Whelan
POETRY EDITORS
George Kovalenko
Wendy Chen

EDITORIAL ASSISTANTS
Conversations – Nazli Koca

Critiques – Ruby Pucillo & Catherine Kim
Performance – Hunter Scribner
Reviews – Jan Verberkmoes & Jane Huffman
Translations – Manuel Calvillo de la Garza & Jason Lipeles
FIVES – Jason Lipeles

POETRY READERS:
Marina Burandt, Brian Chander Wiora, Hayley Sayre, Mary Helen Callier
PROSE READERS:
Gabriel Campos, Adelaide Kennedy, Lydia McCann, Sohaib Alkamal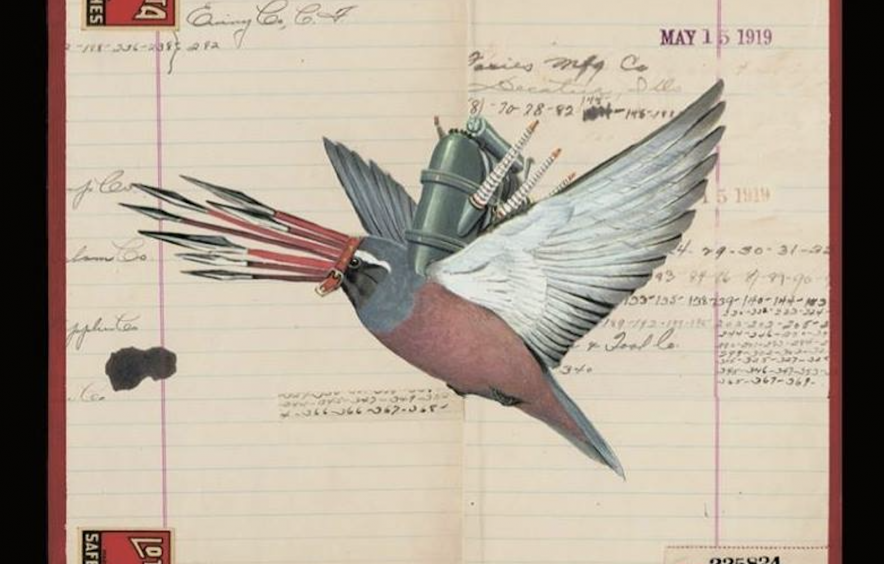 History
John Williams founded The University of Denver Quarterly: A Journal of Modern Culture in 1966, shortening the name to Denver Quarterly in 1970. Publishing work at the nexus of the traditional and the cutting-edge, the journal celebrates the fluid and ever-evolving possibilities of the written word.
In 2019, W. Scott Howard became editor of Denver Quarterly, joining previous editors including, most recently, poet Bin Ramke and novelist Laird Hunt.
Pictured Left: Denver Quarterly cover art, Volume 52, Issue 3, 2018 - Brian Barker, Theories of Locomotion (Invasive Species No. 2), handmade collage, 9 x 12 inches, 2017.
How to Submit Work
You can submit your previously unpublished poetry, prose, performance, critical engagements, conversations, reviews, translations or other critical-creative experiments to Denver Quarterly through Submittable.
Visit Submittable
If submitting online is not possible, please send your submission to the following address along with a self-addressed stamped envelope:
Denver Quarterly
University of Denver
Department of English & Literary Arts
2000 E. Asbury
Denver, CO 80208