Artistic Justice is a praxis (a theory and a practice) that strives to create individual and community connection and healing in and around the criminal justice system through storytelling. (George Chavez, Andrew Draper, Dr. Ashley Hamilton, Matthew LaBonte, Angel Lopez, Terry W. Mosley Jr. and Brett Phillips; 2021)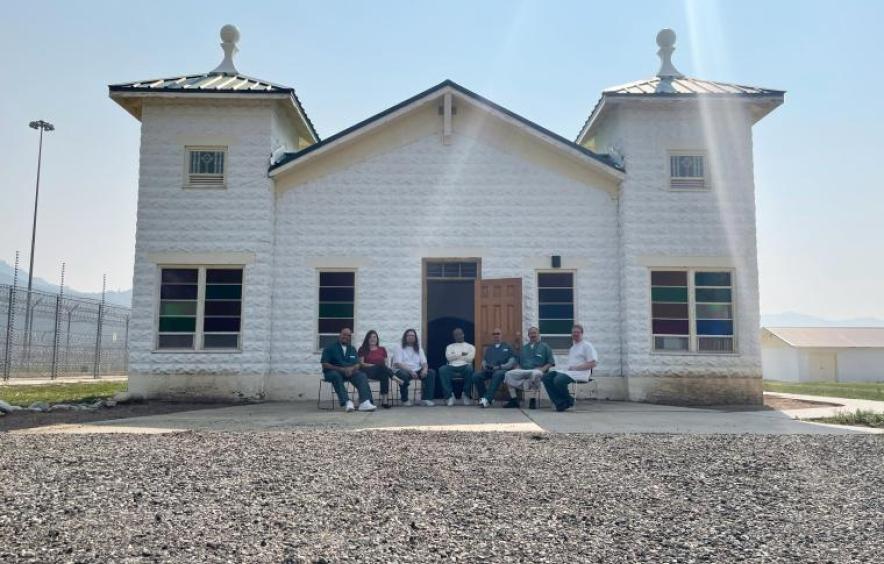 The Evolution of Artistic Justice
The Artistic Justice praxis evolved and was claimed through the on-going practice, programming, study and work of the University of Denver's Prison Arts Initiative (DU PAI), and its work across several artistic and academic mediums. The praxis was specifically claimed through a recognition of something transformative that occurred for the IF LIGHT CLOSED ITS EYES interview team (George Chavez, Andrew Draper, Dr. Ashley Hamilton, Matthew LaBonte, Angel Lopez, Terry W. Mosley Jr. and Brett Phillips) during the creation of their play, an interview-based theatre process which occurred from 2019-2022.
Artistic Justice was formally named in the summer of 2021, after that same interview team created their first workshop (now called Artistic Justice: The Foundation) for incarcerated residents and correctional staff, throughout the Colorado Department of Corrections (CDOC).
With a desire to give their community an entry point into their experiences and learnings, the team has used the praxis to produce a series of lectures, workshops, trainings, certifications, projects and programming that engage incarcerated folks, correctional staff and the larger community to use storytelling to transform the criminal justice system. Artistic Justice has even led to the founding and creation of a new correctional facility within the CDOC, The Beacon at Skyline: A Correctional Community.
Practitioners should approach the praxis with empathy, a desire to support new possibilities and a willingness to travel through the liminal.
Artistic Justice uses the vehicle of an artistic project or process which utilizes personal storytelling or narrative as its foundation.
Additionally, this shared space and experience of the artistic process must be based in intentionally crafted spaces.
The practitioners involved in the project must hold a willingness to heal and transform individually and systemically.
Practitioners must believe that individual change and healing can lead to community and systemic healing.