Religious Studies Faculty Asks Big Questions in the Classroom
Jason Jeffries centers his courses on fundamental inquiries into what it means to be human.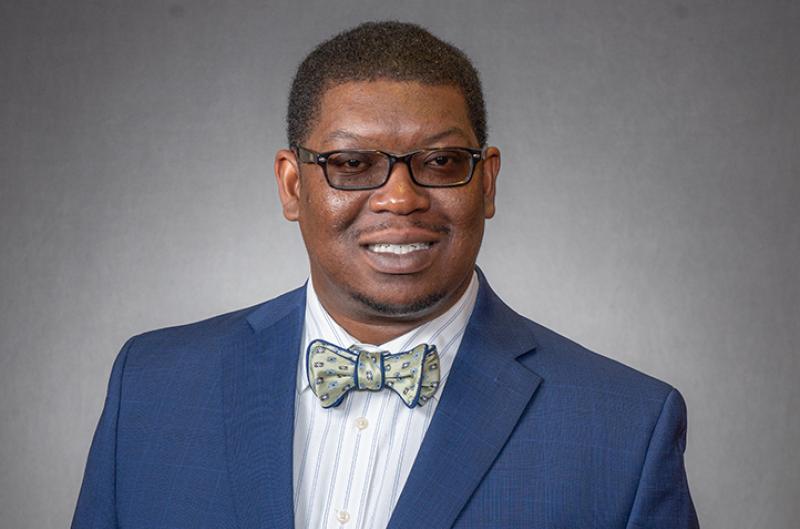 "Religion is one of the first and oldest ways that humans answer the large questions of our existence," explained Jason Jeffries, a new assistant professor in DU's Department of Religious Studies. For Jeffries, asking these types of questions is what led him to religious studies in the first place.
"My path to my career in religious studies started as a vocational journey, not a purely academic one. I initially planned to become a pastor of a church." But Jeffries's curiosity encouraged him down a different path.
"As I began my training for Christian ministry, I began to ask questions about religion, biblical interpretation, theology and race that extended beyond my religious community. My questions led me to explore the histories, traditions and theologies of other African American religious traditions and ultimately to a career of continued exploration, research, learning and teaching."
Jeffries's current research even questions the state of religion itself: "My research interests are on the margins. I am interested in finding and describing religion in spaces and places that are traditionally considered to have no religious value."
He continued, "This is important because studies show that more and more Americans have no formal relationship with religion. I aim to find out whether religion is actually dying or are people practicing religion in new, different and exciting ways."
Jeffries's research focuses on African American religion and popular culture. Most recently, he has explored religion and tattoo culture in African American communities. As part of this project, Jeffries interviewed tattoo artists and tattooed people to gather their opinions about relationships between religion, spirituality and their tattoos.
Jeffries has co-authored two books as part of Rice University's Center for Engaged Research and Collaborative Learning (CERCL) Writing Collective. Breaking Bread, Breaking Beats: Churches and Hip-Hop A Basic Guide to Key Issues, came out in 2014 with Fortress Press. His second book, Embodiment and Black Religion: Rethinking the Body in African American Religious Experience, came out in 2017 with Equinox Press.
Jeffries's work pushes the boundaries of the religious studies canon, from his research and publications to his teaching in the classroom.
"The scholars and thinkers I introduce to students challenge canonical thinkers' arguments about the nature and meaning of religion. This will encourage students to think more broadly and critically about the world and religion."
Who are we? What is our purpose? What is our relationship to other living beings? These are some of the questions that drive the courses Jeffries offers.
"Around the time that many students are entering college, they are wrestling with these very questions. Exploring how humans have answered these questions in the past may help students answer these questions for themselves."
And Jeffries's perspective doesn't only apply to incoming students. He reminds graduate students that "pursuing a doctoral degree is more like a marathon than a sprint. Pace yourself in order to complete the race. You don't have to be the strongest or the fastest to be successful. Run at your own pace and focus on one mile(stone) at a time."
This year, Jeffries will be teaching Black Liberation Theologies, Religion and Popular Culture, Introduction to African American Religions and Black Sacred Rhetoric. In his classrooms, Jeffries hopes students will learn about the breadth and depth of both African American culture and religion, while appreciating how African American history and culture are indeed part of American history and culture.