The Spanish language is an important part of the Denver community, and engaging with the community is a natural fit for our students and faculty. From students completing internships with local nonprofits, to faculty partnering with an organization that provides services to immigrants recently released from immigrant detention, we're active in Denver and beyond.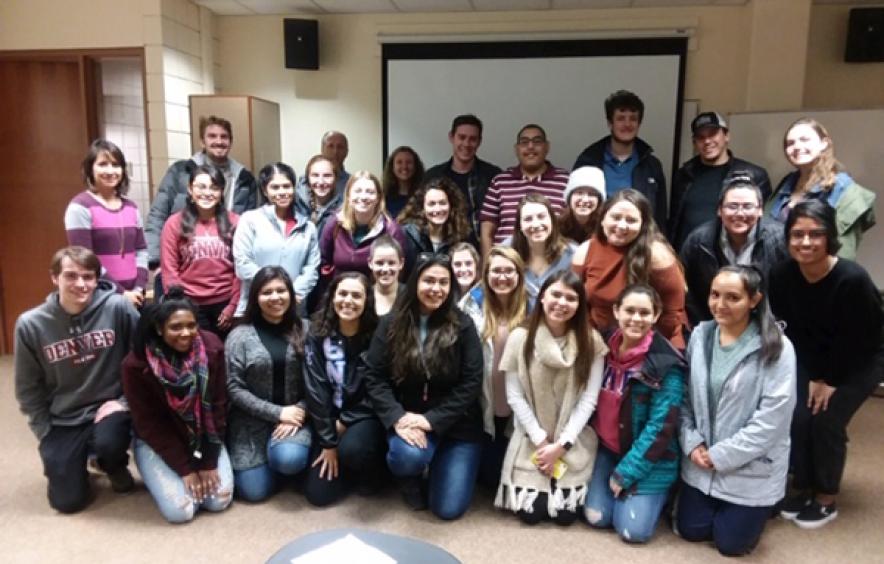 Casa de Paz Learning Community
Faculty in the Department of Spanish Language, Literary and Cultural Studies partner with colleagues across the College in engaging with Casa de Paz. Casa de Paz is an Aurora nonprofit that offers housing, meals, visits and transportation to immigrants recently released from immigrant detention. Students deeply engage with Casa de Paz through service-learning in a range of courses, including sections of SPAN 2350. Along with practicing Spanish by having conversations with people detained at the GEO Detention Center, students engage with the current issues affecting the Spanish-speaking world both internationally and right in their own community. 
Learn More
Initiating Interdisciplinary Work on Current Events
Together with colleagues across campus and across the globe, Spanish Language, Literary & Cultural Studies (SLLCS) professors use their scholarship to engage with current events. Our student and faculty community strives to better understand and contextualize issues ranging from violent extremism to peaceful protest through the lens of their language, literary and cultural research. Watch below to see a round table organized by Assistant Professor of Spanish Chad Leahy in response to the massacre in Christchurch, New Zealand.
"This demonstrates the power and the opportunity for experts from across multiple areas, from our interdisciplinary centers, to work together on what is a critical issue of our time that we want to be engaged with as academics interested in the public good."

Daniel McIntosh, Dean, College of Arts, Humanities & Social Sciences View Video on YouTube
Would you like to intern with a nonprofit organization?
The College of Arts, Humanities and Social Sciences provides grants to students who will be completing unpaid summer internships at nonprofit organizations.