Financial Aid & Scholarships
Financial Aid & Scholarships
We strive to help students overcome financial barriers to a DU education. In addition to financial aid from CAHSS and the University, theatre majors are eligible for merit-based scholarships awarded for acting, design, stage management, playwriting and directing.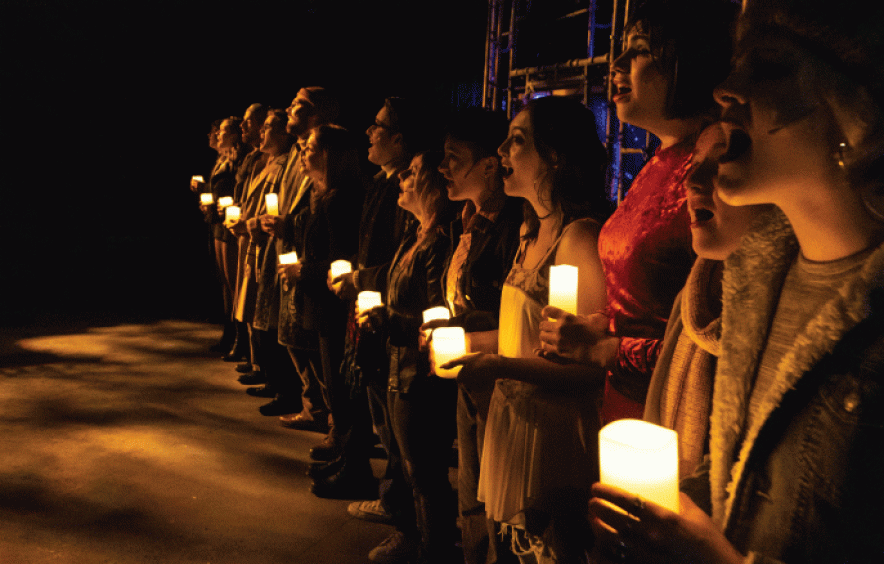 Theatre Scholarships
Looking for ways to supplement your theatre education? Theatre majors can apply for departmental scholarships ranging from $20,000 to $60,000 spread over four years. You'll need to audition or submit a portfolio in order to be considered for the theatre scholarship.
Audition Information
Acting Audition

Acting auditions are held on campus.
Acting audition dates and times:
February 17 from 2 p.m.–4 p.m.
February 24 from 2 p.m.–4 p.m.
March 3 from 2 p.m.–4 p.m.
March 10 from 2 p.m.–4 p.m.
March 17 from 2 p.m.–4 p.m.
Other dates and times can be arranged as needed.
The audition typically lasts 20 minutes.

Auditions must take place on or before March 17, 2024.

Contact the department to schedule your audition.

Please prepare:

Two monologues: One Shakespeare monologue (must be in verse) and one monologue from any playwright published in the last 75 years. Please limit each monologue to 90 seconds for a total of three minutes.
A song: (optional) 60 seconds of a song in any style. 

If you are unable to audition in person, we can arrange a Zoom audition.

Portfolio Review

For theatre majors concentrating in design, technology, stage management or directing, we require a portfolio presentation. Portfolio reviews will take place on campus. Contact the department to schedule your review.

Portfolios must be received on or before March 17, 2024. 

Here is what you'll need to prepare:

Samples of your theatrical work, including plays you've written, sets or lighting plots you've designed, costumes and makeup you've created, and any script prompts or notes pertaining to performances you've stage managed or directed.
A five-minute presentation that highlights the best work from your portfolio.
Any video or printed programs from productions on which you've worked.

If you are unable to attend in person, your material should be submitted electronically to the department to theatre@du.edu.
Apply for a Theatre Scholarship
Choose theatre as a major when you apply to DU at the link below to receive information about applying to the scholarship, or email us at theatre@du.edu with questions.
DU Financial Aid
Students in DU's theatre program can receive financial aid through federal and state resources as well as University-wide scholarships based on both need and merit.  The College of Arts, Humanities & Social Sciences also offers options for financial support.
Work-Study
The Department of Theatre has work-study opportunities in scenery, costumes and lighting for students with demonstrated financial need. Work-study funding is approved when you apply for admission — once you've been accepted and have confirmed your spot, contact the theatre department for more information.
Learn More