Spurred by technological advances and changes in consumer behavior, journalists must now be equipped to produce content for a variety of platforms.
As a BA student in Journalism Studies you will be empowered to develop sound news judgement. You will be prepared to enter the field with the creativity, versatility, and storytelling skills necessary to produce stories for both traditional and digital media. You will receive training in ethical and legal decision-making as well as writing, editing, video/audio production and digital design.
Your Journalism Studies degree will equip you to join a field with a wide range of potential career opportunities — from news anchor and international correspondent to technical writer and book or magazine publisher. By adding a minor area of study outside of journalism you will develop a unique specialization that can also increase employment opportunities. Additionally, you will gain practical work experience and a professional network before you graduate by completing an internship with an off-campus media outlet.
What Sets Us Apart
An emphasis on multicultural and global communication and a strong commitment to diversity, inclusion and social justice

Internationally recognized professors, dedicated to student success, who bring a wealth of expertise in corporate, nonprofit, health and political communication

Small classes that balance theoretical concepts with experiential learning and give you the personal attention and support you need to learn and thrive

An outstanding internship program and an extensive professional network of business, nonprofit and government partners in Colorado and beyond

Multiple opportunities for engagement beyond the classroom including exciting internships; the student-run podcast, PioCast; the student-run newspaper, The Clarion; and Project DU F.I.L.M., a partnership between students, faculty and alumni

The ability to double major and design your own path based on your unique passions and career goals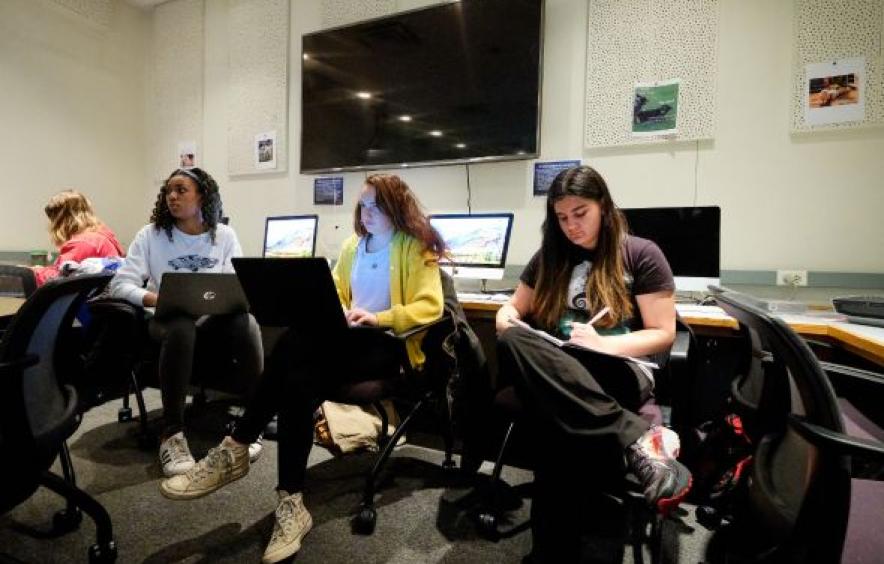 Degree Requirements
To major in Journalism Studies, students will need to complete 40 credit hours. These include four credits in an internship and 40 credits across foundational courses, culture, history and politics, core journalism, law and ethics, writing and editing, and visual or digital journalism. 
For distinction in the Journalism Studies major, a student will need to have a 3.75 cumulative GPA and a 3.8 GPA in the major. 
See the DU Undergraduate Bulletin for full course requirements. 
MFJS 2240
Online & Visual Journalism
About this Course
An introduction to web-based, print, video, and audio news in a rolling deadline format. It also includes a project-based cross-cultural component to highlight internationalization of the news industries and to build upon the internationalization focus of the University.