Looking for language learning support and resources? The CWLC offers free drop-in language tutoring in the Language Center, located on the main floor of the Anderson Academic Commons. We can also direct you to the resources you need to learn a new language or keep up with and improve your skills in previously studied languages.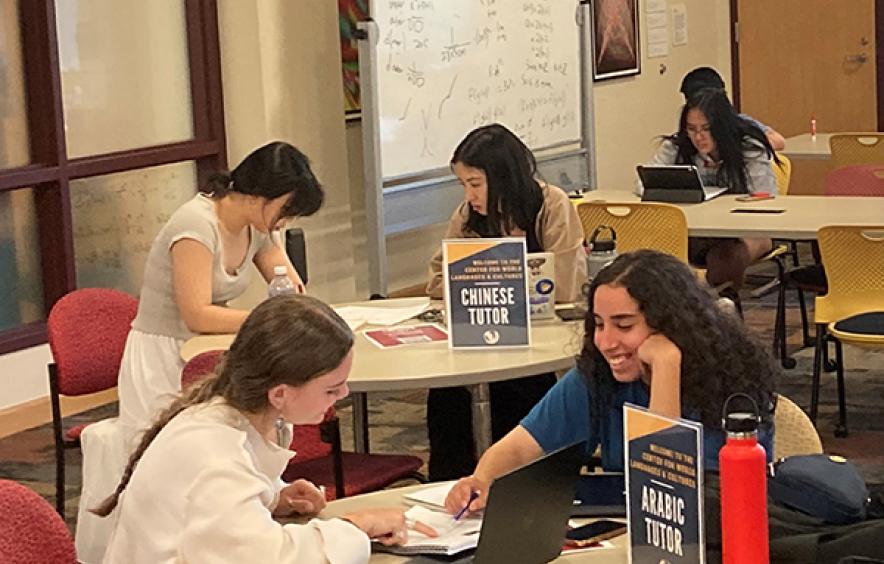 Language Practice & Tutoring
Tutoring is offered quarterly beginning in Week 2 of each quarter. We do not offer tutoring hours during the final exam period or during the summer, winter, or spring breaks.  
Tutors are also available to students who are taking DU language classes, as well as to DU community members who want to practice conversation or prepare for a proficiency exam. Tutoring is currently offered for these languages: Arabic, Chinese, English, French, German, Hebrew, Italian, Japanese, Russian, and Spanish. 
Please note that tutoring hours may change throughout the quarter. Although we do our best to cover all advertised tutoring hours, occasionally a language tutor may be absent or unavailable. Please check the Tutoring Calendar below for the most up-to-date schedule.  
Any student who wishes to receive help outside of scheduled Language Center hours must request this by contacting the CWLC Associate Director, Ethel Swartley, at Ethel.Swartley@du.edu. 
Additional Learning Resources
Office of International Education
The University of Denver Office of International Education has a number of study abroad opportunities for students, many of which involve language learning.