Art Students Curate Exhibition at Madden Museum of Art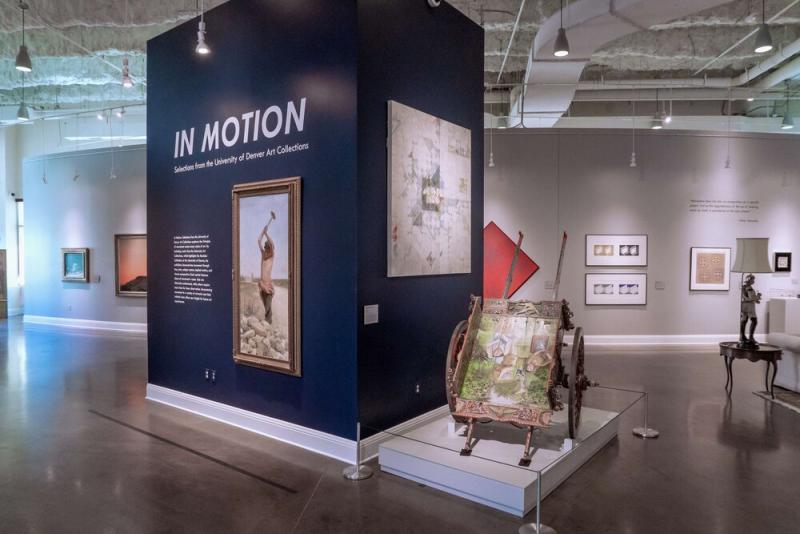 "In Motion: Selections from the University of Denver Art Collections," the new exhibition at the Madden Museum of Art in Greenwood Village, opened to the public on September 17. "In Motion" features artworks from the University Art Collection and the Madden Collection. Collaboratively curated by University of Denver graduate students in art and Madden Museum Program Director Nicole Parks, this exhibition includes incredible artworks from both collections that explore the concept of movement through line, color and subject.
From April to June 2019, University of Denver graduate students in art participated in a ten-week Curatorial Practicum course collaborated with Nicole Parks, program director of the Madden Museum, to curate five sections of artworks focused on movement. The curated artworks, which span a period of 150 years, metaphorically and literally explore themes of movement in art.
The Madden Collection, gifted to the University in 2016 by John Madden, Jr., offers unique opportunities for DU students to engage with and explore original artworks, particularly those students in art history, studio art, museum studies and other fields. The University Art Collection, an ever-growing collection of acquisitions gifted by University friends and alumni, contains over 3,600 artworks, a number of which are on display at the Madden Museum of Art or can be accessed through the Collection's searchable online database.
Through this Curatorial Practicum course, graduate students gained opportunities to explore both collections, applying their knowledge in art history while gaining hands-on curatorial experience to support their future careers.
To learn more about the "In Motion" exhibit, the Madden Collection and the Madden Museum of Art, visit their website.
To learn more about the University Art Collections, or to donate artwork to the Collections, visit their Portfolio site or email artcollections@du.edu.