Sharing Art with the Denver Community
Our gallery spaces offer members of our community the opportunity to enjoy a range of exhibitions and interdisciplinary programs exploring the visual arts.
Students Participate in Galleries By:
Vicki Myhren Gallery
The Vicki Myhren Gallery is the principal exhibition venue of the School of Art & Art History. Dedicated to interdisciplinary visual arts programming and practice, the Gallery is integral to the educational mission of the school. A rotating calendar of exhibitions features local, national and global artists, both emerging and established.
Davis Gallery
The Davis Gallery, located on the main floor of the Shwayder Art Building, brings new prominence to student art. It also provides a dedicated space for community art ventures through the gallery and the associated Davis Community Art Lab (DCAL). Learn more about how to get involved with the Gallery and other opportunities in the Shwayder Art Building.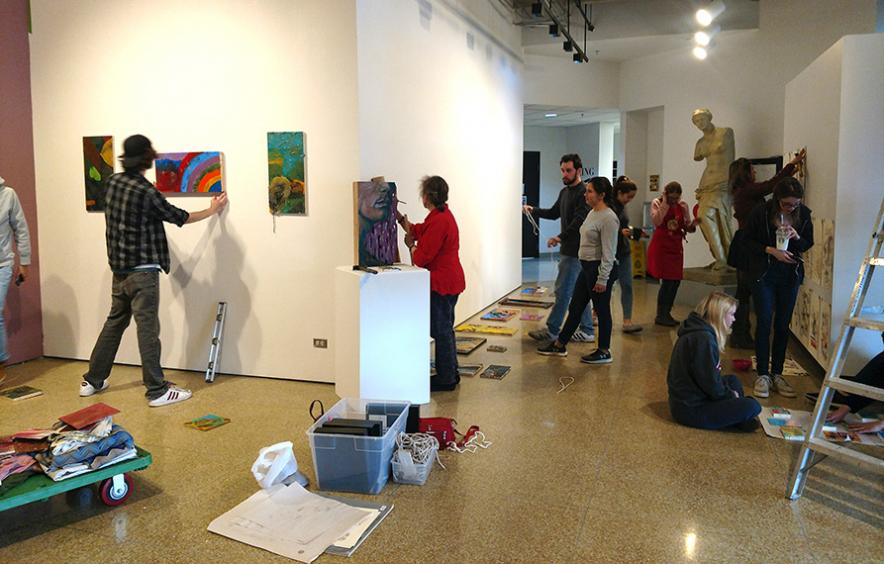 Shwayder Lobby
The main lobby of the Shwayder Art Building showcases student art. We continuously rotate pieces in this exhibition space to ensure as many students as possible receive exposure. This space is dedicated to representing the vast spectrum of our students' diverse artistic expressions. 
DU Museum of Anthropology
The Museum of Anthropology's mission is to teach the ethical practice of conservation, interpretation and administration of anthropological collections, including objects and their records. The museum also serves as a resource and research center for anthropological collections held in the public trust. Exhibitions on art of the past and present offer additional visual resources to the campus.
Madden Collection at the Madden Museum of Art
In 2016, Greenwood Village developer John Madden, Jr. announced a transformative gift of The Madden Collection, with artworks valued at $10 million. The 135 works include pieces by major 19th century Italian masters, as well as American masters Thomas Moran, Albert Bierstadt, Jasper Francis Cropsey, Robert Rauschenberg and Viola Frey. The collection is housed at the Madden Museum of Art.