The School of Art & Art History proudly hosts a diverse array of artists, scholars and visiting speakers throughout the academic year, providing students, faculty and the community with new perspectives and an unparalleled window into the art world. At the Vicky Myhren Gallery, you'll find an always-fresh display of challenging contemporary art by artists ranging from the globally recognized to the newly emerging. 
With regular new exhibitions and guests joining us from around the world, there's always something happening here to inform and inspire your creative spirit.
Alumna Helen Davis (EdD '61) was a smart and funny woman who was a devoted benefactor to the students at the University of Denver. Helen's contributions changed the lives of our students by supporting the Davis Gallery and Davis Classroom at the School of Art & Art History. In 2009, Helen was honored with an Alumni Award.

Annabeth Headrick, Faculty, Director of the School of Art and Art History Davis Gallery

Start Date

End Date
Sorry, there are no scheduled events this month or for the provided criteria above.
Art and Creative Dialogue
The School of Art and Art History provides a safe space to learn and explore ideas and emotions. We invite you to take time with each work of art. Art provides room for unexpected responses, discussion and growth. 
We welcome your participation in our creative dialogue. Please share your comments, questions and reactions: AboutArt@du.edu.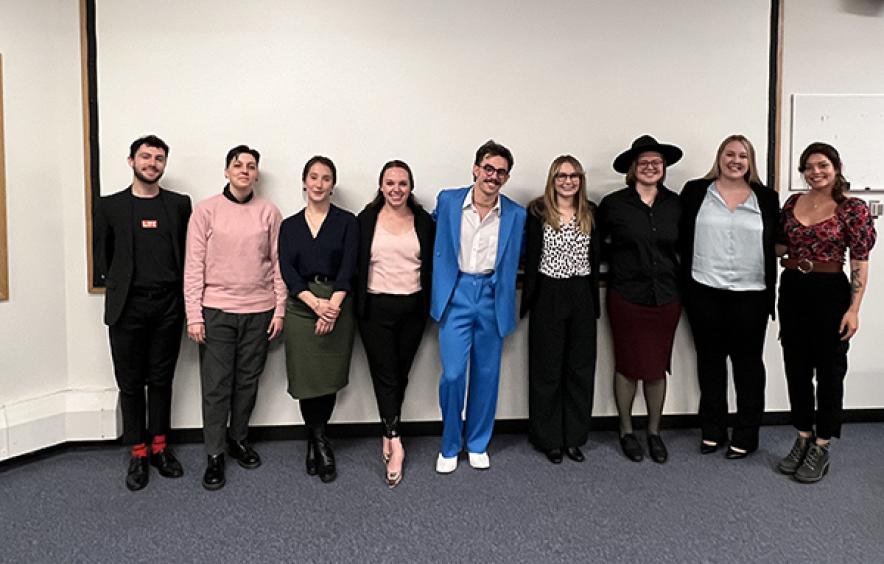 Annual DU Art History Student Symposium
DU undergraduate and graduate students have an opportunity to gain professional conference experience and share their research with the community at the Annual DU Art History Student Symposium. Each April, students present on topics related to the history of art and visual culture. All students, staff, faculty, family and friends are welcome to attend this School of Art and Art History sponsored event. At the event, one undergraduate and one graduate student are selected to represent the department at the annual Front Range Art History Symposium. Contact Bilha Moor for additional information.
Photo: Undergraduate and graduate student presenters at the 22nd Annual DU Art History Student Symposium. (Left to right: Patrick Lucas, Sydney Barofsky, Claire Motsinger, Lauren Anuszewski, Alex Blom, Lexi Ferenzi, Emily Oxford-Pickeral, Sydney McCain, and Ashley Bertolino.)
Photo by Sarah Magnatta.
Submitting a Proposal

All DU undergraduate and graduate students are invited to submit a one-page proposal to give a 20-minute talk on a topic within the history of art and visual culture. Students should propose topics derived from completed class research papers or presentations. This is a professional conference and accepted papers may be included in your resumé. The call for papers is sent each Winter Quarter and the Symposium takes place in early April.

Contact Bilha Moor for additional information.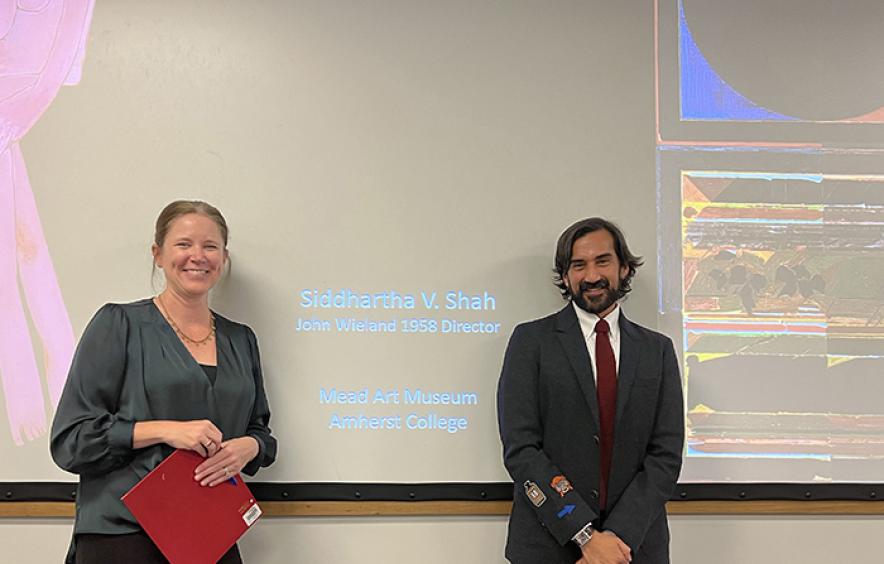 Lanius Lecture
The Lanius Lecture series brings to the DU campus distinguished artists, scholars, and curators working in areas formerly marginalized by art historical and museum institutional narratives.  By shifting our attention to these areas of focus, particularly the global south, diasporic communities, and indigenous communities, this lecture series reaffirms the DU School of Art and Art History's commitment to amplifying these voices.
About Professor Emerita Mary Lanius
Mary's interest in art history started as an undergraduate at Colby-Sawyer College in New London, New Hampshire in the 1950s. She continued her studies at DU, graduating with a BA in Humanities in 1954. Mary then spent time traveling throughout Asia where she was especially drawn to the art and architecture of India and Southeast Asia.
She received a Fulbright scholarship to return to India in 1961 and lived in Kolkata (then, Calcutta) while working at the Asutosh Museum of Indian art at the University of Calcutta.Mary returned to the U.S. to attend graduate school at the University of Hawaii where she continued her art history studies.
The Denver Art Museum, building on earlier acquisitions, opened its Asian Art department in 1956. Two years later, Mary joined the department, thus working at the DAM both before and during her education at DU and then in Hawaii.
Her curatorial work at the DAM brought forth the stories of the South Asian collection, mainly sculpture, and Mary's lasting impact at the museum can be found in several catalog essays, entries, and label information.
After leaving the DAM in 1969, Mary began her 35-year teaching journey, first at the Colorado Women's College, and then at the University of Denver.
Her courses included surveys of Indian art, Southeast Asian art, Chinese art, Japanese art, and Korean art (she received a Fulbright foundation grant to support research in Korea).
Mary's research has been published in the Arts of Asia amongst other journals, and she continued in her role as advisor to the Denver Art Museum for several decades. The Lanius Lecture series, started in 2012, continues Mary's legacy as a supporter of the arts and art history.
A note from Sarah Magnatta, Assistant Professor, School of Art and Art History:
I was one of hundreds (perhaps thousands) of students fortunate enough to have Mary as a professor during her 35 years at DU. I vividly recall Mary's stories of various temples, their art historical information interspersed with her lively tales of travel (in fact, I was inspired to travel to Angkor Wat and surrounding temples after a particularly fascinating class on Southeast Asian Art in the early aughts). I'm so thrilled that we have remained friends in the decades since. Thank you, Mary, for your ongoing support and for this wonderful lecture series!