DU Field Notes: Plan Your Next Lake Escape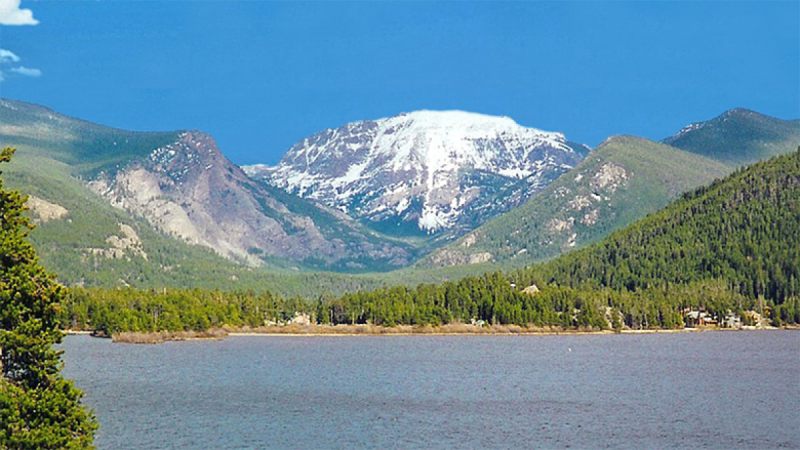 As a landlocked state — though admittedly one with difficult-to-rival mountain landscapes — Colorado doesn't immediately summon images of pristine bodies of water. However, with more than 4,000 lakes and reservoirs, many offering scenic views and countless activities, move over mountains. It's time to plan your next lake escape.
We took a dip on this topic last year, focusing primarily on lakes within easy reach of the University of Denver campus. This time, we turn to bodies of water that will require a car ride (and possibly some hiking) to access. Here's a look at five lakes and reservoirs, in no particular order, that will not disappoint.
Grand Lake
This one might be the most obvious, but it's hard not to include Grand Lake on this list. It is Colorado's largest natural body of water and sits at an elevation of more than 8,000 feet. There's little that the lake doesn't offer — boating, waterskiing, wakeboarding, fishing, swimming, camping and the list goes on.
The lake sits adjacent to the town of Grand Lake, which has a historic boardwalk that is worth exploring. When you are done on the water, you are only a few minutes away from a gateway into Rocky Mountain National Park.
As an added bonus, when visiting Grand Lake you are only a stone's throw away from Shadow Mountain Lake and Lake Granby, which both offer great opportunities for fishing.
Horsetooth Reservoir
Many of the bodies of water in Colorado are man-made, including Horsetooth Reservoir directly west of Fort Collins. Similar to Grand Lake, Horsetooth offers plenty of opportunities for recreation. Boating, paddleboarding, kayaking and canoeing are all options when you are out on the water.
Surrounded by red rock formations, the reservoir also provides opportunities for hiking, biking, fishing and camping. It doesn't hurt to arrive early in the day to save your spot, because Horsetooth is a popular escape for those trying to beat the summer heat.
Hanging Lake
The must-visit Hanging Lake will require a little more driving and at least a bit of hiking.
Located in Glenwood Canyon, Hanging Lake is a Natural National Landmark, one of only 16 in Colorado. The hike to reach Hanging Lake can be difficult, but the beautiful waterfalls and emerald-green waters are worth the time and effort.
While it is one of the most beautiful lakes you will find in Colorado, don't expect to spend your time in the water. Swimming, fishing and all other water activities are not allowed in Hanging Lake.
Crater Lake
Among the most photographed lakes in Colorado, Crater Lake is one you are sure to recognize from calendars and postcards. With the Maroon Bell peaks in the background, the lake is famous for the reflections it offers. Located near Aspen at an elevation of over 10,000 feet, the shores of Crater Lake are accessible to anyone willing to make the  4-mile round-trip hike.
Summer and early fall are popular times to visit this spot, particularly as the aspen trees begin to change color. In addition to hiking the trails around Crater Lake, you may want to try your hand at fishing for natural trout.
Dream Lake
Our final stop is Dream Lake, located inside Rocky Mountain National Park. This one lives up to its name, especially if you camp nearby or are able to hike early in the morning and arrive at daybreak. As the sun rises over the east end of the lake, it creates an incredible reflection in the water.
The trail is only about 2 miles out and back from the Bear Lake trailhead. At an elevation of nearly 10,000 feet, Dream Lake is another popular location for photography and picnics. In the winter, it's not uncommon for people to snowshoe on the trails leading to the lake.