Families Find Healing at INTO LIGHT Exhibit on DU Campus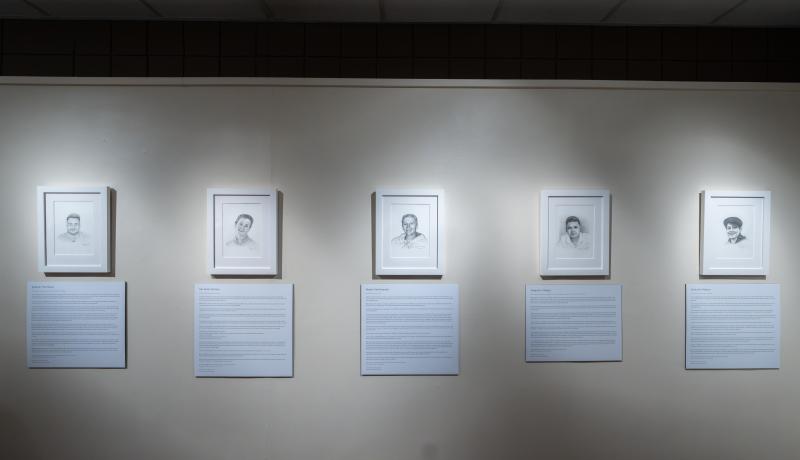 Malik Isaiah Dufor was kind, thoughtful and adored by family and friends, especially his fraternal twin brother, Mikal. He enjoyed building electronics—especially computers—studying the brain, cooking, exercising, hanging out by the ocean, dancing and movie nights with his family.  
Just as Malik was starting middle school in 2008, tragedy struck the family. His father died from a heart attack and, in his grief, Malik sought comfort from a friend, who offered to smoke a marijuana joint with him. His mother, Waltrina DeFrantz-Dufor, director of the Collegiate Recovery Program at DU, warned him that addiction was in his family tree, but Malik's grief was too great.  
That one time snowballed quickly to other substances. Malik was labeled instead of diagnosed, shamed for being an addict. Although the family had good insurance, it wasn't sufficient to provide the high-level quality care Malik desperately needed.  
It had been almost one year shy of a decade when the moment Waltrina feared arrived—the call she would remember for the rest of her days. It was the emergency room saying her son had overdosed and had no brain activity. 
Waltrina and Mikal rushed to California, where they got to hug and kiss Malik one last time before making the heart-rending decision to turn off the ventilation machine.  
That was June of 2017. After a year of grieving, Waltrina finally felt her spirit coming back. As she thought about her beloved son, she remembered some advice he once gave her: "Mom, you help so many young people struggling with substances. You should work with young people."  
Waltrina began volunteering at her university's Collegiate Recovery Program, where she fell in love with the mission of providing a quality education without having to sacrifice recovery. When a director position opened at the Collegiate Recovery Program (CRP) at DU five years ago, Waltrina jumped at the chance.  
The CRP provides recovery housing, recovery coaching, recovery meetings, sober events and a sober study-abroad experience that students can enjoy without being under the influence of substances. It is here that she hopes to have students gain significant knowledge about coping skills, the joy of living substance-free and the importance of paying it forward.  
"My hope is that our students graduate with significant coping skills, carry the message of recovery to others, have a joy for living and that their families can have peace," Waltrina said.  
As part of the CRP mission, Waltrina hopes to shed light on the stigma of addiction. Enter the INTO LIGHT Project. In a powerful alliance between the University of Denver's Collegiate Recovery Program, DUMA, Anderson Academic Commons, and Community Commons, the INTO LIGHT Project – Colorado exhibit showcases original portraits and the poignant stories of individuals whose lives were tragically cut short by Substance Use Disorder (SUD), igniting a movement to reshape societal perceptions of addiction.  
The INTO LIGHT Project was born from the profound grief experienced by Theresa Clower, who lost her son Devin to a fentanyl overdose. The project's mission is simple yet powerful: to revolutionize the dialogue surrounding drug addiction through the raw and compelling language of art and storytelling.   
Set against the backdrop of a staggering national drug epidemic that claimed over 100,000 lives between April 2020 and April 2021, the INTO LIGHT Project exhibit serves as a catalyst for change. This exhibit, scheduled to traverse the University of Denver campus from Aug. 31 – Nov. 17, seeks to dismantle the stigma that surrounds addiction, correct misinformation and pave the way for meaningful conversations and education that foster empathy and understanding.    
Best of all, Waltrina gets to remember Malik and share his story with thousands of members of the DU and Denver community.  
"As the mother of a loved one being featured in the INTO LIGHT Project, emotions, memories and hope stir within me," Waltrina said. "What a wonderful opportunity to be gathered with other families who understand the loss and healing, advocate for change, act with compassion, and are willing to share their experiences to provide strength and hope to those suffering from and affected by the disease of addiction."  
To be part of this meaningful experience, visit www.du.edu/crc and https://intolightproject.org/.
Schedule of Events 
August 31 - September 22 — Exhibit displayed at University of Denver Museum of Anthropology  
October 2 - October 20 — Exhibit displayed at University of Denver Libraries  
October 30 - November 17 — Exhibit displayed at University of Denver Community Commons Gallery  
However, the exhibit doesn't stand alone; it's complemented by two equally compelling events:   
Both of these events are open to the public as well as the DU community, though we request you RSVP by the date noted for each event, as spaces are limited. To RSVP, call 303-871-3074 or email madison.sussmann@du.edu.
Light refreshments will be provided at both events.
For the Dreamland book club event, we ask that attendees prepare by reading Dreamland by Sam Quinones. DU faculty, staff, and students, as well as community members with library cards, can check out a copy from the DU Library. If you don't have a DU library card, contact us at recovery@du.edu or madison.sussmann@du.edu for assistance.