Is It OK to Smoke Weed While Pregnant? New DU Study Takes a Closer Look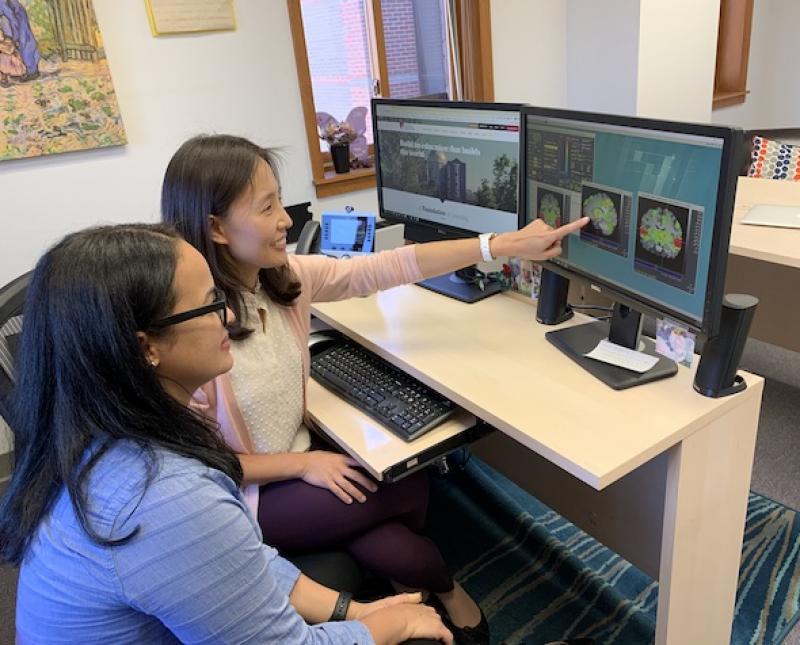 "It's OK to use cannabis while you're pregnant, right?"
That's the question DU psychology professor Pilyoung Kim heard countless times when she was talking with expecting mothers for a research project. Kim and her team were gathering information for a study on poverty and pregnancy and asking about possible drug use.
"We were baffled about what to say to these women," Kim explains. "There is a limited understanding of the effect of cannabis use on themselves and their babies if they are exposed to cannabis inside the womb."
That question sent Kim on a mission, and she dove into her next research project: studying the effects of cannabis on pregnant mothers and their babies. With funding from the National Institute on Drug Abuse, Kim is one year into her study, monitoring two groups of pregnant women—one that uses cannabis and one that doesn't. Her team is gathering data during pregnancy, and once the babies are born, both the mom and baby undergo an MRI to determine any impacts related to brain structure and function development.
"We feel there's a little bit of a mission with this study, more so than some other research projects," Kim says. "This is going to be really beneficial for moms in this situation. They are motivated to do their best for their baby, and they have a right to access all the right kind of information."
Currently, the government provides guidelines for alcohol consumption during pregnancy and even diet, but there isn't nearly as much comprehensive data when it comes to marijuana.
"We legalized cannabis, but we are still pretty far behind in terms of actual impact of that drug on different populations," Kim says.
Torri Metz echoes that sentiment. Metz is a maternal fetal medicine physician on Kim's research team. She previously worked at Denver Health and now serves as an associate professor at the University of Utah Health.
"We still have very limited information globally about its health effects," Metz says about marijuana. "It's something patients want to know, and it's definitely something providers want to know. I'm hoping that as we do more research that is methodically sound that we will be able to give women credible data so they can make informed choices."
Jacqueline Martinez, who works as Kim's research assistant, spends a lot of time connecting with the mothers involved in the study. She says some mothers are smoking cannabis socially, while others say they are smoking to address morning sickness or anxiety. Part of Martinez's role involves translating the entire research project into Spanish.
"I love the whole process," she says. "I love meeting the moms, learning about them and seeing their progress through their pregnancy. I love celebrating whether it's a boy or a girl when they find out and then getting to see the baby once it's born. It's super exciting to build a close relationship with these moms."
Martinez and the rest of the team share Kim's commitment to the mission. Right now, Martinez says, this phase is all about collecting data and building participation, so they can have confidence in their results. Kim estimates those results could come years down the road, with preliminary findings released sooner.
"We are trying to do this research with an open mind, so the participants know that we would like to find scientific information that could be helpful to them one way or the other," Kim says. "There's a really important role science can play here. It's to really inform the public so they are empowered to make a decision for themselves."
If you are pregnant and interested in participating in the study, please contact professor Pilyoung Kim and her team at 303-871-3096 or the Family and Child Neuroscience Lab at fcnlab@gmail.com