Should We Be Selling Inclusive Excellence?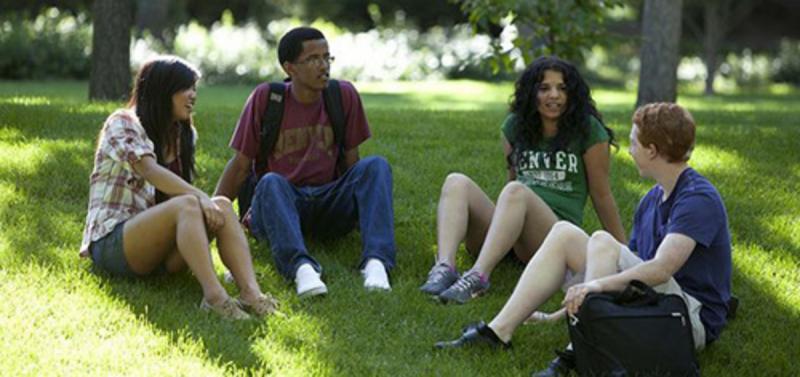 By Sarah Leiser
Previously published in the Department of Media, Film & Journalism Studies' Multicultural Journalism course's special issue of the DU Clarion, November 2017. 
Since coming to DU as a graduate student last fall, I have seen the term "Inclusive Excellence" everywhere. It is prominent in syllabi, sprinkled across marketing materials and used frequently in conference rooms across campus. But what does this phrase mean and why does the university use it so much?
I reached out to Liliana Rodriguez, DU's first vice chancellor of Campus Life and Inclusive Excellence, to have her weigh in on the term inclusive excellence. She told me, "It was meant to be philosophical. It is essentially saying you cannot be academically excellent until you are first inclusive." Moving inclusivity from a lone office on campus to a central tenet of the university is, I believe, a worthy aspiration.
But as Vice Chancellor Rodriguez mentioned, ask any person on campus what inclusive excellence means and they will each define it differently. As a campus, DU needs a more concrete definition in order to all be on the same path towards inclusive excellence.
In 2011, DU published a Strategic Plan for Inclusive Excellence. It outlines different goals that focus on "(1) increasing compositional diversity, with a particular emphasis on historically underrepresented groups, (2) creating a positive campus climate where all persons are treated with respect, and (3) embedding the first two within University policies and practices so that they become part of the very fabric of the University". These goals for the university embody what Vice Chancellor Rodriguez was saying. At an intellectual and philosophical level inclusive excellence is a grand ideal, but the steps to making it a reality are less clear.
The first step to achieving inclusive excellence, according to the plan, involves building a diverse community through the recruitment and retention of diverse students, faculty and staff. This seemingly clear statement carries a lot of imprecision. The university defines a diverse community as "encompassing 'race, ethnicity, gender identity, gender expression, religion, sexual orientation, disability, nationality, age, socio-economic background and other salient social dimensions.'" However, the strategic plan, in my view, seems to focus primarily on racial and ethnic minorities and women, ignoring that identities intersect and are not always easily visible. To me, this ignores the complexity of the plan's stated goals. But the question remains: how does one market the idea of diversity in order to recruit specific students, and what are the ethics of doing so?
"I wish we told the story a little more authentically, in that inclusion is hard to achieve and requires daily work from the full community," said Vice Chancellor Rodriguez when asked about marketing. She also expressed concern with the intangible nature of inclusive excellence. "It's so abstract that we can just pat ourselves on the back without showing any meaningful metrics of it," she said. I am similarly concerned that the way diversity is marketed at DU is utopian and does not show true cultural respect and integration.
At DU, along with other institutions, we market ourselves as having already achieved the elusive goal of diversity. Everyone has seen the college brochure that features a photo of a group of ethnically diverse students decked out in the school's merchandise, casually hanging out on a quad or pouring over textbooks in a picturesque library. Vice Chancellor Rodriguez suggested that marketing materials would be improved if they were focused more on attracting students who are open to the challenge of achieving true inclusivity and diversity on campus. This type of marketing could be more authentic and true to where DU is now in terms of the journey to being an inclusive university.
Vice Chancellor Rodriguez also discussed expanding on the ways that people think about inclusive excellence, moving beyond focusing primarily on the morality of being inclusive. "I seriously think we should equate [inclusive excellence] to what you need to be a 21st century anything: educator, CEO, lawyer... You need to be culturally competent, you need to understand that value systems are different...We need to start talking about diversity and inclusion as a necessity."
When asked if DU accurately markets its current state of diversity to potential students, Vice Chancellor Rodriguez stated, "our students would say no...I've spoken to a lot of students and they say we oversell it. So that we are posing ourselves as a place that has already reached inclusion." She said that students come to campus expecting an inclusive community and then face daily micro-aggressions and isolation. DU is perceived as promising a product they do not have and student's expectations are not being met, she said. As someone who has taken several marketing and strategic communication classes both as an undergrad and grad student, I can tell you that this is an elementary marketing mistake.
It is one thing to take the time to write out goals and action steps packed with buzzwords about diversity, but without action and dedication beyond the words, these plans will fall flat. I believe that marketing DU as an institution that has already achieved diversity could ultimately be detrimental to its future. I'm not saying that inclusion isn't a worthy goal, and I appreciate that the strategic plan describes inclusive excellence as something that should become a part of the very core of the university. But this ambitious goal requires constant work.
At DU, rather than thinking of inclusive excellence as a destination, we need to recognize that it is never something that is fully achieved. We need to change our marketing approach to show our dedication to the process of inclusive excellence. Inclusive excellence cannot be measured by the number of students in a certain demographic on campus. Rather, it should be thought of as a continual promise for the university. It is a promise we make to ourselves to reexamine and push beyond even the most ambitious goals for inclusion that we can currently envision.