Tenure and Promotion: CAHSS Celebrates Faculty Achievements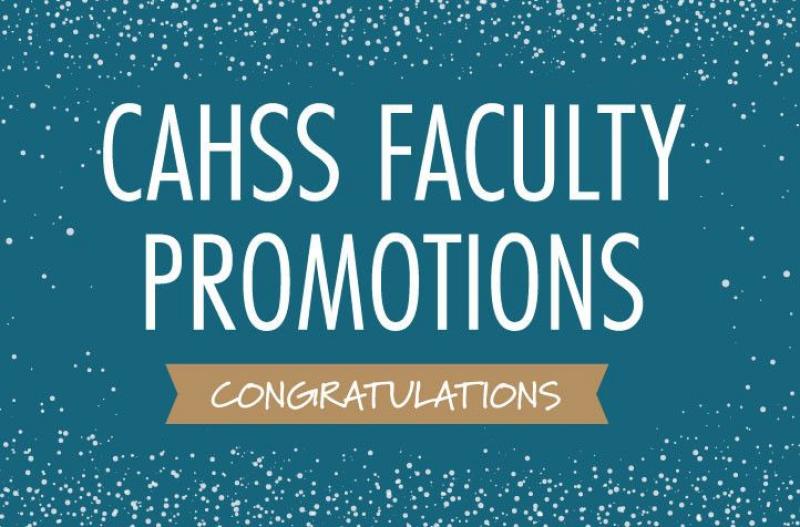 Fall comes not only with new students, but also promotions and transitions among our faculty colleagues. Effective September 1, 13 faculty members have received a promotion, and three of our colleagues received emeritus status.
Promotion reflects recognition of a faculty member's significant achievements. The process is thorough and rigorous. To receive promotion and tenure, a candidate typically devotes six years working on scholarship and creative endeavors. This work is evaluated by national and international scholars. These reviews, and other aspects of the candidate's record, are assessed by the candidate's department. A faculty committee and the dean review each candidate's case and make recommendations to the provost. Upon the provost's review, the candidate's case is shared with the DU Board of Trustees, which ultimately grants or declines tenure and promotion. Decisions take into account scholarship and creative production, teaching quality and campus service.
"Congratulations to our colleagues. All these changes recognize significant achievement, dedication and contribution to the mission of our departments, college, university, and fields," said Dean Daniel McIntosh.
Three faculty have been promoted to tenured full professor:
• Victor Castellani, department of languages & literatures
• Peter Ho, department of economics
• Christina Kreps, department of anthropology
Three faculty were promoted to teaching full professor:
• Paula Adamo, department of languages & literatures
• Lydia Gil Keff, department of languages & literatures
• Sari Havis, department of languages & literatures
One faculty was promoted to the rank of research full professor:
• Galena Rhoades, department of psychology
Three faculty received tenure and promotion to associate professor:
• Jared Del Rosso, department of sociology and criminology
• Marco Nathan, department of philosophy
• Greg Ungar, department of theatre
Three faculty were promoted to the rank of teaching associate professor:
• Scott Bean, Lamont School of Music
• Paula Cole, department of economics
• Chinn Wang, school of art and art history
Three received emeritus status this last year, also:
• George Potts, department of psychology
• Jan Gorak, department of English & literary arts
• Davy Davis, department of theatre