From Covering the Arab Spring to CNN, New Professor Shares Global Journalism Experience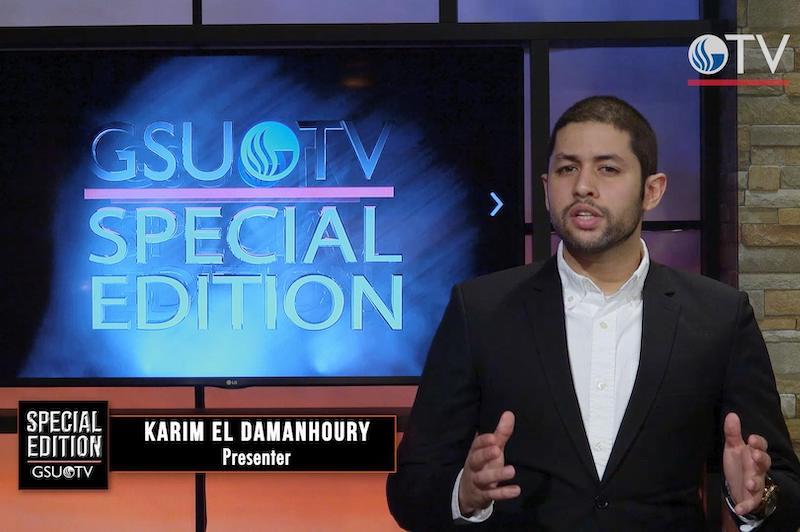 Kareem El Damanhoury remembers the moment he knew journalism was his calling.
He was in his last year of high school in Egypt, 2006, when a ferry sank into the Red Sea killing 1,000 of the passengers on board. But when he turned on the TV, he saw fans celebrating the country's soccer team victories in the African Cup of Nations, which was hosted in Egypt that year.
"At the time it really made me think," says El Damanhoury, who recently joined the University of Denver's Department of Media, Film and Journalism studies as an assistant professor. "I thought it was very interesting. One thousand people died, but in the African Cup of Nationals final game a ball got into a net, and people are cheering for the president."
Just a few years later, armed with a mass communication degree from Cairo University, El Damanhoury launched his broadcast journalism career at a pivotal time in Egypt's history — the Arab Spring of 2010­­–12. Antigovernment protests and civil unrest swept through Tunisia and moved on to neighboring countries, including Egypt, where protests and strikes eventually led to the toppling of former Egyptian President Hosni Mubarak, in power for 30 years.
During this time, El Damanhoury produced shows on three very different stations in Egypt—the political satire show "Al-Sada Al-Murashahoon," the daily talk show "Hona al-Kahera" and the entertainment show "Wasat al-Balad."
"Because I was working during the Arab Spring, there was relatively a lot of freedom," El Damanhoury remembers. "Especially with the political satire show. We were making fun of anyone we wanted to, except the military of course. I felt a lot of freedom at the time."
The memories from the day El Damanhoury left his country to start his master's degree at Ohio University remain vivid. Just two hours after his plane took off, Egyptian security forces cracked down on Muslim Brotherhood sit-ins, killing hundreds of people and triggering a state of emergency with a curfew.
"I was saved in a way," El Damanhoury recalls. "I was coming to [America] with a lot of fear. I was doing very good career wise in Egypt and doing something I loved. Here I am after establishing myself in the field, and now I'm going to focus for two years on academia and not do anything practical. So that for me was very scary."
But El Damanhoury immediately got involved with the local PBS station when he got to Athens, Ohio, and discovered how local news works in the U.S. It was a dramatic revelation, given that local news programs didn't exist in Egypt's rural towns. That experience helped fuel his long-term dream of working at CNN, which led him to Georgia after he completed his master's degree. There, he earned his PhD from Georgia State University.
After years of working toward his goal of landing a job at CNN, El Damanhoury finally got the call to interview for a freelance position at the network's world headquarters. At CNN, he worked for the International News Source team creating content for distribution to cities across the globe.
"It was a dream come true," El Damanhoury says. "The biggest thing I learned at CNN is the power of media. You're involved in the framing of news for hundreds of stations around the country and the world. It's a huge responsibility."
After working as a teacher's assistant in Egypt back in his early career, El Damanhoury always hoped everything would come full circle at the intersection of education and journalism. He joined DU's faculty this fall and says he's excited to bring practical experience to his students, so they can hit the ground running after graduation with a portfolio of hands-on experiences.
"I'd love to keep bringing practice and academia together," El Damanhoury says. "This is my dream for myself and my students as well. I want to keep practicing the thing I love most, while teaching the thing I love most."