Spirituals Project to Sing in Front of Sold Out Crowd at Gates Concert Hall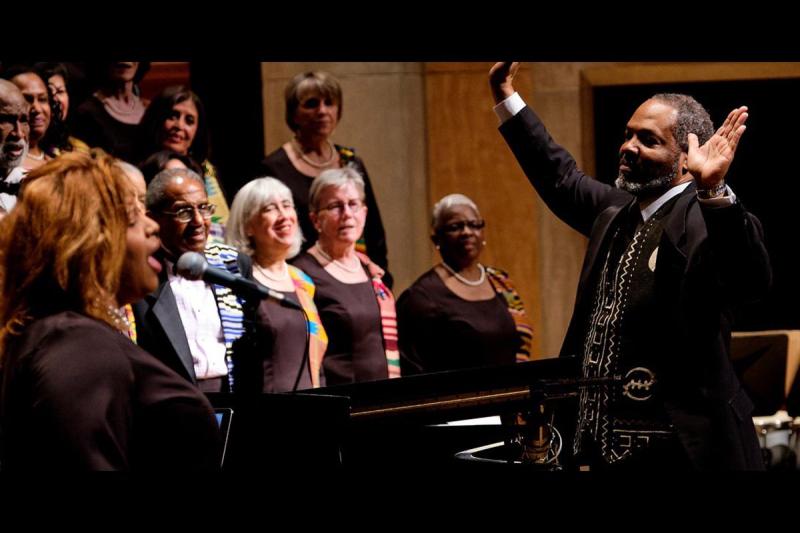 As a child, Roger Holland, director of the University of Denver's renowned Spirituals Project, begged his mother to let him take piano lessons.
For years, he got the same emphatic no. Eventually, with the help of her former piano teacher, she relented and let him play. From that moment, Holland was hooked.
"It was as if I was a fish deprived of water and suddenly allowed to swim," Holland says.
On May 14, as part of the Lamont School of Music's first sold-out show since before the pandemic, Holland will sing and play piano as part of the Spirituals Project's Journey to Freedom, a yearlong project that aims to build community through song.
Community-based experiences are quintessential to the Spirituals Project.
"It was never intended to be a performance art. The community always engages with the music," Holland says. In fact, that aspect of the project was part of its founder's vision.
Created by Art Jones in 1998, the Spirituals Project is a nonprofit organization dedicated to revitalizing and preserving the sacred songs created by enslaved Africans in America. While it's well known for its choir, the project goes further by incorporating education and research to preserve the music and teachings of the spirituals.
Those songs have long fascinated Jones. "What really surprised me was how extensive this tradition was," Jones says. "It wasn't just songs they sang while they were working."
Jones, who joined the University of Denver in 1991, is a clinical psychologist by trade. With his understanding of post-traumatic stress disorder, or PTSD, he recognizes the power in communal singing.
It's a tradition he remembers from his youth in New York.
"I can't imagine the civil rights movement without song," he says. "When I think about what my life was like between 1946­–1966 and what I've been able to accomplish individually, that's amazing."
When Jones was a young boy, he'd spend summers with his mother's family in the South, traveling there by bus. On the journey, the bus stopped in the middle of the night in Washington D.C., where in preparation for crossing into Virginia, all the Black passengers would get off to reboard in the back.
As Jones got older, he saw the tide begin to turn. A teenager during the civil rights movement, he remembers the 1963 March on Washington. He was working that day at a library in New York City — one of his biggest regrets.
"When I look back, I was making $1.15/hour. I had a six-hour shift. I could've gone to that," he says.
A year later, Jones heard Martin Luther King Jr. speak at his college campus. There wasn't a space large enough for King at Drew University. He spoke in the gym, but speakers echoed King's message throughout university grounds.
Despite decades of progress, Jones says systemic racism persists today. He experienced it as a college student, as a soldier, as a working professional.
"There is still a sense for me as a Black person that I'm going to be assumed inferior, immoral, less than unless I can prove I'm an exception," he says. "I really became aware of that during the Vietnam War. As soon as I took my uniform off, it was like I was a different person."
Jones went on to earn a PhD in clinical psychology from the University of Iowa in 1974. For years, Jones practiced as a clinician and worked as a professor. It wasn't until he reached his 40s that he decided to pursue music again. He hired a voice teacher and began singing. Trained in opera, he began to incorporate spirituals in his recitals.
Soon, he became known not only as an educator, but as a performer. In 1993, armed with the knowledge and power of the spirituals, Jones wrote "Wade in the Water: The Wisdom of the Spirituals," a book credited with offering a fresh perspective on a beloved musical tradition. Out of that, the Spirituals Project was born.
As founder and board chair, Jones spent nearly two decades at the helm of the organization, which then operated outside of DU as a nonprofit. Over the years, three local conductors waved the baton: Arlen Hersberger, Bennie Williams and Daryl Walker. In 2016, Jones spearheaded efforts to have the Spirituals Project take up permanent residence at the Lamont School of Music. In doing so, he kicked off a search for a faculty director for the project. 
The nationwide search brought Jones back to his hometown. Holland, like Jones, grew up singing in a choir in New York City.
At the time of the search, Holland wasn't looking to leave New York. But something stuck out to him.
"Spirituals — that's in my bailiwick," he says.
Jones and Holland became more than just mentor and mentee; they became friends.
Before Holland moved to Denver, he needed help finding a place. That's where Jones' kindness radiated. Holland asked Jones to help by investigating.
"I don't know what to look for," Jones told him. "I don't know your taste."
"You have an adult son," Holland responded. "If it's somewhere you wouldn't mind your son living, it would be fine for me."
Jones went to six places and narrowed it down to one or two. Six years later, Holland's still living in a place Jones recommended.
In Holland's time as the project's director, he's watched the group grow, not only musically, but also as a community. He has made it a practice to do one or two spirituals where the choir engages the audience. But this year, he is making it the primary emphasis.
It's something patrons of the Spirituals Project have come to know and love.
"It's not about how wonderful you are, but it's about engaging and being part of the community. We're not concerned about how your voice sounds. We're concerned about you being a part of the experience," Holland says.
On Saturday, Holland will continue to advance Jones' dream. Still a member of the choir, Jones, along with a crowd of 800, will sing in celebration of freedom.
"He started the whole thing. He's stayed true to the course. Through the difficult times and the triumphs, it's been Art Jones," Holland says.