DU Alumna Opens London's First Music School for Students with Autism, Wins Award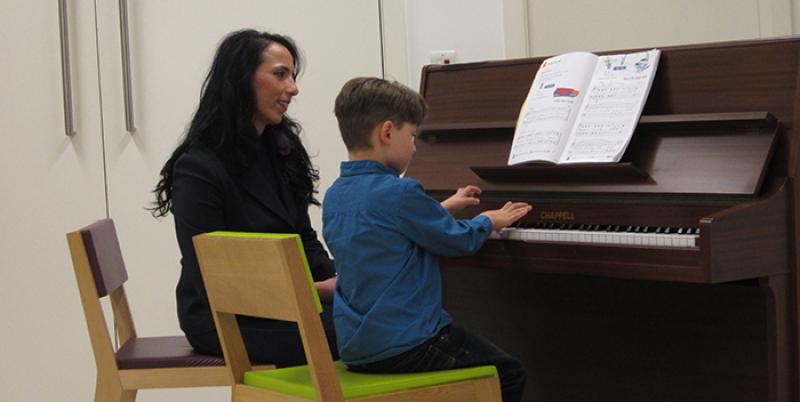 What happens when a student is given a chance to succeed beyond her wildest dreams? She makes dreams come true for those around her. Currently working as a music teacher for students with autism in London, Gergana Argirova (BM '10, MM '12, music) credits her Small Business Entrepreneur of the Year Award to the open arms of DU and its inspiring faculty.
Gergana Argirova was once a humble DU student from Bulgaria studying at Lamont. At the age of five, Argirova fell in love with the piano and began a long but remarkable journey that would take her from Bulgaria to Denver, Denver to Italy and back, and finally London. Her journey began at the National Music School in Plovdiv, Bulgaria, where in her final year she was awarded a full scholarship to attend DU's Lamont School of Music. While working on her Bachelor of Music and Master of Music degrees, Argirova made the dean's list, the honors program, and served as a teaching assistant.
Additionally, while studying with David Montano, Argirova worked on a project called The Little Pioneers, which partnered with a local Denver primary school to provide tuition-free music classes for elementary school kids—mostly from immigrant families—who wouldn't otherwise be able to afford them. "The kids often felt homesick and excluded, so music was an outlet of their emotions and feelings," Argirova said.
Argirova credits her current success to the passion that grew from helping underprivileged students learn music, but also to fate. After being accepted by Cambridge for her PhD, she realized that without a scholarship she would have to find work. Feeling down on her luck, Argirova visited a good friend who had a son with autism looking for a piano teacher. Argirova realized that there was a gap in music education, and after research with and mentorship by another female entrepreneur, she was able to fulfill her dream of opening a music school for students with autism.
What emerged from that dream is now The London Music Box, which employs seven teachers along with Argirova. "London Music Box is embedded in the idea that you have to think outside the box when teaching music," Argirova said. The company has received tremendous grassroots support, evidenced by the 6,000 votes received to win her prestigious Small Business Entrepreneur of the Year Award.
Eventually, Argirova wants to grow her business to include dance, art, and other music classes, and she would like to start a scholarship to support other eastern European students of music to study at DU. She also wants to continue helping those with a passion for music, whether through in-person talks, workshops, or webinars.
Her words of wisdom? To "never ever give up," to practice patience, resilience, and—most importantly—to understand why your dream is important to you.
To get in touch with Gergana and find out more about London Music Box, visit: www.londonmusicbox.com, @LondonMusicBox, or London Music Box on Facebook.