Admissions Information
Choosing a music program that will prepare you for your professional career is one of the most important decisions you will make. At the Lamont School of Music, you will progress through a conservatory-level education within the outstanding liberal arts environment of the University of Denver. With the guidance of our distinguished faculty of artist-teachers, you'll gain the skills and know-how necessary to thrive as a musician. 

Read Fall 2020 Lamont Return to Campus FAQ
"Join us as we show you around the practice, rehearsal, classroom and performance spaces that make up the Newman Center for the Performing Arts."

Lamont Admission
Audition & Application Information
Applicants must successfully complete an audition or have portfolio materials reviewed before being offered admission to the Lamont School of Music. Admitted students must begin their studies in the fall quarter. New students normally may not enroll mid-year. All application materials, including DU's Pioneer Application or the Common Application, are due by January 15. First-year music applicants are only considered for admission during Regular Decision. 
This year, due to the COVID-19 pandemic, we are requiring recorded video auditions from all applicants as well as a live Zoom interview. This live component will vary by studio, and range from a brief Q&A to some level of live virtual audition. 
Please find your requirements on the Lamont Studios page.
The 2021 Zoom Interview Days are: 
January 30
February 6
February 13
If you're unable to interview on those days, please contact our office at 303-871-6973 or email musicadmission@du.edu.
Admission Events and College Fairs
Come meet us!
This year, due to the COVID-19 pandemic, we will be replacing our in-person events with a host of virtual offerings. For a full list of our virtual events please visit The Lamont School of Music On the Road.
If you would like to speak with a current student, please register for one of our Lamont Student Office Hours available via the On the Road link above. Office hours will be held on Tuesdays from 11 a.m. to 12 p.m. and on Fridays from 3 p.m. to 4 p.m. 
If you would like to schedule a one-on-one meeting and information session with a Lamont Admission staff member, please email us at musicadmission@du.edu.
Lamont Admission Webinar Series

Click the link for more information and for registration:

Navigating the Music Admission Process -September 15, 2020 at 4:30 p.m. MDT

Lamont Alumni Panel Discussion - October 6, 2020 at 6:30 p.m. MDT

Staying Organized as a Music Applicant - October 22, 2020 at 4:30 p.m. MDT

Preparing for Your Audition - November 5, 2020 at 4:30 p.m. MST

Financial Aid for Music Students - November 19, 2020 at 4:30 p.m. MST

Networking in Music: How to Engage Faculty and Current Students - December 4, 2020 at 4:30 p.m. MST

Q&A with Lamont Leadership - December 9, 2020 at 4:30 p.m. MST

Q&A with Current Lamont Students - January 8, 2021

Prepping for your Audition and Interview - January 27, 2021

Q&A with Lamont Faculty and Alumni -  February 17, 2021

Financial Aid for Admitted Undergraduate Music Students -  March 12, 2021

Financial Aid for Admitted Graduate Music Students -  March 22, 2021

Q&A with Lamont Faculty, Students and Staff - April 7, 2021

Q&A with Lamont Faculty, Students and Staff -  April 21, 2021
Our Admissions Team
Stephen Campbell

Admission Director

Angela R. Mitchell

Enrollment Specialist
Financial Aid
Both merit- and need-based financial support options are available to Lamont students. This aid comes in the form of scholarships, grants, loans and graduate teaching assistantships. Learn more about the opportunities and how to apply: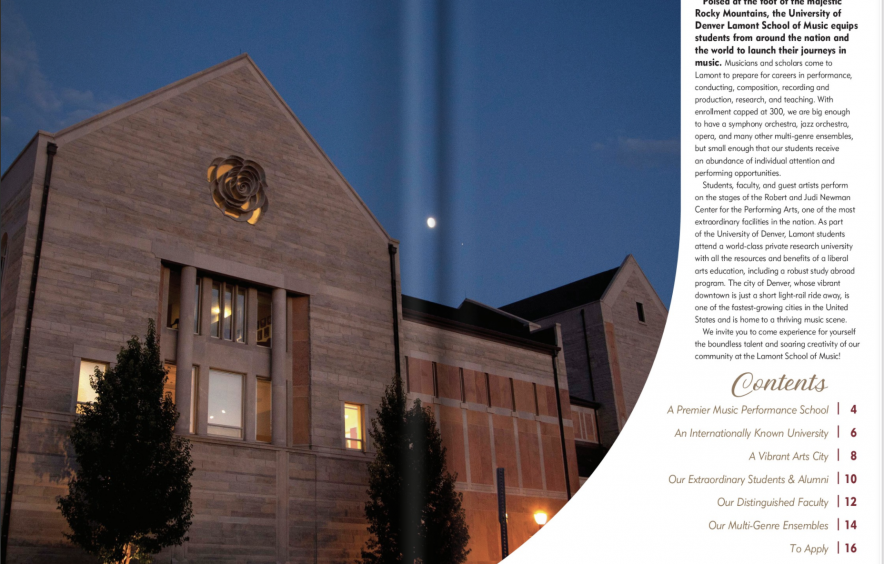 Our Viewbook
Please click here for a fullscreen, flippable version of our Viewbook. 
Musicians and scholars come to Lamont to prepare for careers in performance, conducting, composition, recording and production, research, and teaching. With enrollment capped at 300, we are big enough to have a symphony orchestra, jazz orchestra, opera, and many other multi-genre ensembles, but small enough that our students receive an abundance of individual attention and performing opportunities.
As part of the University of Denver, Lamont students attend a world-class private research university with all the resources and benefits of a liberal arts education, including a robust study abroad program. The city of Denver, whose vibrant downtown is just a short light-rail ride away, is one of the fastest-growing cities in the United States and is home to a thriving music scene.
Read more about why Lamont may be the perfect fit for you in our Viewbook, now in the form of an easy-to-read, online flipbook!