Athletic Division Takes Shot at Diversity
Student Showcase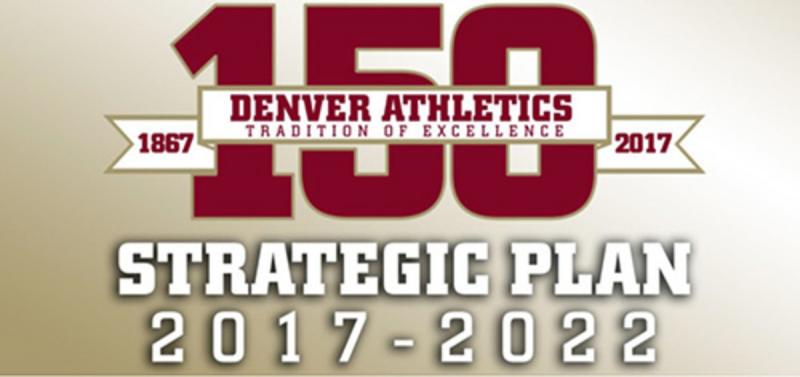 Previously published in the Department of Media, Film & Journalism Studies' Multicultural Journalism course's special issue of the DU Clarion, November 2017. 
It is not at all difficult to miss the University's efforts to visually demonstrate and preach the value of ethnic diversity within the community. Banners hanging from light poles along campus walking paths, syllabi handed out at the beginning of each quarter and a variety of initiatives implemented and strategic plans released all detail how diversity should be increased, fostered and maintained. DU's most recent campus-wide strategic plan, DU Impact 2025, asserts this point: "the challenges of this century are complex, requiring diverse teams to work collaboratively and innovatively toward solutions. Actively seeking a student body and a faculty and staff who represent the diversity of our region, nation and world is necessary to prepare students for an increasingly globalized and connected world." The University has said there are many ways to do this.
Earlier this year, the Athletics & Recreation Division laid out a five-year strategic plan specific to its area of operation. This is the third strategic plan for the division, and each has had a "strong diversity and equality component," according to Peg Bradley-Doppes, DU's vice chancellor of athletics and recreation. Earlier plans included goals "to hire more minorities in administrative roles, on our coaching staffs and in the support staff," Doppes said.
DU currently has two head coaches of color leading the men's basketball and men's tennis programs, and the division has increased the number of staff of color, meeting a goal it set as part of the first plan which was launched in 2008. The division has also established a Gender Equity Committee to maintain compliance with Title IX as a result of its planning process.
The most recent plan provides a focused lens in which to dissect action items put forth to achieve and cultivate diversity, equity and inclusion. These items are six-fold and, in my view, littered with a plethora of buzzwords. "Continue to implement athletic policies regarding the Division's commitment to diversity and gender equity," one item beckons.
When prompted, Bob Willis, the assistant vice chancellor for external operations and a member of the committee responsible for the creation of this document, did not provide specific examples of these policies, and understandably so. What would an athletic policy regarding a commitment to diversity and gender equity look like? The vague nature of this item makes this a problematic question to answer.
Another item in the most recent strategic plan details an effort to "maintain a division dedicated to creating a culture that recognizes and values common goals and diverse identities while encouraging respect, understanding and appreciation of individuals and group differences." While there would likely be no contestation that this is a worthy goal for the culture within the division, it seems there is no actionable item tied to this task. "I've been around other programs where teams can get isolated. What I've liked is it's a family atmosphere here and [the athletic teams] support each other. That works for us," said Willis when asked for an example related to how this task will be achieved.
According to Doppes, Willis' mention of the "family atmosphere" is consistent with the division's efforts to establish and maintain a diverse culture. But a plan necessitates future movement and action in a common direction as opposed to the reiteration of that which has already been established.
The plan is not void of specific, material items, however. One task lays out the intention of providing educational programs to senior athletic administration, coaches, staff and students. As far as faculty and staff is concerned, Willis discussed the division's partnership with the Center for Multicultural Excellence (CME), and their ongoing search to invite guest speakers with expertise in this area.
Some years ago, the division hosted Richard Lapchick, an alumnus of DU and a nationally known human rights activist in the area of racial equality. Lapchick spoke of the need for a more demographically reflective workforce in athletics, whether it be in coaching or administration. This is a respectable and relevant approach that works to advance the Division's desire to foster diversity and inclusivity.
Jake Holtzmann, a junior guard on the men's basketball team, however, exhibited uncertainty when questioned about the educational programs outlined in the strategic plan. "I am unaware of any such programs," he stated simply. This highlights the fact that the educational programs referenced in the strategic plan have been designed as professional development activities that are part of senior staff and coaches' meetings and may not be open for attendance by all students involved with the division.
But the division has made "efforts to increase enrollment for a more diverse student body and student-athletes," Willis said. He noted that he has developed a reciprocal relationship with Hampton University in Virginia due to the similarity in athletic programs available at each institution. "We are able to share with Hampton our success and best practices . . . and Hampton in return will assist us to better understand how we could attract more students of color both on campus and in participation with our sports programs," he said.
Typical mechanisms used to attract a more diverse student-athlete body are scholarships and endowments, tools which the strategic plan explicitly call for and which the University offers. Willis highlighted the details of endowments currently on the University's books from corporations that consider ethnic diversity and inclusion an integral part of their institutional DNA. He also mentioned large sponsors such as Pepsi and Wells Fargo, and smaller sponsors such as the Tuskegee Airmen, who have created grants in conjunction with the University that are designated specifically for members of certain demographic communities.
The translation of goals for enrollment into simple actions related to fundraising and scholarship establishment is clear and encouraging. The division has been able to fulfill the goals that are related to measurable and realistic statements as set forth in subsequent strategic plans. But other universities have even more specific and measurable goals.
The University of Colorado Athletics Department, to name one, recently released its own two-year strategic plan. While the plan details only three action items as opposed to DU's six, they are unambiguous and numerically goal-oriented. "Significantly increase the number of internally (within athletics) offered educational opportunities annually around diversity and Inclusive Excellence to be 10 by 2020," and "Significantly increase the percentage of staff and student-athletes attending at least 1 forum or diversity and Inclusive Excellence training per semester (fall and Spring) to 95% by 2020," two of the department's focal points declare. Doppes points out that there are of course differences between a private and public institution and related issues of enrollment and budget. Still, it seems to me that goals could be made more measurable and this would make these goals more actionable.
Taken together, the goals in the division's strategic plan can be put into two dichotomous groups. Some are concrete and feasible while others are vague and superficial, and this is attributable to the very goal that is being chased: diversity. It's a word that can take on several meanings and needs context to be understood properly.
Does the term "diversity of ethnic make-up" provide enough context for one to gain a full understanding of it? It can simply mean a group composed of people of different backgrounds and cultures. But, diversity of ethnic make-up has also come come to represent something that many groups strive to gain, or a sign of positivity and progress, as in this case. The intangibility of the word itself and the polysemic nature of its various uses and possible representations is what makes its attainability difficult.
As a graduate student attending DU, I am a champion of the initiative just as the university and its various divisions are. But, a methodology shift seems needed. Collaboration with other universities may assist in identifying items that have rendered results and those that have not. These items should then be fixed in actionable tasks.
The more transparency and viability that can be built into statements meant to move these goals forward works to serve all parties involved. The university can measure itself against past progress and fulfill the goals it sets for itself, and students and student athletes can prosper in an environment representative of our community.