Campus Embraces Diversity but Some Grad Students Express Skepticism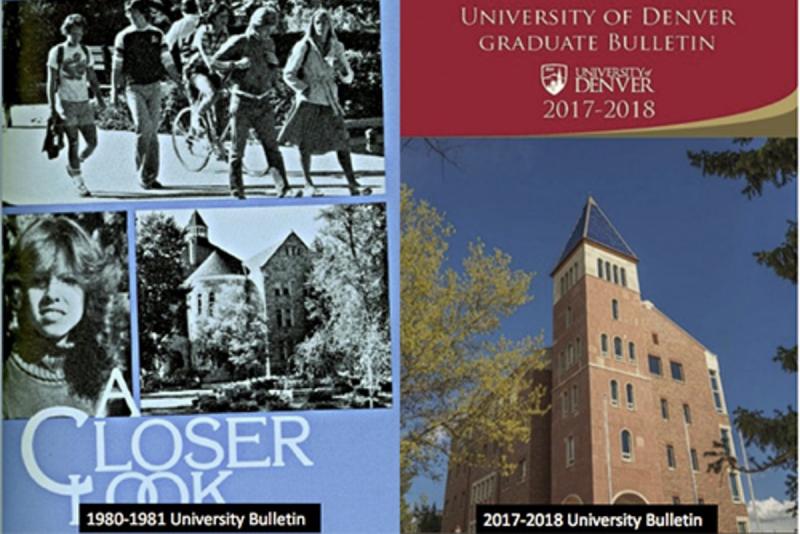 By Mikayla Pevac
Previously published in the Department of Media, Film & Journalism Studies' Multicultural Journalism course's special issue of the DU Clarion, November 2017.
The pursuit of diversity is a common theme at the University of Denver right now as evidenced by the establishment of the Free Speech Wall and the Inclusive Excellence statements included on most, if not all, DU syllabi at both the graduate and undergraduate level. But most studies of race and racism on campus focus only on the undergraduate level, as seen on websites such as USNews.com and CollegeFactual.com, where data on graduate students are not included.
Diversity, when it comes to race, is defined as the "differences in racial and ethnic, socioeconomic, geographic, and academic/professional backgrounds. People with different opinions, backgrounds (degrees and social experience), religious beliefs, political beliefs, sexual orientations, heritage, and life experience," according to Dictionary.com.
The data that are available on graduate students, from DU's Institutional Quick Facts document for the Fall of 2016, show the trend in graduate school admission based on race.
Over 50 percent of graduate students identify as White with small amounts of the other ethnic groups. The above graph does show a trend of movement, however. In small increments, the percentage of White students has slowly gone down over the last couple of decades and percentages of "Hispanic or Latino" and "Black or African American" students have slowly increased. In 2008-2009, the categories of "Multiple (two or more races)" and "Native Hawaiian or Other Pacific Islander" were added, thus increasing the inclusivity of the survey system (this is why no data is available for these two groups prior to the 2011-2012 bracket on the graph).
This change could possibly be attributed to the Inclusive Excellence campaign and other campaigns to improve DU's racial/ethnic composition and climate taken on by DU's faculty and staff. Two offices in particular gave their insights into the racial climate at DU and the goals their respective departments have in regards to improvement. Representatives from the Office Of Graduate Education and the Office of the Diversity & Inclusion both emphasized that racial/ethnic diversity at DU is a topic at the forefront of their everyday administrative duties.
As vice provost for Research and Graduate Education at DU, Dr. Corinne Lengsfeld's job is to watch the trends of admission and propose where improvements are needed or can be made. According to the data provided by Lengsfeld, DU's graduate school is above the nation's average in the percentage of matriculated domestic students of color.
Keeping the level of racial disparity in mind during university processes and creating plans for improvement are the main ways that the racial climate of DU will see change, said Lengsfield, which is why the Office Of Graduate Education is evaluating scholarships awarded to graduate students solely based on merit.
"The majority of university financial aid for graduate students is awarded by the individual academic divisions. None of the awards from our office are currently race-based. We are evaluating methods to improve the effectiveness of our money to advance priorities in the divisions and university," said Lengsfield.
Dr. Frank Tuitt, senior advisor to the chancellor and provost on diversity and inclusion, and professor in the Morgridge College of Education, researches "topics related to access and equity in higher education," according to Tuitt's DU faculty bio, which continues: "His scholarship critically examines issues of race, Inclusive Excellence and diversity in and outside the classroom from the purview of faculty and students."
"The Office of Diversity and Inclusion (ODI) is committed to providing leadership, guidance, and resources in support of the University of Denver's commitment to building a more diverse and inclusive institution," Tuitt said. "Recognizing that this commitment requires that DU establish and sustain a dramatically rich campus climate and culture that deepens our intellectual environment, ODI is responsible for addressing Inclusive Excellence and diversity matters that impact the academic experience at DU for faculty and students."
ODI supports various racial groups on campus to show support for inclusivity on campus, said Tuitt. A specific endeavor of the ODI's that involves graduate students is the "Roger Salter's Institute Initiative." This initiative aims to encourage graduate students with "insights, information, and strategies from faculty and administrators who have spent their careers navigating the racialized and gendered reality of academe," according to a statement on the Summer Institute DU webpage.
But some graduate students are less than enthusiastic than Lengsfeld and Tuitt when it comes to diversity in their own programs.
Autumn Dowis is in the second to largest graduate program at the University of Denver (after University College)—Law. The JD Admissions Fall 2017 Incoming Class Profile breaks down this year's entering class as 58 percent female, 42 percent male, and 23 percent "diversity." But Dowis describes her program as predominately "white." Despite the efforts of administrators like Lengsfield and Tuitt, Dowis reports not seeing any evidence of efforts to improve conditions for graduate students from historically marginalized communities.
Michelle Fahlbusch and Rachael Palaima are both graduate students in the Daniels College of Business, a school that has a prominent information tab on their website devoted to diversity at DU. But Fahlbusch reported that her program is not only lacking in racial diversity. It is also lacking in gender and age diversity. "The majority of our class are white females between the ages of 22-30," she observed. Both Fahlbusch and Palaima note that race relations have not been brought up in any of their classes.
"I think DU tries very hard to push diversity and show that it important to them. However, they define diversity as racial make-up. Which, yes, is important, but there are other elements" said Palaima.
Katelynn Fell is a counseling student, and is in a graduate program included under the umbrella of the Morgridge College of Education. Morgridge has a "Diversity in Action" blog-type area on its website devoted to stories about how their students are making a difference in the sphere of diversity. But Fell remains unconvinced. Fell, like some of her grad school colleagues, things that her program could "definitely be more diverse," she said.