Computer Science Senior Puts Coda on College Career
Elisabeth Bristol pursued passions in tech and music in her three years at DU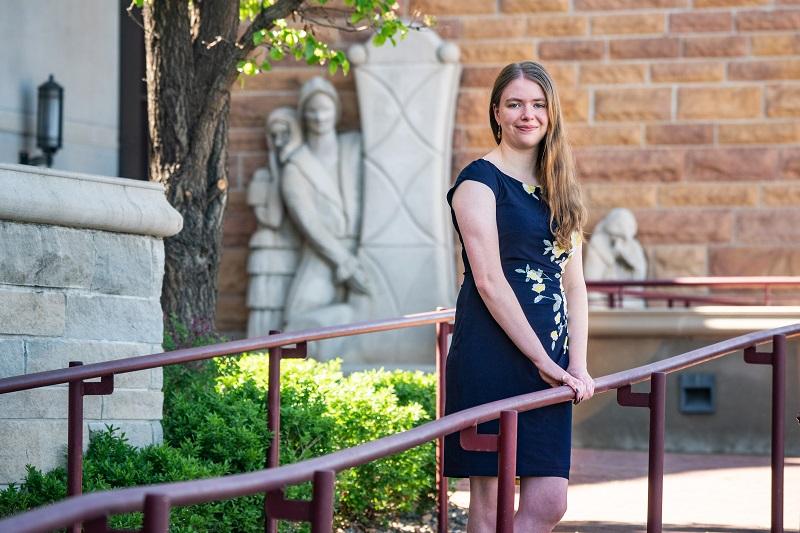 Just looking at Elisabeth Bristol's college resume can be a bit exhausting.
When she graduates from the Daniel Felix Ritchie School of Engineering and Computer Science in June (with a near perfect 3.96 GPA), she will have completed a computer science degree and minors in music and math after a mere three years. Then there's the handful of jobs she has worked to afford college — professional seamstress, teaching assistant, consultant to a Los Angeles music dealer, sewing instructor — and the hours of time she spent commuting on RTD to and from her home in Aurora. And the professional symphony she played in. And the Christian youth ministry where she volunteered. And the DU Tango Club, of which she was president.
"My family likes to say that when I was born, I hit the ground running and never stopped," Bristol says. "I look at the world and see everything there is in it — all the skills you can learn, the places you can see, the people you can meet and the things that you can do — and it's like, why would you waste a minute?"
That's the mindset that put Bristol on the DU campus in the first place. A French hornist and self-described "band geek" who was heavily involved in Smoky Hill High School's engineering club, she wanted a university where she could pursue both of her passions. DU, she realized, not only had the Lamont School of Music, but also a soon-to-be-brand-new engineering building with state-of-the-art resources.
After her first quarter, she decided to major in computer science. Despite having no coding experience, she began to scale a steep learning curve. Her professors chalk it up to a knack for the field and an uncanny ability to manage her time.
"She's obviously really bright and intelligent," says associate professor Jeff Edgington, who taught several of Bristol's classes. "But she's intellectually unafraid to ask questions" and unafraid to follow up if the answer doesn't satisfy her.
The persistence has paid off. Two months before Commencement, she had already secured and started her first post-grad job. In Western Union's cybersecurity department, Bristol holds the title of information security analyst, ensuring the right people have access to the right things.
In a way, the job description sums up her college experience, too. Bristol didn't do everything — never lived in the dorm, never had a roommate, didn't have time to engage in many extracurriculars, never rushed a sorority house, "or whatever it is that normal people do" at a university.
But Bristol feels she did the right things to make her experience valuable and find her place on campus, staying true to her passion for music and discovering a new passion for ballroom dance. She forged strong connections with her classmates and her faculty. 
"She has this broad education that all students receive at DU, and it will serve her well," says professor Susanne Sherba, Bristol's advisor and fellow musician. "When an employer looks at her resume, they'll see she can do other things."
Investing so much outside of her classes, Bristol says, was her biggest struggle.
"But looking back and realizing everything I've learned despite all of that stuff is [also] my proudest accomplishment." she adds. "I was able to maintain my life and do the things I love and at the same time I was able to build a really awesome skill set. It set me up to leap into the professional playing field."