Congratulations to Our 2021 Dean's Dissertation Fellowship Awardees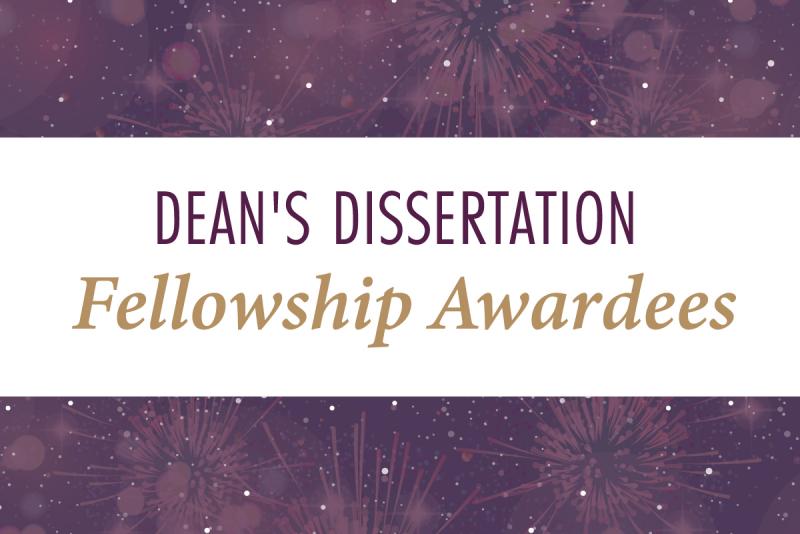 Each year, the College of Arts, Humanities & Social Sciences is proud to offer Dean's Dissertation Fellowships to students pursuing completion of their doctoral work. Awardees, nominated by faculty in their departments from a highly competitive pool of applicants, are chosen to receive a year of financial support.
The 2021 Dean's Dissertation Fellowship awardees are: Evelyn Hampton (Department of English & Literary Arts), Emily Abellon and Scarlett Harrington (Department of Communication Studies), and Jill Merrick (Department of Psychology).
Evelyn Hampton, PhD student concentrating in the Department of English & Literary Arts
Hampton's work traverses several disciplines within the College, specifically those of media, film and journalism studies and English. Her dissertation, "Book of Living Things," is comprised of an auto-fictional novel and several short stories. Her primary interests are in autofiction as she defines it — "a narrative mode that blends biographical facts of the writer's life with elements of fiction" — performance studies, and the films of and texts by Agnes Varda.
Emily Abellon, PhD student in the Department of Communication Studies
Abellon's research interests include interpersonal and family communication, health communication and media studies. She's specifically interested in the phenomenon of social support, and her dissertation will examine the social support received by mass school shooting victims. Abellon is hopeful her research will contribute to larger conversations on mental health and well-being, in addition to conversations on the coping of trauma and grief.
Scarlett Harrington, PhD student in the Department of Communication Studies
Harrington's research engages rhetoric, critical theories and critical methodologies with a focus on intersectional and decolonial perspectives. Commonly utilizing frameworks of monstrosity, biopolitics, transgression and memory, Harrington places her work in larger conversations of pop culture, social movements and subversive spiritual/political practices like witchcraft and Satanism.
Jill Merrick, PhD student in clinical child psychology in the Department of Psychology
Merrick's research focuses on the role of protective factors, such as positive childhood experiences and parenting, in promoting resilient outcomes for families experiencing adversity. She's also interested in how parents can capitalize on these protective influences to deter the intergenerational transmission of risk and shape a positive trajectory of intergenerational resilience for their children.
The dean's office recognizes the extraordinary commitment and creativity from these PhD candidates and congratulates all the awardees!