DACA's End Limits Study Abroad Opportunities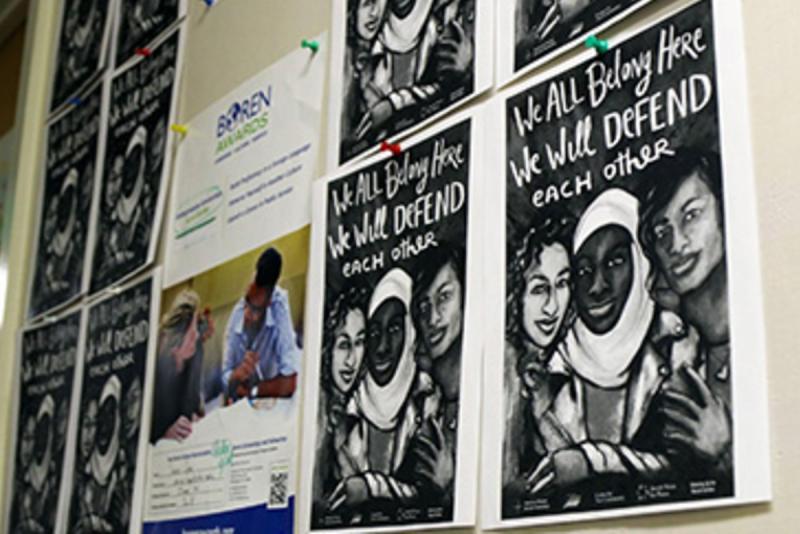 By Jessica Johnson
Previously published in the Department of Media, Film & Journalism Studies' Multicultural Journalism course's special issue of the DU Clarion, November 2017.
Not a single known DACA student from DU has studied abroad since President Trump's election, according to the director of the Office of International Education (OIE), Denise Cope.
One of DU's major selling points to prospective students is its nationally recognized study abroad participation. The allure of international opportunities elicits study abroad participation from nearly 70 percent of DU students, according to the Institute of International Education.
But now, DACA students are being forced off the study abroad bandwagon. "Pre-Trump, all DACA students were able to study abroad and we could help them and advise them and give them resources," said Cope. "Granted, there were some risks, but it was quite minimal."
However, since President Donald Trump's announcement in September that there would be an "orderly transition and wind-down of DACA," the risk of travel for DACA recipients has increased, leading to the lack of DACA students going abroad, according to Cope.
U.S. Citizen and Immigration Services (USCIS) will no longer accept or approve Advance Parole requests, which has contributed to the increased travel risk for DACA recipients. Advance Parole granted permission to DACA recipients to reenter the U.S. after traveling abroad, according to the National Immigration Law Center.
Stephanie Roberts, the assistant director of the OIE, said that the existence of Advance Parole was the key to DACA students being able to study abroad. "[Advance Parole] was always somewhat grey. It was always at the discretion of the customs officer, but that was the avenue through which to be able to leave and come back," said Roberts. "That no longer exists."
Since Advance Parole ceases to be a viable option, nearly all 150+ study abroad programs offered by the OIE are now off-limits to DACA students, according to Cope. The OIE is working to find alternative options for undocumented students, but these opportunities are hard to come by. "The reality is, it can't be truly abroad," said Cope. "[Their destination] has to be some type of U.S. territory." Though DACA students can't cross any official foreign borders to study abroad, the OIE has added a program in San Juan, Puerto Rico with DACA students in mind. As of right now, this program is the only option for undocumented students, according to Roberts.
Though study abroad options are extremely limited for undocumented students from DU, they have more opportunity to study abroad than DACA students from many other universities.
The University of Texas at Austin, though "proud to have supported DACA students in successful study abroad experiences over the past four years," no longer permits DACA students to study abroad as of September 5, 2017.
The City University of New York stated that "Only students who already have Advance Parole documents have the option of studying abroad."
Goucher University in Maryland recommends that DACA students refrain from study abroad, "even if they received the required travel permission from USCIS," since there is no guarantee that they could return to the U.S.
Princeton University recommended that all DACA students abroad return home immediately and cautioned that "DACA students should not consider studying abroad at this time."
The University of Richmond's response to the frequently asked question, "What precautions should I take before international travel?" was that there were no precautions and that instead "students without proof of legal status are strongly encouraged to avoid international travel."
The study abroad page for the University of Bowdoin in Maine is tacked with a bright red disclaimer that reads, "Students with DACA are strongly advised against making long-term trips abroad or make semester study abroad plans."
Though DU is bound by the same limitations as the aforementioned universities, the OIE is still trying to make study abroad a possibility for these students, according to Roberts. "We do have information on our website regarding the fact that study abroad can still be possible, with some unfortunate and very real restrictions," said Roberts. In hopes of minimizing some of those restrictions, Cope is exploring program options in U.S. territories. "Where I'm limited is, I want to send students on programs where there's support, so I have to find program providers that are operating in like Guam, or U.S. Virgin Islands, or Hawaii, or something like that," said Cope. "So, it's not impossible, but those are few and far between."
Though the options for DACA students are extremely limited, Roberts encouraged DACA students to come in and talk with an OIE advisor to discuss study abroad options and to brainstorm further opportunities. "We want you to feel you can come and talk to us about the concerns you have, and that you'll find a receptive and sympathetic office here that wants to help you succeed in your plans to go abroad," said Roberts.

The OIE hopes to have DACA students reach out to their office, since it is difficult for the OIE to know and reach this community, according to Cope. "We don't track students who are undocumented or DACA students, and there's pros and cons to that," said Cope. "The pro is, if ICE were to come on campus, there really wouldn't be any written record. The con is, we don't know who these students are, so reaching those students becomes really complicated."
Cope and the OIE have partnered with the Center for Multicultural Excellence (CME) and other campus organizations, like First-Gen of DU, to try and reach some of these students and have conversations about the reality of the study abroad situation. "I tell students, we are unafraid educators to have this conversation," said Cope. "We are advocates for our students."
"[DACA] is not an afterthought for us," said Roberts. "We have put significant time into really trying to make sure we understand DACA, that we understand how it was as a program, and now, with this transition, we understand what new challenges are coming up for students now within what we have control over, which is helping the student with this conversation and determining what looks realistic."
For more information on study abroad, or to contact the OIE, visit their website or make an appointment with an advisor.
To hear the podcast version of this story, click here: DACA's End Limits Study Abroad Opportunities.