Documenting Colorado's Hidden Voices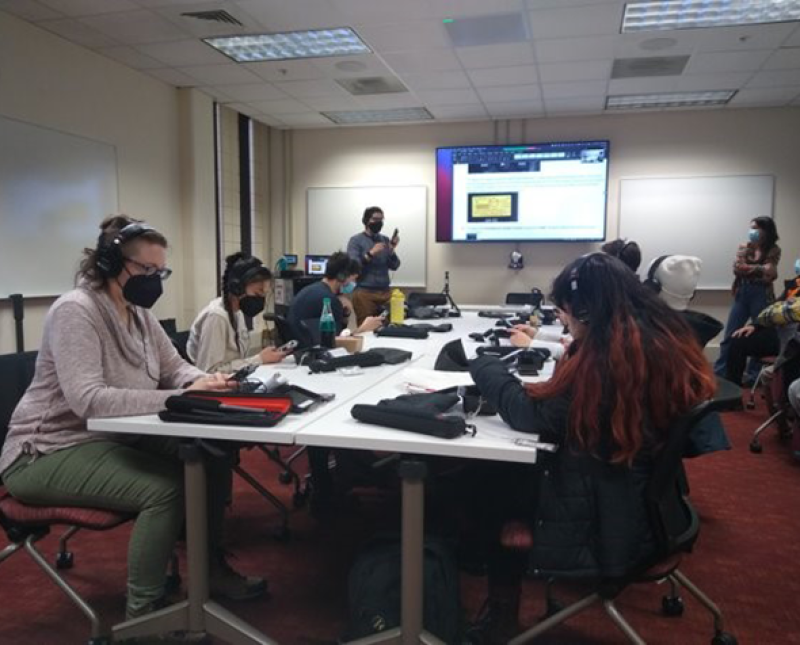 Colorado has a rich history and a diverse population, yet there are voices in our community we rarely hear from — farmworkers, day laborers, essential workers — people who have helped shape our state. Assistant professors Carlos Jimenez and Lina Reznicek-Parrado want to add their voices to Colorado's story.
Thanks to funding from DU's Center for Innovation in the Liberal and Creative Arts (CILCA), Jimenez and Reznicek-Parrado launched Documenting Colorado's Hidden Voices. The project trains DU students to conduct and collect oral histories from Spanish-speaking Coloradans across the state. Students then participate in a paid internship with a community partner.
"The project was really to come up with oral histories that focused on telling stories from around the Colorado community from folks we just don't hear from…folks who are just working to make their communities a little bit better," says Jimenez, assistant professor of media and film studies.
Twenty students were selected for the pilot project, which was promoted in classes taught by faculty who support the program. Students who had media production experience or who could speak Spanish in a professional setting were encouraged to apply.
The students attended workshops during fall quarter, including a series on how to collect oral histories presented by History Colorado's oral historian Rachael Storm. Faculty mentors, including Jimenez and Reznicek-Parrado, also held workshops in their own areas of expertise.
"We started with the workshops and the idea was that these workshops were going to prepare [students] not just to learn or develop skills in media production and narrative and oral stories, but also to get them thinking about internships in general," says Reznicek-Parrado, teaching assistant professor of Spanish who oversees the internship program.
"We came up with this idea of extending student experiences through Spanish with the communities, the same communities that we want to bring forth through the oral histories," she says. Reznicek-Parrado established relationships with community organizers, nonprofit organizations and private organizations that support Spanish speaking communities in various ways.
"It was pretty quickly that we realized that we wanted to send our students to be part of that work, especially our students who are bilingual," she says.
Camila Frech, a junior international business major and first-generation student from Baton Rouge, Louisiana, was in this cohort.
"I learned so much about how history is a collection of people's stories and how they were perceiving these events in their lives," says Frech, who also learned how to honor the person's original story while digging deeper to gather more information.
"This project has been a great learning opportunity for me to learn more about the community in Denver. I have come to appreciate just sitting back and listening to other people. Everyone has so many interesting stories to share about their lives that they do not even realize until someone else starts asking them about it," she added.
Jimenez conceived the project idea when he saw a grant opportunity through CILCA. He wanted to do audio work that would connect his students with the community, and says CILCA has been immensely supportive.
"They gave us a lot of support to conceptualize a project to really come up with what is doable," Jimenez says. "Funding itself has been extraordinarily supportive because we were able to hire two student workers who are key coordinators for the entire project."
CILCA also gave each of the faculty involved in the program a course release, meaning that they each have one less course to teach which gives them time to devote to the project.
"[The course release] is absolutely instrumental to being able to do any of this work," says Reznicek-Parrado. "It allows us to spend time and energy in networking, sustaining community partnerships and recruiting students. Without that support, there's just no way we would be able to do this."
The students have collected their oral histories and media production has begun. The oral histories will be stored in History Colorado forever, says Jimenez. The team also received a grant from DU's Center for Immigration and Policy Research to process the audio and create short podcasts for a series that focuses on Colorado immigrants.
"A lot of people don't just go to an oral history website and listen to oral histories," says Jimenez. "This is a nice way to have a public facing distribution."
CILCA provided the seed money, but the team sees a long future for the project. They have applied for a grant through the National Endowment for the Humanities and hope that more funding will lead to more students participating and community partners.
"We have lots of beautiful stories that, I believe if we weren't doing this work, nobody is ever going to hear these stories," says Jimenez.