DU Alumna To Bring Systems of Restorative Justice to Tribal Communities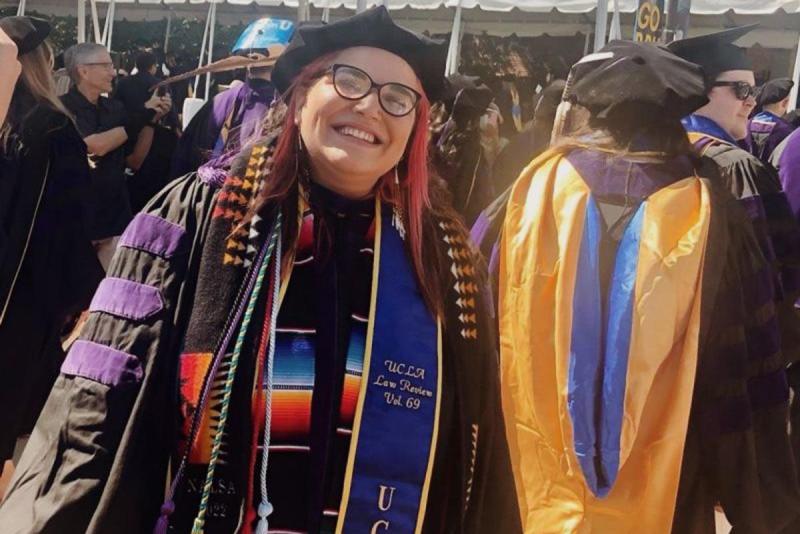 When Grace Carson (BA '19) opens her laptop to study for the California Bar exam, she glances at sticky notes on her neat and organized desktop. They've been there for years. She wrote them before she started at UCLA School of Law. Still, they serve as a powerful reminder – a culmination of her life's work. 
"You have to act as if it were possible to radically transform the world. And you have to do it all the time," reads a quote from Angela Davis. 
This fall, after Carson takes the exam, she'll begin transformative work with tribal communities. Through the Skadden Foundation Fellowship, she will work with Native American tribes to develop restorative justice systems as an alternative to incarceration and punishment. 
At the University of Denver's College of Arts, Humanities & Social Sciences, Carson earned a degree in journalism and political science – a combination of her passions for reading, writing and activism. She's always loved to write, and she's kept the proof. Tucked away in the closet of her Los Angeles apartment, she has a box of journals. 
"I was never great at math," she said with a laugh. "The one thing I knew that I could do well was write." 
When Carson was 12 years old, her mother got a job as a reporter for a local paper in Louisiana. She didn't have a college degree, but her words spoke for themselves. Beautifully written stories captivated the paper, launching a career in journalism and community organizing. She started by reporting on the Horizon Deepwater oil spill. In 2010, the slick killed 10 people and discharged oil into the Gulf Coast for 87 days, threatening the health and safety of tribal communities. 
"Seeing that and witnessing the community health, she started getting more involved as an activist and an advocate," Carson said. "I remember being dragged to events she was speaking at. Even watching that for me was inspiration to also want to do good things and change things." 
While at DU, she followed in her mother's footsteps. She served in an executive capacity for the Native Student Alliance, and she was appointed executive editor of the student newspaper, the Clarion. 
For Carson, writing is a release, but it's also a way to make systems more accessible. In the spring of 2020, Carson volunteered at a clinic to help get people's criminal records expunged. She wrote declarations: one to two pages detailing why someone deserves to have their records removed. 
Carson remembers one of her first clients. They met over Zoom. Like a reporter, she asked a series of questions.  
"What's your income? What's the value of everything you own?" 
The questions are invasive but are required for the petition for expungement. With empathy and compassion, Carson listened. She was also vulnerable, explaining her family's own traumatic experience with the legal system, making it her life's mission to dismantle systems of oppression.  
"I can tell you're going to be a great advocate," the client said. "This is the first time with any lawyer that I've felt seen and heard." 
From an early age, Carson remembers negative encounters with the legal system. As a survivor of child sexual abuse, she says the system failed her.  
"Whenever it finally came out and my family was looking for justice, more than that we were looking for protection and safety. The criminal legal system didn't have any solutions. It made things worse," Carson said. 
That's what she hopes to change at the Tribal Law and Policy Institute. For both victims and perpetrators, she hopes to create a better system. If the Native American reservations are successful, it could be a model for the U.S. Everybody causes harm, Carson says, but it's about seeing people as humans, not as someone who has done irreparable damage.  
While victims and survivors are the priority, Carson says it's worth examining the larger systemic issues — like poverty, inadequate housing, food insecurity, lack of access to physical and mental health care and unaddressed trauma — that may have led someone to cause harm. 
"It's not about taking away accountability, but also saying how we solve this harm isn't about punishing this person. It's about helping them heal too," Carson said. "For me, my job and my project is really focusing on a way to limit punishment and limit policing. Instead, focus on healing and getting to the root of these issues." 
Systemic change won't happen overnight, but Carson remains optimistic about the long journey ahead. With only one hurdle to clear before she gets started, she glances at the other sticky note. This time, they are her own words. 
"When it gets hard remember, that you're doing this for your family, for your ancestors, and so that you can equip yourself with the tools you need in order to change/dismantle this unjust, violent system that harms the people you love," it reads. "Remember that you are meant to be here. Everything leading up to this point has proven that. As long as you are rooted in love, it will be okay."