DU Professor's Sonic Research Leads to Innovative New Book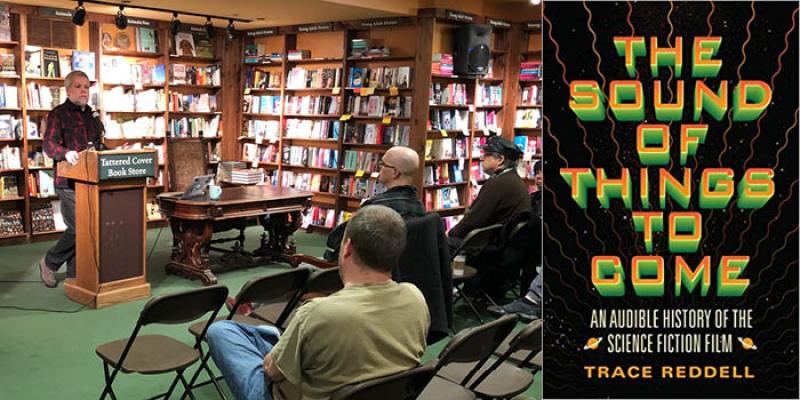 A few years ago, Trace Reddell had an idea.
The University of Denver Associate Professor of Emergent Digital Practices had spent his career doing sound-related research and teaching, so he decided to take a big step: writing a book.
After some tweaking, he settled on an imaginative idea—one that mirrors his creative, cross-disciplinary approach as an instructor of emergent digital practices. Specifically, he decided to focus on the history of sonic innovation in science fiction films, taking a look at the overall story and composition of sound in these films rather than limiting his focus to their musical aspects.
His resulting book, The Sound of Things to Come, went to press in October of 2018 after a seven-year journey of ideation, writing, and re-writing. Reddell presented the book to the Denver public in February at the Tattered Cover Book Store on Colfax, and has also promoted it at other bookstores and international conferences.
"I bring in a kind of mixed approach that is probably more rooted in literary studies and media studies than in music studies in and of itself," Reddell says. "I hope [any students that read it] would just understand how interconnected sound, design, music composition, and visual sensibilities are, along with storytelling."
The book serves as a celebration of decades of auditory work and teaching by Reddell, who had previously completed a PhD in English Literature at University of Colorado Boulder, in the late '90s. He then produced over 30 hours of radio content for the first all-techno radio station on the Internet, and created numerous sonic artworks and audiovisual performances in the early 2000s.
His path brought him to DU, where he has taught for almost 20 years while publishing essays and short fiction. He hadn't previously published any full-length books—until now.
"Most of the publishing I've done is on sound and new media," he said. "This book is definitely the longest work, the most sustained treatment of a topic, and gets deeper than other things I've had the chance to write."
The book covers science fiction films from the 1920s to later sci-fi classics such as Blade Runner and 2001: A Space Odyssey. Initially, he was focused mainly on American science fiction, but his publishers at University of Minnesota Press encouraged him to adopt an international focus.
"The [publisher] said, 'Well, if it's just going to be about American films and Godzilla, then you need to maybe reframe that.' So I watched a bunch more international science fiction. . . . The book just about doubled in length after that."
Reddell compares the challenge of writing about sounds to the idea of translating one language to another. He encourages his students to use a similar creative spirit in his Spring course, "Sound Cultures." Fittingly, to bring his students further into the world of new media, he has them produce a podcast rather than write a paper.
"The class really does work with students to think about how they listen critically, to use sound making and sound mixing practices creatively," he says.
While copies of Reddell's book are still relatively hot off the presses, he's hardly slowing down. He's working on two more book projects, one on psychedelic music and another on the history of space music. He's also co-organizing a sound-related media art history conference in Aalborg, Denmark, in August.
While his book isn't a part of his class curriculum, he hopes it can help scholars and other readers understand how different concepts within the arts, humanities, and social sciences interact with each other.
"In my attempts to write this book, and to engage readers and students through it, I want to stress that the most interesting academic work right now has to play across disciplines, and get different fields to talk to each other and listen to each other."
To learn more, visit Reddell's website at www.sonicsciencefiction.com.