DU Theatre Student Builds Real-World Skills, Lasting Connections through Immersive Internship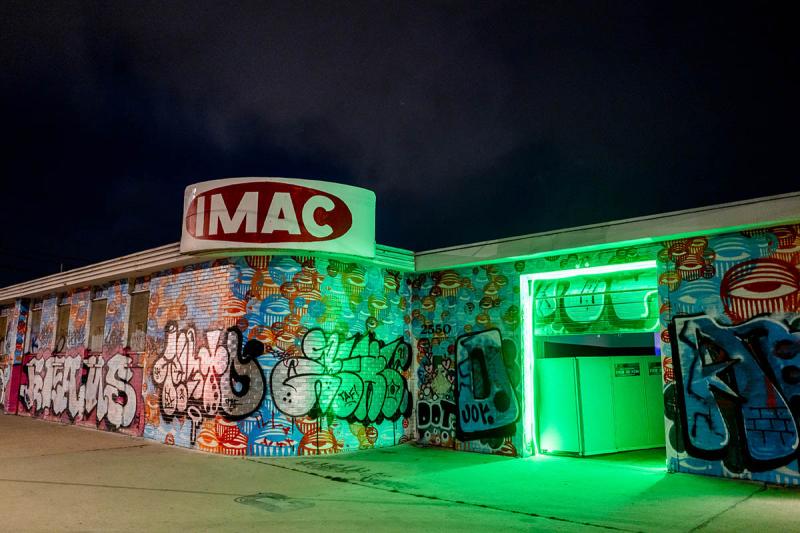 When DU Student Haley Barth arrived in early June 2022 to start an internship with OddKnock, an immersion theater group in Denver's RiNo Art District, she had no idea she was stepping into a superhero role. The team, located in a 9,000-square-foot warehouse at 26th and Larimer St., was preparing to launch "From on High," an immersive retro office satire that invites audience members to participate in "an absurd corporate environment with an obsessive work culture."
"Haley showed up on day one of tech preparation," OddKnock Co-Founder and Artistic Director Zach Martens said. "Our sound designer had just gotten COVID. Haley had sound design skills and I was throwing tasks at her, saying can you fix this, can you edit this, and she just took it and ran. What we need most is incredibly flexible and self-driven people who see a problem and fix it. Haley stepped right in to do everything from fixing sets to passing notes to stage management to being on headset the entire show."
Barth remembers the instant camaraderie that day that boosted her confidence to take on ever-changing tasks and reach beyond her comfort zone.
"I was never treated like an intern; I was treated as an equal," she says. "They trusted me and just set me free. It was very empowering and something I will take into the future."
Testing Skills Acquired in DU's Department of Theatre
Barth credits acquiring the production skills she brought to OddKnock to her classes and the Tech Theatre Internship Program she participated in the summer of 2021 with Associate Professor Steven McDonald, chair and technical director for the Department of Theatre, who also helped Barth land the OddKnock internship.
"I've been taking shop with him all this year and am going to be a TA as a senior next year," she said. "He taught me everything I know about sound design — I'm so thankful! You'd be in class and he'd tell you, OK, in the real world, this and this will happen. It was really rewarding to watch that play out at OddKnock."
"Our holistic approach allows our students to do everything — act, direct, write, build, and sew," McDonald said. "Haley's enthusiasm and drive came to our attention during our introductory stagecraft class and we offered her a paid gig working for us in the Tech Theatre Internship Program last summer. Haley continued to take advantage of the department's diverse opportunities and this spring, had the drive to look for something new for a summer internship. We had met the OddKnock team and connected to help Haley build an experience that allowed her to work to her many strengths. Haley was able to take advantage of this awesome opportunity through the CAHSS Summer Internship Award program [that awards CAHSS students enrolled in for-credit summer internships up to $3,000 each]."
For Barth, who is open about sharing her journey managing mental health issues since being diagnosed with anxiety, OCD and depression in sixth grade, the support she received from Martens and team members strengthened her belief in herself.
"There were a couple of times working with OddKnock that I was struggling and we would sit down and talk about it," she said. "We were loading in people to come to the show one night and I was feeling some panic. One of the cast members noticed it, pulled me in for a very comforting hug, and checked in with me after the show. Everybody here cares about you and to have that kind of connection was unforgettable."
Rising Above Real-World Challenges
The 12-person OddKnock team faced additional challenges navigating a production spread out in multiple rooms and a vast space.
"Not only did Haley run a zone but she floated and learned about every single zone in the show," Martens said. "Haley stepped constantly into a multitude of roles. She helped me document and create spreadsheets and make sure we have all the electrical and sound broken down and organized. We were often just putting out fires but the most steady and chill factor was Haley showing up and saying, 'OK, what are we doing today?'"
COVID-19, too, presented ongoing trials.
"In the early weeks of the show a couple of castmates got COIVD and a couple more of us got it and it was just seeing how can we mix it up and continue to keep the show on its feet," Barth said.
She plans to use what she's learned to complete her required senior capstone project, where theatre majors direct a one-act play, managing every aspect of production.
"I actually wrote a play in another theatre class and plan to get it staff-approved to produce," she said. "There are so many elements involved — finding a design team, holding auditions, tech and stage management. Working with OddKnock showed me how creative you can be. I loved seeing the show through its entirety, from where we started to now, taking everything down, growing together and connecting outside work, hanging out and getting dinner."
Imagining a Creative Career
Barth, a film minor, channeled her gratitude for the OddKnock team and the long-time friendships and professional connections she's making into a promo video.
"I wanted to create a keepsake for them," she said. "At our closing party I presented it and there were tears shed."
Heading into senior year, Barth hopes to eventually work in a well-known show and explore film opportunities, and fantasizes about someday being in a movie like "Pitch Perfect," featuring her favorite actress, Anna Kendrick. "Those movies are about more than just the story, the characters, or the plot line, they're about all the actors coming together and becoming a family. Getting to act and dance and sing with your sisters and brothers — that's my dream job."