DU's Provost Brings Women's Rights Advocacy Experience to the Classroom 
Provost Mary Clark is teaching a new course this fall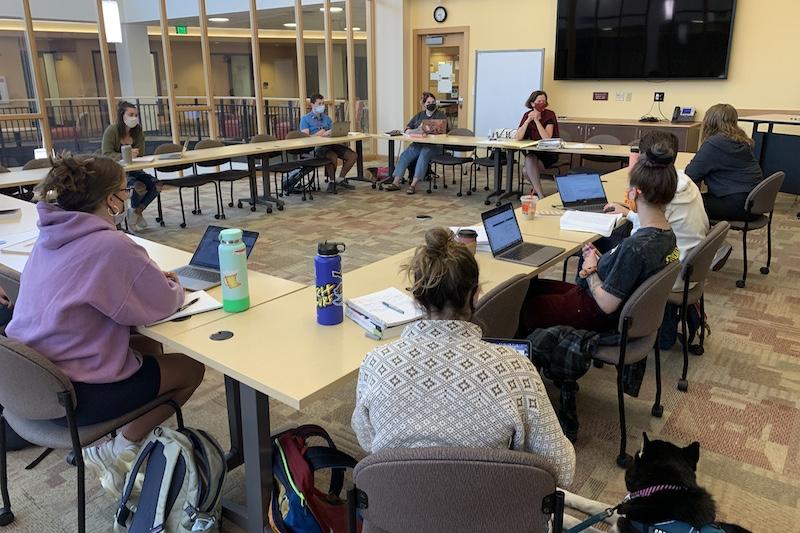 Every Friday morning for the fall quarter, Provost Mary Clark is stepping into a new role on DU's campus—professor. This quarter, she is bringing her class, "The History of Women's Rights Advocacy in the United States," to undergraduates at DU.  
"It's a course and subject matter that I feel passionately about," Clark says. Her background is in women's rights advocacy, and an extensive law career is among her many accomplishments. But this class is more than a chance to bring her experience to the classroom at DU. It's a way to connect with students.  
"It's essential for someone in my role to know who the students are through a firsthand experience like teaching," Clark says. "It's going to be relevant to my leadership of the 4D student experience. One of the dimensions is advancing intellectual growth, but also character, wellness, and lives of purpose. In many ways, this course is about women who found lives of purpose through women's right advocacy over time." 
Clark will be involved first-hand not only with the student experience, but also that of the faculty.  
"I'm learning a lot about the faculty experience," Clark says. "I've spent the summer uploading materials onto Canvas and understanding what the faculty do when they offer and teach a course for the first time. It's very insightful in terms of faculty experience."  
As provost, Clark is the university's chief academic officer.  Stepping into the role of professor will deepen her understanding of the DU student experience, but that goes two ways.  
"I think it will be fun to demystify who the provost is," Clark says about teaching the class. "It's not a role that is immediately recognizable, so to share with students what it means to be the chief academic officer and my focus on access to opportunity and excellence for students, I think it'll be beneficial for them." 
The students already have started immersing themselves in the course material, with the first class focused on the importance of women's history and an introduction to women in slavery. They are looking at topics such as the early suffrage and abolitionist movements, women's initial entry into higher education, abortion access and more. The class is offered through socio-legal studies out of the College of Arts, Humanities & Social Sciences.  
"I hope they take away a sense of agency that they can make a difference, that they can have an impact on their world and on the public good," Clark says. "They will learn about all sorts of role models of individuals who've done so under quite difficult circumstances."