Grad Student Finds Portal to Future Career Through Journal Work in Religious Studies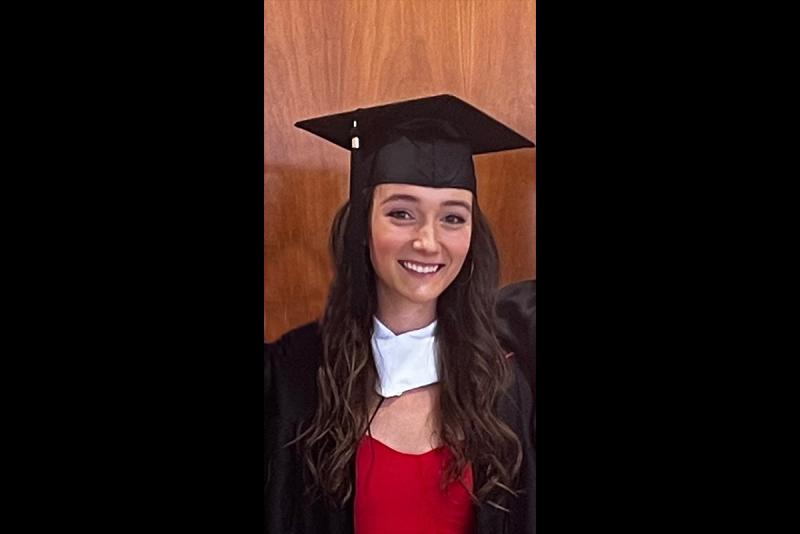 When Dianna Able (MA '22) enrolled in the Master's in Religious Studies program at the University of Denver, after earning a BA from Louisiana Tech University, she had no idea her decision to postpone entering the workforce during the pandemic would open the door to a future career.
"I had taken a philosophy of religion class as an undergraduate and realized that was the field I wanted to go into," Able recalled. "My professor at LA Tech had great things to say about DU's master's program in religious studies and spoke highly about Professor Carl Raschke, [program director and internationally known writer and academic]."          
Able started at DU in the fall of 2020, and she chose to concentrate in critical theory, eventually exploring work-study possibilities with her advisor.
"She [my advisor] said a lot of students chose to work with Dr. Raschke, that he was well known throughout the religious studies world and had openings on his journal editorial team," said Able, who had always enjoyed writing and tutored student athletes in English as an undergraduate. "Raschke is on the board with the Whitestone Foundation that collaborates with DU and publishes three religious studies journals."
She was assigned to an assistant editor position with the Journal for Cultural and Religious Theory (JCRT), which is one of the oldest online academic journals for religious theory. It publishes three times a year with different essays and articles written by established scholars.
Gaining Invaluable Editorial Experience
The editorial role required Able to evaluate submissions for compliance with the journal's mission and goals, edit accepted submissions and initiate the peer review process. She also enjoyed the wide variety of topics the journal embraced.
"I got to read essays about the theory of decoloniality, essays on aesthetics and Dr. Raschke's ideas about the revolution of respect, from heavy philosophy to current issues and how we can draw philosophical insights from them," she said.
Most of all, Able welcomed receiving hands-on experience in how to handle intricate, sensitive conversations with authors.
"You have to be able to satisfy your journal's standards while making sure the author is happy with his final contribution," she said. "Because my job was completely remote for two years, I was also able to develop the discipline and time management needed to give me a leg up in the new world of work from home."
Able appreciated the opportunity to take responsibility for the quality of the published journal.
"My job enabled me to develop a keen eye for editing, punctuation, grammar and stylistic choices," she said. "I worked with authors from all over the world and had to reconcile their unique voices and writing styles with one that could be widely published and accessible to readers."
Finding a Publishing Position in Her Field
When Able saw a listing for an entry-level editorial position with Shambhala Publications – an independent publishing company based in Boulder, Colorado, that specializes in books on wellness, spirituality, philosophy and religion – it felt like a dream come true.
"I was already familiar with some of their subject matter and my work study job had given me two years of editorial experience," Able said. She applied for the job, was hired as an editorial assistant working remotely and started with the company three days after graduating from DU in June 2022.
In her new role, Able maintains internal and external databases, proofreads all marketing materials including emails, pamphlets and promotional posts, proofreads, corrects reprints and reissues and makes sure the editorial department runs smoothly.
Discovering a Possible Career Path
A long-term career in book publishing that she had never really considered now seems not only possible but desirable. Before she started, she was more interested in internet magazines, but after becoming familiar with the work and team at Shambhala, she hopes to stay for a long time.
Able has nothing but praise for DU's master's program and all her professors, especially Raschke for his mentoring and support.
"He entrusted me with JCRT and gave me creative reign and so much encouragement throughout and in trying to get a job, assuring me that I had the skills to find a good fit. "I definitely didn't go into this program thinking I would get a job out of it," Able said. "To have this position now that I really love and that allows me to continue to study and learn what I really enjoy, it's just been such a blessing."