Introducing Our New 2022-23 Faculty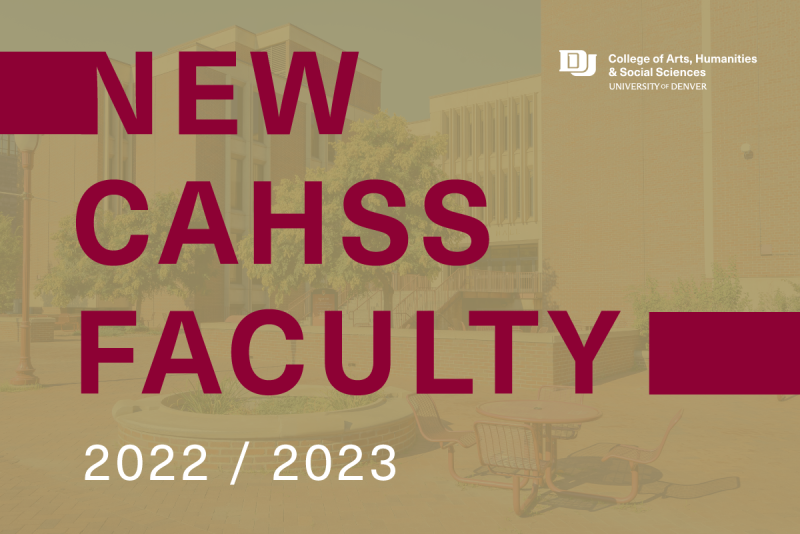 For the 2022-23 academic year, the College of Arts, Humanities & Social Sciences at the University of Denver welcomes 16 new faculty across 11 different schools, departments and centers. Join us in welcoming these scholars, who will bring new insights, dedicated research and hands-on guidance to our students.
Center for World Languages and Cultures
Xue He received her PhD degree in Second Language Acquisition from the University of Iowa in 2022. She will be a Teaching Assistant Professor in Chinese at DU, starting fall quarter 2022. Her research interests are in the second language learning of Chinese grammar and task-based language teaching. 
Department of Communication Studies
Dakota Park-Ozee is an assistant professor of political communication in the Department of Communication Studies. Park-Ozee's research focuses on political narratives and identities as constitutive of discursive hierarchies. She studies what discourses emerge around issues of inequity and how communicative practices may promote or challenge these divisions. Most recently, she is focused on wealth- and class-based identities and issues in the United States. Essentially, she asks if and how everyday and elite discourses use wealth to order who and what is important to U.S. public and political life. Her research is motivated by normative concerns about U.S. democracy and the role of press and state as democratic institutions. Before arriving at DU, she earned her PhD in rhetoric, language, and political communication from the University of Texas at Austin. 
Jeremy Johnson previously worked as a Postdoctoral Fellow in the School of Information at UC Berkeley and as a lecturer in Communication at University of the Pacific. He holds a PhD in Communication Arts & Sciences from Penn State. His research focuses on public discourse and argumentation in digital environments. His book-in-progress, Algorithmic Architects, studies how algorithms and algorithmic systems create and shape public controversies. In the classroom, Jeremy has taught undergraduate and graduate courses in public speaking, argumentation, persuasion and propaganda, and digital communication. 
Critical Race and Ethnic Studies 
Reggie Byron previously held a position as a Professor of Sociology at Southwestern University, in Georgetown, Texas. In line with Critical Race Theory, his work exposes and critiques the institutional manifestations of racism and sexism in U.S. social institutions, like the workplace, education system, the media, and public accommodations.
Department of English & Literary Arts 
Menglu Gao (she/her) is an Assistant Professor of Victorian Literature in the Department of English and Literary Arts, and she earned her PhD in Comparative Literary Studies (Home department: English) from Northwestern University. She taught at Colby College before coming to DU. She specializes in nineteenth-century British and Anglophone literature, with research interests in medical humanities, empire studies, Anglo-Chinese transnational studies, and critical theory. Her current book project examines how medical theories relevant to opium use and addiction provided new ways for nineteenth-century authors to imagine the structure of the British empire: a new imperial form that emphasized connectivity and expansion as opposed to isolation and self-dependence. Her research has been supported by prizes and fellowships from, among others, the Buffett Institute, the Walter L. Arnstein Prize, and the Consortium for History of Science, Technology and Medicine. Her work has appeared or is forthcoming in Literature and Medicine and Undisciplining the Victorian Classroom.
Poupeh Missaghi is a creative writer, scholar, editor, and translator (between English and Persian). Her debut novel trans(re)lating house one was published in 2020 (Coffee House Press) and her translation of Nasim Marashi's novel I'll Be Strong for You in 2021 (Astra House). She has a PhD in English and Literary Arts from the University of Denver; an MA in Creative Writing from Johns Hopkins University, Baltimore, MD; and an MA in Translation Studies and a BA in English  Persian Translation from Azad University, Tehran. She has taught at Pratt Institute, Brooklyn, NY, City University of New York, NY, and Pacific Northwest College of Arts, Portland, OR. She works in prose—innovative and hybrid prose, nonfiction, and fiction—as well as translation. 
Department of Media, Film & Journalism Studies 
Runchao Liu (she/they) is a media and cultural studies scholar with a research focus on sound-mediated cultural practices for ways they intersect with social justice, cultural identity, and creative activism. Liu's publications address such topics as the intersectional and transnational cultural politics of aural racialization, Asian American popular music, musical orientalism, ethnic rock music, and critical pedagogies of popular music. Before DU, Liu taught various media theory and production courses at the University of Wyoming and the University of Minnesota and was a postdoctoral academic fellow at the Center for Black, Brown, and Queer Studies and a visiting scholar of the Asian/Pacific/American Institute at New York University. 
Lamont School of Music 
Zoe Weiss is a musicologist and performer who believes passionately in music's ability to forge human connections. She received her PhD from Cornell University in 2021 where she completed a dissertation on musical and material networks in the Elizabethan In Nomine tradition. Her scholarly interests range from the history of music theory and 16th-century polyphony, to performance practice and music cognition, and she has published work on Haydn string quartets and the consort music of John Jenkins. An active performer on the viola da gamba and Baroque cello, Zoe is a founding member of LeStrange Viols, Science Ficta, and the Folk Baroque Trio. She has also performed with the Oberlin Consort of Viols, the Smithsonian Consort of Viols, the Folger Consort, and ACRONYM. Zoe has taught viol at workshops for the Amherst Early Music Festival and the Viola da Gamba Society of America and served on the Board of Directors for the VdGSA as well as serving as an editor for the Journal of the VdGSA. Her recordings with LeStrange Viols and ACRONYM can be heard on the New Focus label, including the album Æternum which emerged from her research into the British Library additional manuscript 31390. Science Ficta's recording of new works by composer Molly Herron, Through Lines, was released by New Amsterdam Records in 2021. Zoe has taught at Harvard University, Ithaca College, the Cornell Prison Education Program, and Cornell University, where she received a Don M. Randel teaching fellowship. 
Remy Le Boeuf (he/him) is a 2x Grammy-nominated composer and saxophonist whose music is rooted in the jazz tradition and overlaps into contemporary classical and indie-rock realms. He is also the founder and director of the jazz orchestra, Assembly of Shadows. Le Boeuf has worked with a range of collaborators including the Jazz at Lincoln Center Orchestra with Wynton Marsalis, Linda Oh, HAIM, JACK Quartet, Prefuse 73, and his identical twin brother Pascal, with whom he co-leads the experimental jazz quintet, Le Boeuf Brothers. His professional interests include cross-genre collaboration and the overlap of improvised music and language. In addition to his role as the Director of Jazz Studies and Commercial Music at the DU's Lamont School of Music, Le Boeuf has taught at the Manhattan School of Music and the University of South Florida. He holds bachelor's and master's degrees in saxophone performance from the Manhattan School of Music. Le Boeuf's personal interested include wild mushroom foraging, playing sports, and eating delicious food. 
Department of Languages, Literatures & Cultures 
Michal Lev (she, Her) is a professor of Hebrew at the department of Literature, Language and Culture (LL&C), Center of World Languages (CWLC), and Center of Judaic Studies (CJS). She received her MA in Teaching Hebrew as a second language from Middlebury College VT. 
Michal also serves as the coordinator for DeLet Lehora'at Ivrit program through Hebrew Union College CA, where teachers in North America and other countries become professionals in teaching Hebrew as a second language. 
Michal Has been an educator for more than 20 years, teaching both Hebrew and General Studies. 
She is the author of Chaverim BeIvrit Digital app and Chaverim BeIvrit 1 & 2 workbooks, published by Behrman House. In addition, a Certified Evaluator, a Highly Qualified AEPA Teacher by the Arizona Department of Education, and a speaker and presenter of "Effective Teaching" workshops for general studies teachers. Prior to this, she was a lead Montessori teacher for elementary and middle school, teaching all core subjects.
Department of Philosophy 
Lisa Miracchi Titus, before coming to the University of Denver, was an Associate Professor of Philosophy with tenure at the University of Pennsylvania, where she was also MindCORE and GRASP (General Robotics Automation Sensing and Perception Lab) Affiliated Faculty. She works on issues regarding the nature and explanation of mind and intelligence and the development and application of AI and robotics systems, as well as the ethical implications of AI and robotics technology. What makes intelligent systems different from other kinds of systems? What kinds of explanations of intelligent systems are possible, or most important? What are appropriate conceptions of real-world intelligent capacities like those for agency, knowledge, and rationality? How can conceptual clarity on these issues advance cognitive science and aid in the effective and ethical development and application of AI and robotic systems? Lisa's work draws together diverse literatures in the cognitive sciences, AI, robotics, epistemology, and ethics to systematically address these questions. She has published in high profile philosophy journals such as the Journal of Philosophy and Philosophical Studies, and she has interdisciplinary publications in venues such as Frontiers in Neurorobotics. She is working on a monograph tentatively titled More Intelligent Agents: Towards the Next Wave Effective and Ethical Intelligence Research, which develops a systematic approach to intelligence and its explanation, and facilitates the integration of ethical, feminist, and social justice concerns. Additionally, Lisa is passionate about making academia more diverse and inclusive. At Penn, she served as a Faculty Wellness Advisor to graduate students in SAS, and as a member of the LGBTQ+ Faculty Working Group. When Lisa is not thinking about intelligence, she is usually spending time with her favorite intelligent beings: her wife and step-children, as well as their dog, cat, and eight chickens.  She enjoys yoga, trail running, hiking, skiing, cooking, and gardening. 
Department of Political Science 
Phil Chen is an assistant professor of political science, where his research focuses on race, gender, and other social identities and how attitudes and beliefs about these identities shape American political behavior and public opinion. He has published in numerous political science and psychology journals and is currently working on a co-authored book about racial and gender representation affect trust in the federal court system.
Department of Psychology 
Heidi Vuletich (she/her) is an assistant professor in the Department of Psychology. She earned her PhD from the University of North Carolina at Chapel Hill and completed a postdoctoral fellowship at Indiana University Bloomington. She investigates the psychological mechanisms that contribute to social inequalities, such as disparities by race, gender, and socioeconomic status. She focuses on how structural factors shape individual-level processes to produce outcomes. In one of her active lines of research, for example, she examines how structural inequalities relate to geographic differences in collective implicit racial bias. 
Yunying (Annie) Le (she/her) is a Research Assistant Professor in the Department of Psychology. She received her PhD in Human Development and Family Studies from the Pennsylvania State University in 2019. Her research is situated at the intersection of couple relationship health, prevention/intervention, and research methodology. Specifically, using advanced quantitative methods, she conducts translational work evaluating couple-based intervention targeting at-risk couples as well as basic research on relational processes within couples as they adapt to stress across normative transitions and non-normative experiences. Her goal is to develop and adapt tailored prevention and intervention programs that promote couples' relationship health at different stages across the lifespan.  
Department of Religious Studies 
Christy Cobb is delighted to be joining the Religious Studies department at DU as assistant professor of Christianity. She previously taught at Wingate University in North Carolina where she was awarded the Excellence in Teaching Award in 2021. Christy's research focuses on issues of slavery, gender, and sexuality in the New Testament and Early Christianity. Her first book, Slavery, Gender, Truth, and Power in Luke-Acts and Other Ancient Narratives, was published by Palgrave in 2019. She is currently working on a new book project on alternative family structures in early Christianity. 
Department of Sociology & Criminology 
Jessica Garrick (she/her) is a teaching assistant professor in the Department of Sociology & Criminology. She received her PhD in Sociology from the University of Michigan, after starting her graduate studies at the University of New Mexico. Before coming to DU, she was a faculty member at Southern Methodist University. She studies the social, professional, and political construction of policies that are meant to improve the lives of workers and families (as well as some that harm them). This includes analysis of the changing understandings and administration of a decades-old labor law, local and state immigration laws and policies, and most recently, a new project about the construction of "best practices" for supporting families with young children. She teaches classes on the sociology of work, markets, and law.