Language is No Barrier for Fulbright Award Recipient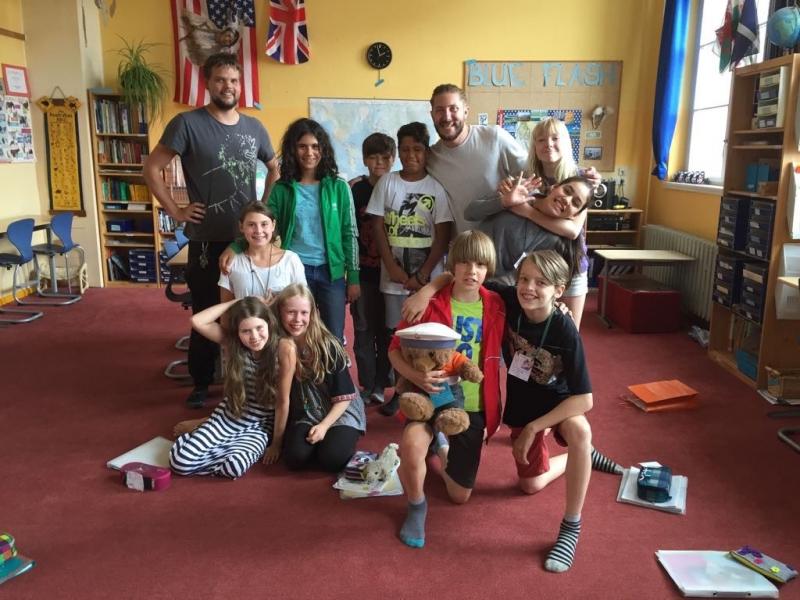 When Keegan Kienzle learned he was awarded a Fulbright Teaching Assistantship in Berlin, Germany, he had one month to pack his bags and part with family and friends before moving to a country where he'd never been, communicating in a language he'd hardly spoken.
Though it was an abrupt change, Kienzle (BA '15, international studies and Spanish, German minor) did not let the unfamiliarity and language barrier stop him. He soon found himself teaching English in a local elementary school surrounded by children, ranging in age from five to 12 years-old. He worked with his students on speaking and reading skills, as well as teaching them about the United States.
"By far the most rewarding part of the job was watching my students grow from a shyness, unaware of the USA and our culture, to an eagerness in speaking a new language, exploring a new culture, and learning how we are both different and similar to each other," Kienzle said.
He applied for the program at the urging of a friend. Though his language skills were much stronger in Spanish, Kienzle chose to serve in Germany to challenge himself and "shake things up."
"To say that the experience was always easy and always fun would be false, but I wouldn't change a thing, and I will treasure the experience forever," he added.
Kienzle's journey to Germany was not a direct route, but rather a zigzagged adventure that began his senior year of high school.
During a theatre rehearsal, Kienzle had a chance encounter with Stephanie Tengelsen, DU's associate director of admissions, who encouraged him to consider applying to DU. Taking her advice, Kienzle discovered DU's renowned international studies program and grew excited by the possibility of studying abroad.
Upon acceptance to DU, Kienzle knew that he wanted to double major, choosing international studies and Spanish. Realizing he could fit an additional course of study into his schedule, he also decided to give German a try, adding it as a minor.
Kienzle was inspired by his Spanish teaching associate professor Alicia Barrón Lopez, who encouraged him to be true to himself and to reach for his goals.
Lopez was a true mentor to Kienzle, making connections for him when he studied abroad in Spain, helping him perfect his language skills and enabling him to land his first job as a translator, and supporting his application to the Fulbright program with a letter of recommendation.
"She is a wonderful professor and friend, and someone who has opened so many doors for me," he said.
Beyond having the support of his professors, Kienzle also credits his education for preparing him to take on the challenge of the teaching assistantship in Berlin.
Working with the department of languages and literatures in both Spanish and German helped Kienzle better understand the complexities of both learning and teaching other languages and cultures. While, international studies helped him in his day to day life — understanding those around him, being culturally sensitive, and integrating into German society.
Though German did not come to him as easily as Spanish, over time, Kienzle realized that he wanted to continue to learn more about the language and culture. His time at DU had opened his eyes to the possibilities to connect with other cultures, and the Fulbright program proved the perfect opportunity to dive in.
"DU gave me the opportunity to travel the world, learn other languages, and meet people from all over," said Kienzle. "These were things that I had only dreamed about before college, but DU allowed me to make them a reality."