MFJS, Estlow Center and IRISE Host Institutional Justice Series
The day featured a lineup of events centered around race and justice, representation, gun violence, Black Lives Matter, and criminal justice reform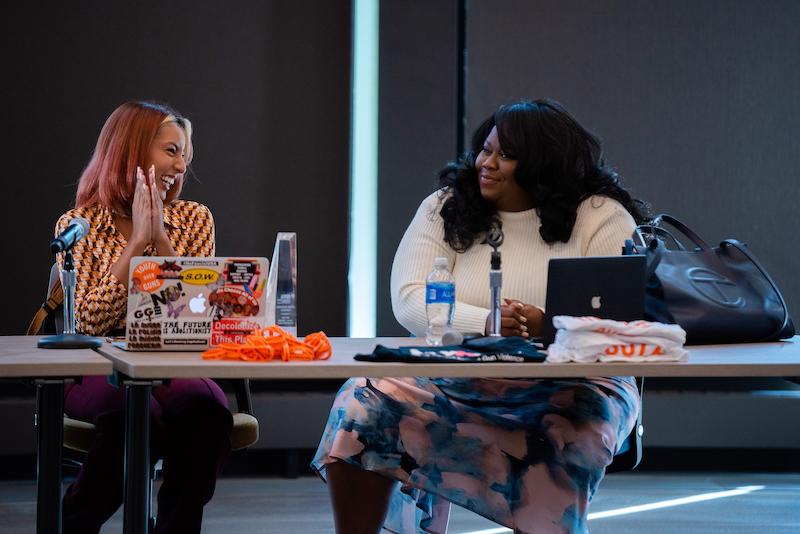 DU Student Kalea Carter shares her experience in one of the day's master classes that focused on systemic racism and gun violence.
The powerful trio of gun safety activists Frank Teah, Shaina Harrison and Andrea Alejandra Gonzales held two master classes and gave DU students a taste of their ReACTION lesson as guests of the University of Denver in September 2021. Harrison, who was honored as Estlow Lecturer for her work creating the ReACTION program and advocating for youth-centric approaches to policy initiatives in the New York City area, came to campus with colleagues Andrea Alejandra Gonzales, who was honored as Margolin Distinguished Lecturer for her work in youth activism, and Frank Teah, who was honored as MFJS Lecturer for his educational leadership with New Yorkers Against Gun Violence. Each of these leaders were recognized for their role in leveraging media to change the public conversation about gun violence.
The master class, one of three events that brought together close to 300 undergraduate and graduate students as well as faculty, staff, alumni and members of the public, started off with a game that involved students in some unexpected twists. At the request of the guests, volunteering students arranged themselves in the order of their birthdate at the front of the room and received pieces of candy that they then won or lost to others in a risk-based game of rock, paper, scissors. Students could risk any amount of candy they chose, and thus the more they risked, the more they stood to gain. What the students didn't know was that some students had received quite a few more candy pieces than had others. Although all of the students could borrow candy to participate in their wagers with fellow students, they later had to pay back debt to the "higher ups", giving away another and then another piece of luxurious candy each time they lost.
With just a simple game, students were introduced to the idea that a person's actions are never just a result of one's own choices. Each person had to continue playing the game, and thus they were either going to keep benefiting from the system or keep having everything taken from them without a choice. In reality this is something called disinvestment, a term that refers to processes that systematically reduce assets for certain groups or organizations. Disinvestment happens as communities that are already experiencing a high risk of losing their assets are denied loans or have to assume a higher risk of losing money in order to access any funds at all. For poorer communities, disinvestment offers an explanation for how banks as well as government agencies withhold or withdraw resources to mitigate their own risk, thus resulting in decreased economic opportunities and increasing rates of poverty in already-impoverished communities.
With this example of disinvestment, Teah, Harrison, and Gonzales emphasized that all oppression is violence and that oppression isn't just interpersonal. It is discrimination against people who are poor, people living with a disability and those within marginalized groups. With those ideas established, students were shown images of two very different locations in New York where the differences were incredibly visible when it came to food, job security and the hygiene of the locations. So, why does one location face more gun violence than the other, they asked us? This very simple sounding question resulted in complex responses, as students grappled with the fact that neighborhoods with higher poverty experience more violence because they are ranked higher for a variety of risk factors. Those risk factors don't include the false narrative of marginalized people wanting to hurt each other, they noted. Rather, it is the lack of food and job security, the lack of education establishment and underfunded schools, and the lower rate of home ownership that prevents poorer communities from generating wealth like a wealthier community could.
The most powerful aspect of the master class involved hearing student peers talk about where and how they observed these risk factors in Colorado or back in their hometown. It simply became something we were all consciously aware of, and we now have a bone to pick with disinvestment and the risk factors that both shape and are reproduced with it. For some students, the master class helped them to see the privilege they had. Others realized that they had been growing up in conditions that were part of a system that disadvantaged people and communities that were already struggling against the odds. For all students, thinking through what was being discussed and modeled by the guests helped to deepen our understanding of systemic injustices and systemic justice, as we have been discussing these issues in our classes, such as in the course I am currently taking called "Hip Hop as Medicine"
Shania Harrison opened up the class by saying "I can't create a safe place, but I can create a comfortable one." Certainly, it was a comfortable space for the students to reach up in the air with a hand, and the trio raced across the room to create opportunities for students to answer questions and speak out of their own lived experiences. Everyone came together collectively to talk about gun violence and why systematic racism is the face behind it.
"It was very rewarding to see so many students engage with our guests throughout the day," said Lynn Schofield Clark, director of the Estlow Center for Journalism and New Media, who organized the day's activities along with Tom Romero, Cheri Coulter and others associated with the University of Denver's Interdisciplinary Research Institute for the Study of (In)Equality. "Faculty members who brought their classes to Master Class and panel sessions have said that the day's discussions have been referenced throughout the quarter as students grapple with structural and institutional racism and the possibilities for institutional Justice."