NIH Grant Allows DU Professor to Study Racial Discrepancies in Pain Care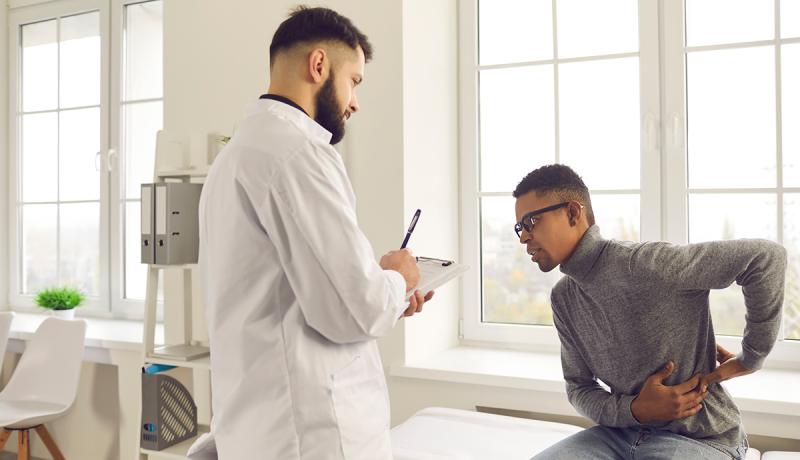 "How much pain are you in, on a scale from 1 to 10?"
It's a question we're all familiar with and a crucial tool for medical providers looking to assess the severity of an injury or illness. But not all pain is created equal—and, as several studies indicate, not all doctors take their patients' pain as seriously as they perhaps should. And, as untold legions of patients report, that's especially true when it comes to people of color and mixed-race people.
Paige Lloyd wants to change how doctors think about pain care. Lloyd is an assistant professor in the University of
Denver's Department of Psychology. She recently received a grant of nearly $700,000 from the National Institutes of Health to study racial disparities in pain care.
"Pain is a place where there's a lot of subjectivity," she said. "And when you have subjectivity, that can be a ripe opportunity for biases like stereotypes, prejudice, and empathy gaps to play a role."
Lloyd is the primary investigator in the five-year grant-funded study, which will consist of three phases.
First, the team will ask pain-care providers from across the U.S. to evaluate hypothetical scenarios with patients of different races.
"We're looking at biases. Given the same information, are these providers allocating more pain care, say, to white as compared to Black or multiracial folks," Lloyd said. "I think one sizable advantage of this grant is the focus on multiracial folks, or the integration of multiracial folks, into consideration. We know very little about how multiracial people are treated and the biases that they might be vulnerable to."
The second part of the study involves a partnership with the Center for Advancing Professional Excellence (CAPE) at the University of Colorado Anschutz Medical Campus. Researchers will use CU Anschutz's simulation center to immerse Rocky Mountain-region medical students in a faux emergency room scenario, during which they'll interact with hypothetical patients of different races who are experiencing pain.
"We'll videotape and record their interactions with the patients to look at how they differ across hypothetical patient race," Lloyd said. "It's a really, I think, exciting design that has a little bit more realism integrated into it."
Once the first two studies are complete, the third phase involves Lloyd and her team will examining their findings and drawing conclusions about the role that race plays in how providers evaluate pain.
"So this might be something like, for multiracial folks, for example, if you make clear their race ahead of time, providers might not be spending a lot of time trying to interpret what this person's race is, which can lead to negativity, which can lead to distractedness," she said. "And instead, they might be able to just move on to treating the patient."
Lloyd said the goal of her research is to understand exactly where certain biases exist in order to recommend better intervention strategies to medical schools. These strategies can vary from creating less white-centric textbooks to exposing medical students to more racially diverse environments during their training.
"We're thinking about ways to expose them to patients, more variable patients, and working with them to try to individuate those patients," she said. "So not just have them be a patient in and out of the door, but spend some time sort of getting to know that patient and thinking about that patient critically. And we're hoping that might be one step in the right direction."
Lloyd and her team will disseminate the findings of the study through peer-reviewed journals and op-eds; by speaking at medical, psychology and pain science conferences; and during conversations with health researchers and clinicians.
"The hope is that these conversations and opportunities for dissemination will reach relevant audiences but also that those audiences will provide advice and feedback to strengthen the work," Lloyd said. "Intervention strategies will likely be proposed and then tested in a subsequent grant—I hope to submit that near the tail end of this grant. The current grant is not well positioned to suggest interventions that can be immediately implemented in healthcare settings—but [can] rather lay the groundwork for developing those."