Theatre Students Connect With Writers Experiencing Hard Times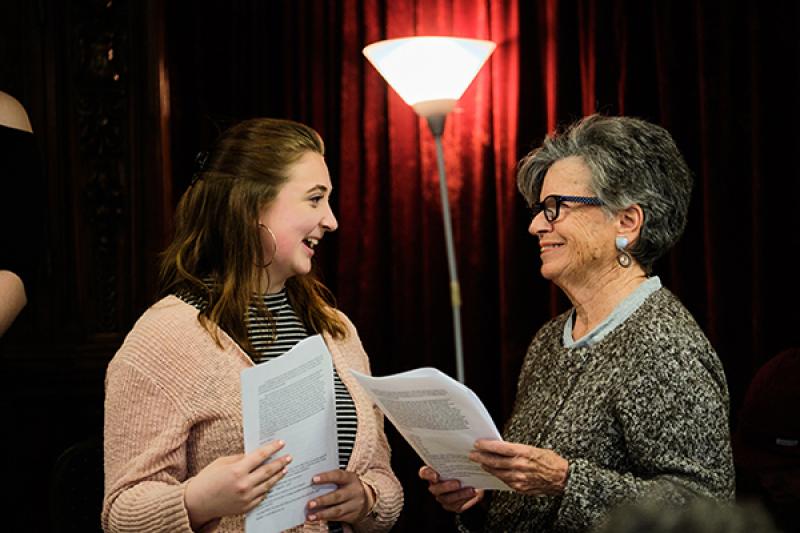 Professor Ashley Hamilton is no stranger to creating space for marginalized populations to share their stories. At DU alone, she's held workshops that connect students with residents of Denver Children's Home, East African high school students, and co-founded the Prison Arts Initiative, which promotes access to therapeutic arts programs for incarcerated people in Colorado.
Most recently, Hamilton facilitated a joint workshop between DU theatre students and participants of the Hard Times Writing Workshop at the Denver Public Library.
"Lighthouse Writers Workshop, the Denver Public Library Central Branch, and the Denver Voice partnered to create the Hard Times Writing Workshop in 2016. The workshop serves DPL patrons experiencing homelessness or extreme poverty," said Dan Manazanares, community programs coordinator at Lighthouse.
The Theatre for Social Change class this winter brought together DU students and Hard Times participants to explore the world of devised theater. Professor Hamilton gave writing prompts, and the class worked together to create short performances based on the responses. The class culminated with a public performance on March 8 at Lighthouse, "The Karmic Meter: I'm Alive Again!"
"I was blown away by the generosity of our participants vulnerable sharing in their writing and performance," Professor Hamilton said. "Their writing of stories of connection during hard times was raw, true, and alive. They completely trusted us with very important material and I felt so honored by that."
In their performances, participants portrayed real-life experiences of connection during hard times, such as finding community in a first acting class, a family dinner party complete with a crazy aunt, and building friendships while experiencing homelessness. The performance garnered nearly 100 attendees, many of whom stuck around after the show to learn more about the workshop's origins and plans for the future.
"The show's emotional impact was apparent immediately—people laughed, they cried, and afterward treated the Hard Times writers as writers and artists," said Dan Manzanares. 
Stacey Grijalva, the librarian at Denver Public Library who helps facilitate the Hard Times workshops, said that multiple participants now consider themselves writers, helping to shift the perspective that only those with fame and fortune can lay claim to that title.
"We had one collaborator who didn't want to share her writing at all in the first couple of weeks of our work together and then ended up writing a whole scene for the play and staring in it! It was such a rich experience to watch her come out of her shell and come alive on stage, telling her own story of connection during a hard time," Professor Hamilton said.
For DU students, the opportunity to learn outside the classroom proved invigorating: "Professor Hamilton's class was an excellent opportunity to connect with new people and learn how to build theatre from the ground up, as well as learn many different applied theatre types and how to brainstorm our own project ideas. The process was compelling, exciting, and enthralling, and I loved learning alongside my peers and our volunteer students," said Marcos Descalzi, a senior majoring in theatre and public policy and minoring in history.
This summer, Professor Hamilton will continue her work helping students learn and perform theatre for social change. She's co-teaching a class with LGBTQ refugees in Cape Town, South Africa. Participants will study with individuals who've been pushed out of African and Middle Eastern countries based on gender violence through a critical, trauma-informed lens.
Programs like these align with CAHSS's vision for transforming liberal and creative arts through keystone experiences. Find out more information in our strategic plan.